Poetry
FREE Online Rhyming Dictionary. Write rhymes. - StumbleUpon. You are tired. You are tired, (I think) Of the always puzzle of living and doing; And so am I.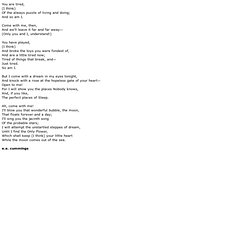 Come with me, then, And we'll leave it far and far away— (Only you and I, understand!) You have played, (I think) And broke the toys you were fondest of, And are a little tired now; Tired of things that break, and— Just tired. 10 Transformational and Spiritual Aphorisms | Peace and Loveism - StumbleUpon. Throughout the ages, there have been many who have transcended the domain of the ego and had gotten a taste of those delicious higher states of consciousness.
Rather than keep their experiential knowledge and wisdom about the higher aspects of existence to themselves, they spread the word to others, be it through spoken word, written works, or other methods. Thanks to the sages, spiritual teachers, and every-day people who had an enlightening experience, we can ignite the light of expanded awareness concerning the higher aspects of the human experience and of existence itself from such people. Sarah Kay: If I should have a daughter ... | Video on TED.com - StumbleUpon. Sylvia Plath - Mad Girl's Love Song. By PoetryGrrrl on November 17, 2013 I have always loved this poem.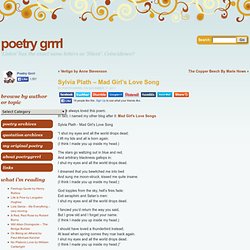 In fact, I named my other blog after it: Mad Girl's Love Songs Sylvia Plath - Mad Girl's Love Song. Zen Koans - AshidaKim.com. Tastefully Offensive | Premium Funny: Shakespeare Insult Kit - StumbleUpon.
---