Stumble
Google
(PhysOrg.com) -- NEC, which has been working on what is called "organic radical battery" (ORB) technology for some years , has announced its latest ORB breakthrough, the 0.3mm thick ORB. According to Geek.com, the output rated as 5kW/L with a capacity of 3mAh. On full charge, the new battery prototype can refresh a screen 2,000 times. A recharge takes under a minute, about 30 seconds. The new batteries maintain 75 percent of their charge-discharge after 500 charges.
NEC goes ultra-thin with 0.3mm-thick batteries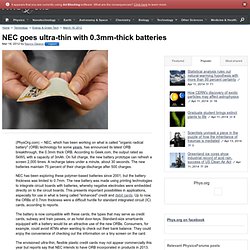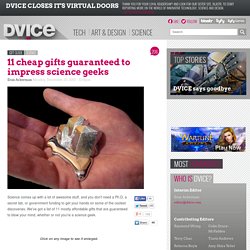 Science comes up with a lot of awesome stuff, and you don't need a Ph.D, a secret lab, or government funding to get your hands on some of the coolest discoveries. We've got a list of 11 mostly affordable gifts that are guaranteed to blow your mind, whether or not you're a science geek. Click on any image to see it enlarged. 1. Aerogel
Älteres PC-Mainboard mit typischen Bus-Steckplätzen für RAM-Riegel sowie PCI - und ISA -Steckkarten Ein Bus ist ein System zur Datenübertragung zwischen mehreren Teilnehmern über einen gemeinsamen Übertragungsweg, bei dem die Teilnehmer nicht an der Datenübertragung zwischen anderen Teilnehmern beteiligt sind. [1] Die Abkürzung Bus steht dabei für Binary Unit System . Grundbegriffe [ Bearbeiten ] Frühere Busse waren tatsächlich nur parallele Stromschienen mit mehreren Anschlüssen. Aus dieser Zeit (ab 1898) stammen die Bezeichnungen omnibus bar und abgekürzt bus bar für solche Sammelschienen ( power rail ). Die Bezeichnung wurde für Daten-Sammelleitungen (Datenbusse) übernommen, die Informationen an die angeschlossenen Teilnehmer weitergeben.
Bus (Datenverarbeitung)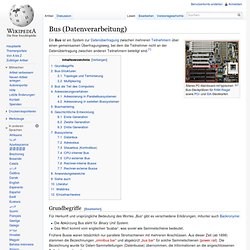 Scientists trying to create artificial life generally work under the assumption that life must be carbon-based, but what if a living thing could be made from another element? One British researcher may have proven that theory, potentially rewriting the book of life. Lee Cronin of the University of Glasgow has created lifelike cells from metal — a feat few believed feasible. The discovery opens the door to the possibility that there may be life forms in the universe not based on carbon, reports New Scientist . Even more remarkable, Cronin has hinted that the metal-based cells may be replicating themselves and evolving.