Health and Food
Get flash to fully experience Pearltrees
Perfect a "Toad in the Hole" Breakfast Posted by Paul Kita on Thursday, June 23, 2011 · 115 Comments "All happiness depends on a leisurely breakfast." —John Gunther Shame on the man who misses breakfast. He knows it's the most important meal of the day , yet he ignores this fact, choosing instead to hit the snooze button or stand in the long line of the coffee shop chain.
Although we seem to think and talk about food almost constantly, do we really know how best to preserve it or do we leave this responsibility to technology? Design Academy Eindhoven graduate Jihyun Ryou feels we no longer understand how to treat food. Her Save Food from the Fridge project involves placing certain foods on a group of "knowledge shelves" outside the fridge. Perhaps through a better relationship with our food we may be able to waste less and conserve more energy.
Photo: Michelle Oddis Once in a while, a party trick comes along that grabs our attention. Food blogger Michelle Oddis of That's So Michelle loves making caramel apple shots we can't imagine anyone would turn down. Using, wait for it, real fruit and time-tested formulas for tasty, jiggly shots that stay put in their edible "shotglasses," Michelle's gotten Food Republic on the gimmicky Halloween bandwagon we've been resisting so fiercely. Try out these irresistible boozy apple treats (and don't hold your breath for a candy corn cocktail on our end). Here's what you'll need:
It's time again for childhood and adulthood to collide in a most delicious way! You can infuse vodka with Jolly Rancher candies, much the same way we make Skittles Vodka . Actually, this process is much easier, and the results are fabulous: tasty and gorgeous to look at. You can whip up batches of five Jolly Ranchers Vodka flavors in only twelve to fourteen hours with minimal labor on your part, so they make wonderful, affordable, memorable gifts, too. The Materials: I bought more than I actually needed: a 1.75 liter bottle of vodka and a 3.75 pound bag of Jolly Ranchers .
Cookie dough in a bark. Now you can eat cookie dough without worry and it can be yours in less than twenty minutes. I know more bark, but I'm thinking you will really love this one. Chocolate Chip Cookie Dough Bark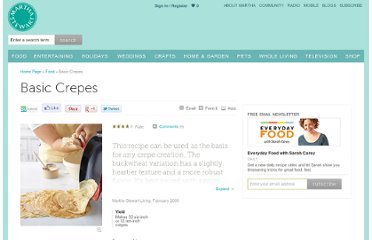 This recipe can be used as the basis for any crepe creation. The buckwheat variation has a slightly heartier texture and a more robust flavor. It's best paired with savory fillings. See our Basic Crepe How-To for more photos.
September 23, 2011 | Print | E-mail | Filed under bread , pumpkin Monkey bread. It's almost as much fun to say as it is to eat, and with the arrival of autumn, I couldn't stop thinking about taking my usual recipe and kicking it up a notch with the addition of pumpkin – so, of course, I did.
Dihydrogen Monoxide (DHMO) is a colorless and odorless chemical compound, also referred to by some as Dihydrogen Oxide, Hydrogen Hydroxide, Hydronium Hydroxide, or simply Hydric acid. Its basis is the highly reactive hydroxyl radical, a species shown to mutate DNA, denature proteins, disrupt cell membranes, and chemically alter critical neurotransmitters. The atomic components of DHMO are found in a number of caustic, explosive and poisonous compounds such as Sulfuric Acid, Nitroglycerine and Ethyl Alcohol. For more detailed information, including precautions, disposal procedures and storage requirements, refer to one of the Material Safety Data Sheets (MSDS) available for DHMO:
June 3, 2010 at 10:20 AM by Jeff Yeager | If you are what you eat, then I should weigh-in at under $1 a pound. That's because, as a general rule of thumb, I try to only buy foodstuff that costs under a buck per pound. Under $1 a pound, year-round --- that's my grocery shopping mantra . It's not just because I'm a world-class penny-pincher and smart shopper; believe it or not, it's also about eating healthier. When you look at the USDA " food pyramid ," many of the things we should be eating the most of -- grains, legumes, fruits and vegetables -- happen to cost the least .