*****I RECOMMEND THESE TO START WITH*****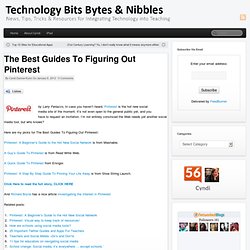 by Larry Ferlazzo , In case you haven't heard, Pinterest is the hot new social media site of the moment. It's not even open to the general public yet, and you have to request an invitation. I'm not entirely convinced the Web needs yet another social media tool, but who knows?
The Best Guides To Figuring Out Pinterest
I have seen the poem " Here's to the kids who are different.. ." and have always thought that no matter what field of education you teach in, it will apply in some way. It's not about just seeing the differences, but in really seeing the child. When you see a child with autism, do you just see their inability to communicate?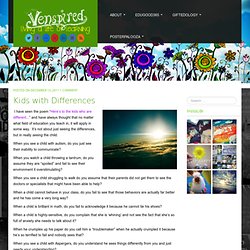 venspired
RT, MT, HT, via: Giving credit on Twitter | Social Media Certificate
Author's note: Be sure to read my follow-up post to this topic from August 2011. Moreso than other social media, Twitter embraces an ethic of sharing credit. In fact, the more you recognize the work of others, the more you are engaging with the Twitterverse . It began with the simple RT, or retweet .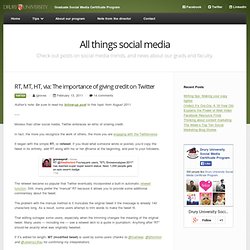 Digital Project Building a PLN - mickpanko
Five Ways to Bring High-Tech Ideas into Low-Tech Classrooms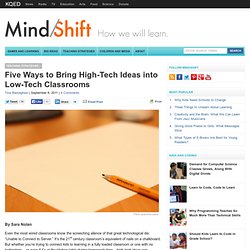 Flickr:quacktaculous By Sara Nolan Even the most wired classrooms know the screeching silence of that great technological dis: "Unable to Connect to Server."
I was quite impressed by Joyce Seitzinger's Professional Learning Environment (PLN) model that she presented at Deakin University in Melbourne this week. The first slide on the left shows a quadrant model in which she has used a work/office metaphor to define four discrete functions of a PLN. The first, the Staffroom is quite public, calling on high levels of communication and high profile, and involves the use of microblogging tools such as Twitter. This will work provided the user subscribes to a requisite number of other relevant user accounts, and can share their ideas and converse freely. It will fail if the user does not follow or is not followed by enough other subscribers to enable the benefits of the network effect.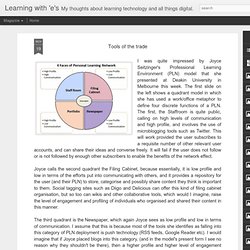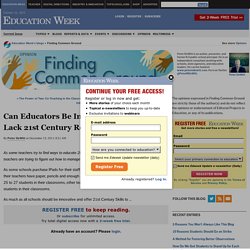 Can Educators Be Innovative When They Lack 21st Century Resources? - Finding Common Ground
As some schools purchase IPads for their staff, other poorer schools are scrambling to make sure their teachers have paper, pencils and enough chairs. As some teachers try to find ways to educate 25 to 27 students in their classrooms, other teachers are trying to figure out how to manage 40 students in their classrooms. As much as all schools should be innovative and offer 21st Century Skills to their students, innovation is a matter of perspective.
Just a Blog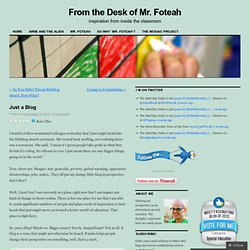 i Rate This I texted a fellow nominated colleague yesterday that I just might head into the Edublog Award ceremony. She texted back scoffing, not realizing there was a ceremony.
How to use Creative Commons to find free images, audio and video for your website
Exploring Social Networks #1 - Alec Couros
Exploring Social Networks #2 - Alec Couros
Citing a Creative Commons Image