graffiti&public art
Get flash to fully experience Pearltrees
Skewville installation along the entire facade of the Hudson Valley Center for Contemporary Art. October, 2012 Video courtesy HVCCA Peekskill We met Cora Harris from working on the Bushwick Art Park project together. She was part of our team writting her thesis for Pratt on our project. Since then she took this amazing position in Peekskill and asked Skewville and Leon Reid to be part of the "Peekskill Project V".
About the author My name is Gilliom.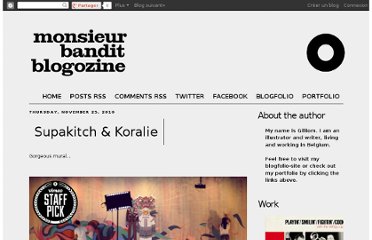 Posted on March 27, 2013 From the 4 th to the 15th of March in Lima "Latido Americano" took place courtesy of organizers and home-town artists Entes y Pesimo. Successfully putting it together for a second year, E&P are well respected among their peers as artists and social activists and they placed an international assortment of invited graff and Street Art people around the City of Kings, as it is called. With artists from Denmark and Mexico, Australia and Chile, "Latido Americano" exposed a number of cultures to one another in many neighborhoods in this city of immigrants and indigenous people where the sky is almost always grey and fried guinea pig is sold in the street markets. Bien .
Un an après son passage à la Cantine , l'artiste Evan Roth expose à Barcelone dans le cadre de l'exposition Kitsch Digital. C'est l'occasion de présenter son projet Graffitti Analysis : Sculptures . Tout d'abord, il y a le développement du logiciel Graffiti Analysis " une vaste étude du mouvement dans le graffiti ", qui permet d'enregistrer les mouvements, ainsi que leur rapidité, du graffeur lorsqu'il réalise un tag. Evan utilise ensuite les données recueillies pour en faire une visualisation 3D et à l'aide d'une imprimante 3D il en fait une sculpture. Pour saisir tout cela, voici une vidéo ! Tags: art , Cantine , evan roth , graffiti