Facebook
HOW TO: Improve Engagement on Your Brand's Facebook Page [STATS] If you're looking to boost engagement on your brand's Facebook Page, a new report from Buddy Media has some key findings for you.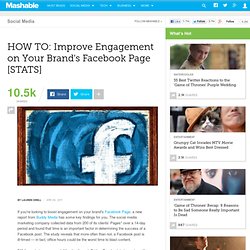 The social media marketing company collected data from 200 of its clients' Pages* over a 14-day period and found that time is an important factor in determining the success of a Facebook post. The study reveals that more often than not, a Facebook post is ill-timed — in fact, office hours could be the worst time to blast content. "While marketers may work Monday through Friday, Facebook is humming with activity 24-hours a day, seven days a week," says Buddy Media CEO Michael Lazerow. And so, brands must adapt to their consumers' schedules in order to optimize their engagement. Here are the findings, along with tips about when and how to make the most of a Facebook post.
Facebook
Facebook Now Powers Comments All Around the Web. This morning, Facebook released its much-feared commenting solution.
The idea made big news earlier this year, despite the fact that Facebook has already offered a commenting solution for more than a year, but today the company has announced the feature officially. So what's new? There are a number of features for both publishers and users, although some of the most exciting features we've seen displayed on Facebook late last year don't appear to be a part of the release. Is Facebook's massive social graph enough to push it into the default slot for comments, where it already resides for things like social sharing and third-party login? According to a Facebook spokesperson, the new commenting system will be a quick install for publishers, with a single line of code.
Facebook acquires job-search site Pursuit, sets stage to battle LinkedIn. HOW TO: Create a Facebook Engagement Policy. As Facebook has become a primary customer interaction point for businesses, many companies have established formal policies for how community managers and employees should engage with fans.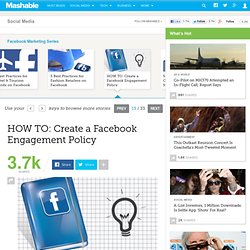 These engagement policies run the gamut from a brief checklist of best practices to a multi-page legal document with detailed instructions on how to handle issues. Since every company's goals, style and tone are different, it's important to develop policies that fit your business. Here are six steps to get you started. Categorize Posts. Doctors and Facebook: Is there a privacy risk?
Doctors with a Facebook profile could be jeopardizing their relationship with patients if they don't correctly use the website's privacy settings, according to a study in the Journal of Medical Ethics.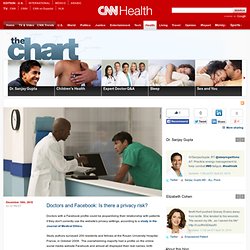 Study authors surveyed 200 residents and fellows at the Rouen University Hospital, France, in October 2009. The overwhelming majority had a profile on the online social media website Facebook and almost all displayed their real names, birth dates, a personal photograph and their current university. About half of those surveyed believed that the doctor-patient relationship would be changed if the patient learned that their doctor had a Facebook account; most believed this would happen only if the patient had unrestricted access to the doctor's profile. FB places. Mapping Facebook's Global Takeover [GRAPHIC]
Facebook's "In-House Sociologist" Shares Stats on Users' Social Behavior. Facebook's "In-House Sociologist" Shares Stats on Users' Social Behavior The famous Dunbar number, or "theoretical cognitive limit to the number of people with whom one can maintain stable social relationships", is generally accepted to be about 150.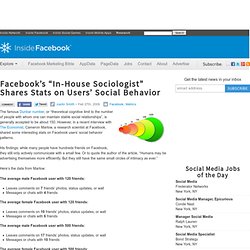 However, in a recent interview with The Economist, Cameron Marlow, a research scientist at Facebook, shared some interesting stats on Facebook users' social behavior patterns. His findings: while many people have hundreds friends on Facebook, they still only actively communicate with a small few. Or to quote the author of the article, "Humans may be advertising themselves more efficiently. But they still have the same small circles of intimacy as ever."
Social Media News and Web Tips – Mashable – The Social Media Guide. HOW TO: Build a Facebook Landing Page for Your Business. This post originally appeared on the American Express OPEN Forum, where Mashable regularly contributes articles about leveraging social media and technology in small business.
Facebook is known for its uniformity. You can post all sorts of content, but the actual design and layout of your profile is the same as everyone else's. But with Facebook Fan Pages and the array of apps you can plug into them, there are a few ways you can customize what people see when they land on your Page. You've probably seen custom Fan Pages like those of Best Buy and Victoria's Secret. When you land there, you start on what is essentially a mini website within Facebook, instead of the Page's wall or feed.
HOW TO: Get the Most Out of Your Business Facebook Page. Susan Payton is the President of Egg Marketing & Public Relations, an Internet marketing firm.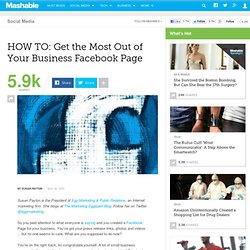 She blogs at The Marketing Eggspert Blog. Follow her on Twitter @eggmarketing. Jeffbullas's Blog - Facebook Privacy: 6 Years of Controversy [INFOGRAPHIC] Alexander Hotz is a freelance multimedia journalist and public radio junkie based in New York City.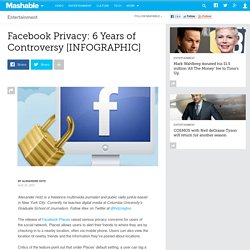 Currently he teaches digital media at Columbia University's Graduate School of Journalism. Follow Alex on Twitter at @hotzington. The release of Facebook Places raised serious privacy concerns for users of the social network. Facebook now 3rd most popular video site - Technology & science - Tech and gadgets. Facebook is now the third most popular video source on the Web, after Google and Yahoo.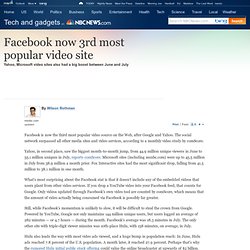 The social network surpassed all other media sites and video services, according to a monthly video study by comScore. Yahoo, in second place, saw the biggest month-to-month jump, from 44.9 million unique viewers in June to 55.1 million uniques in July, reports comScore. Microsoft sites (including msnbc.com) were up to 45.5 million in July from 38.9 million a month prior. Fox Interactive sites had the most significant drop, falling from 41.5 million to 38.1 million in one month. Optimizing Facebook Status Updates For Local Marketing. Many small-to-medium businesses (SMBs) are awakening to the marketing potential found in Facebook's massive audience, and have begun developing their Facebook pages to promote their companies.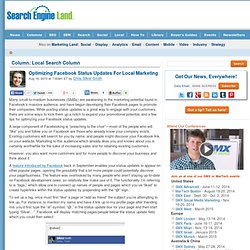 While posting status updates is a great way to engage with your customers, there are some ways to kick them up a notch to expand your promotional potential, and a few tips for optimizing your Facebook status updates. A large component of Facebooking is "preaching to the choir"—most of the people who will "like" you and follow you on Facebook are those who already know your company exists. Existing customers will search for you by name, and people might discover your Facebook link on your website. Marketing to this audience which already likes you and knows about you is certainly worthwhile for the sake of increasing sales and for retaining existing customers. Facebook Will Celebrate 500 Million Users Next Week. Facebook will finally reach the impressive 500 million user milestone sometime this coming week. To celebrate, it'll launch "Facebook Stories," a visual memorial to all the ways the social network has changed people's lives.All Things Digital's BoomTown blog uncovered the details in an interview with Facebook marketing guru Randi Zuckerberg last week.
She said that while previous announcements of this nature have been about the numbers, this time the company wants it to be all about the users. That'd be empty PR-speak on its own, but she's talking about a real initiative: Facebook Stories will be a website within Facebook that'll sort actual, submitted user stories by location and theme. Theme examples given included "finding love" and "natural disasters. " Each story will be limited to the same number of characters a Facebook status caps out at: 420. HOW TO: Build Your Personal Brand on Facebook. Dan Schawbel is the author of Me 2.0: Build a Powerful Brand to Achieve Career Success (Kaplan, April 09), and owner of the award winning Personal Branding Blog. With over 200 million active users, Facebook has become a personal, product and corporate branding hub.
Every brand that exists on Facebook has the same core features and benefits, such as the ability to create a page, share resources, add multimedia and much more. You have a unique opportunity to leverage this platform for career success or as a playground for you and your closest friends. The social graph is filled with CEOs, celebrities, entrepreneurs and people just like you who can be reached through Facebook's messaging system without any boundaries or restrictions. Facebook is also a talent search engine and part of the college admission and corporate recruiting criteria. Facebook Posts to Appear in Real-Time Search Results. As of today, real-time results from millions of users' Facebook posts will now appear in search results on OneRiot, one of the world's leading real-time search engines. These Facebook posts will also be accessible through OneRiot's API, which powers more than 100 real-time apps around the web and on mobile devices.
OneRiot already pulls data from blogs, Twitter, Digg and millions of other sources all over the social web. Having access to Facebook's nearly 500 million members, however, takes these search results to a higher plane by pooling a much larger dataset when finding and ranking links for search results. What Do You Check First: E-mail or Facebook? [INFOGRAPHIC] Where you start your digital day says a lot about you, according to a new study from ExactTarget, an e-mail and social media marketing company. If you check e-mail first, the company said, you tend to be more task-oriented and only interact with brands online when you need something, such as researching a deal, getting information about promotions or finding new product information.
However, if start your day with a visit to Facebook, you might welcome "extracurricular" content from brands, such as interaction and entertainment that isn't directly related to a purchase or business transaction. That's not all the study explored: Facebook Tips For Marketers. Facebook valued at $23 billion? The Republic of Facebook |
---