Graphisme
Pexels · Find Free High Quality Photos. Internet Archive Book Images' Photostream. Generator for Startup Framework: Create Landing Page. Start Bootstrap - Free Bootstrap Themes and Templates. The Pattern Library. Ninja power: open-source HTML5 toolset aims to enable richer Web apps.
Modern HTML rendering engines and emerging standards make it possible to create a new class of rich experiences that could previously be achieved only with native development toolkits—but developers need better Web development frameworks and authoring tools in order to take advantage of the possibilities.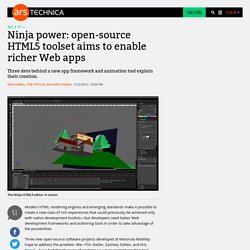 Three new open-source software projects developed at Motorola Mobility hope to address the problem. We—Tim Statler, Zachary Cohen, and Kris Kowal—have had the pleasure of working on a new content creation tool called Ninja, a JavaScript development framework called Montage, and a testing automation tool called Screening. In this article, we will describe all three pieces of software, and we've included code examples to illustrate some of the functionality. Put a low-poly spin on art portraits. Photoshop tutorial: Use brushes to enhance portraits. Adobe Illustrator & Photoshop tutorial: Create stylish vector portraits. Eelco van den Berg is an illustrator, painter and graffiti artist based in Rotterdam, the Netherlands.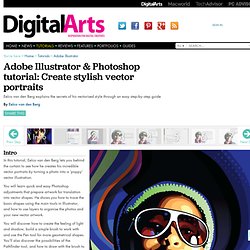 He can often be found freaking out in the studio with Adobe Illustrator or outdoors with spraypaint and latex. Eelco's work stands out in its strong use of colours and outlines, combined with highly decorative elements. Téléchargement de The Rasterbator. The Rasterbator permet de créer des posters à partir de vos images préférées.
Il est très simple d'utilisation: Sélectionnez l'image, et le nombre de feuillles A4. Le logiciel vous produit alors un fichier PDF qu'il vous suffit d'imprimer, et enfin d'assembler. Spectrum - Shutterstock Labs. Free Microsoft Word Templates | Free Brochure, Flyer Templates. Annie Vought | paper cut letters. Annie Vought artist paper Clay Klee 2014.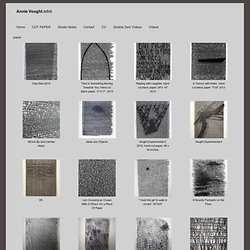 Word as Image. Super Easy Typographic Portrait in Photoshop. Last year we posted on Abduzeedo a very cool post about typographic portraits, the 45 Amazing Type Faces - Typographic Portraits became one of the most popular posts on Abduzeedo, and a lot of people asked me how to create that effect in Photoshop.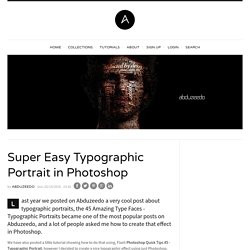 We have also posted a little tutorial showing how to do that using, Flash Photoshop Quick Tips #5 - Typographic Portrait, however I decided to create a nice typographic effect using just Photoshop. So in this tutorial I will show you how to create a really cool and super easy typographic portrait in Photoshop. We will use the Displace filter and some Blend Modes to achieve the effect. The whole process is quite simple but it might take you some time to add the texts and elements, but once you do that the rest is very straight forward. Poster from the Words. Would you like to make your own cool musical poster?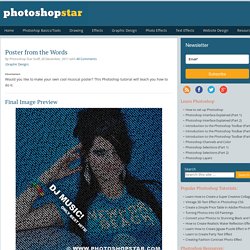 This Photoshop tutorial will teach you how to do it. Final Image Preview Resources Girl. Learn to draw a realistic glass transparent and neon Phone or how to make retro style with your own hands. Make yourself an Amazing Typographic Portrait. The tutorial is made after receiving a reader's request.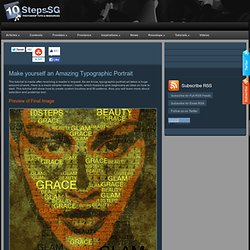 As we know, typographic portrait art takes a huge amount of work. Here is a much simpler version I made, which hopes to give beginners an idea on how to start. This tutorial will show how to create custom brushes and fill patterns. Also you will learn more about selection and posterize tool. Untitled. Edition limitée, signée et numérotée au crayon par l'artiste.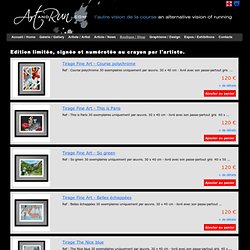 Tirage Fine Art - So green Ref : So green 30 exemplaires uniquement par œuvre. 30 x 40 cm - livré avec son passe-partout gris 40 x 50 ... Tirage The Nice blue Ref : The Nice blue 30 exemplaires uniquement par œuvre. 30 x 40 cm - livré avec son passe-partout gris 40 x ... Création de logo gratuit - logiciel pour créer un logo professionnel gratuit. Tagul - Gorgeous tag clouds. 50 banques d'images gratuites (et légales)... Si vous aimez le design et que vous pratiquez votre passion dans le plus strict respect des lois, alors les banques d'images gratuites, ça doit vous connaitre.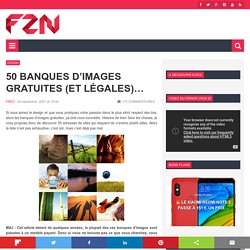 Histoire de bien faire les choses, je vous propose donc de découvrir 50 adresses de sites qui risquent de s'avérer plutôt utiles. Alors la liste n'est pas exhaustive, c'est sûr, mais c'est déjà pas mal. Creative Commons. Many Flickr users have chosen to offer their work under a Creative Commons license, and you can browse or search through content under each type of license.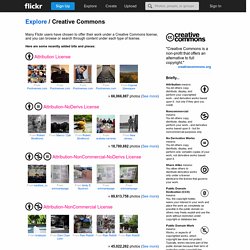 Here are some recently added bits and pieces: Attribution License. Everystockphoto - searching free photos. MorgueFile free photos for creatives by creatives. The leading free stock photography site.
Color Scheme Designer 3. Color Hunter. Color Trends + Palettes. Ironman - Logo Vector Download Free (Brand Logos) (AI, EPS, CDR, PDF, GIF) | seeklogo.com. 42 Awesome Vector Business Cards For Inspiration at DzineBlog. Favicon Generator. Auto - Logo Vector Download Free (Brand Logos) (AI, EPS, CDR, PDF, GIF) | seeklogo.com. Vector Graphics and Web Design Resources - Part 5. Réduire la taille de vos JPEG jusqu'à 80% grâce à JPEGmini ! PresentationLoad's Presentations on SlideShare. Browse icon sets. HAMM[.O.]UR. MASSIVE Restaurant & Catering. : Flavors.me. Untitled. West eleven I Houston advertising agency - creating human reaction.
35 Great Social Media Infographics. 45 Creative and Beautiful Logo Design You Should've Seen at DzineBlog. Beautiful Word Clouds. Creator.
---