Religious Information
Discover UU - Searching for Truth and Meaning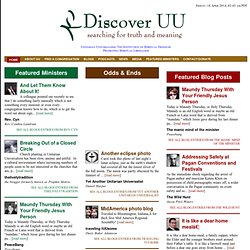 Maundy Thursday With Your Friendly Jesus Person Today is Maundy Thursday, or Holy Thursday. Maundy is an old English word or maybe an old French or Latin word that is derived from "mandate," which Jesus gave during his last dinner pa... [read more]
We welcome evangelicals, secularists, religious conservatives, religious liberals, Deists, Wiccans, other Pagans, progressives, animists, theists, fundamentalists, Atheists, polytheists, humanists, Agnostics, etc. Everyone should find their beliefs & practices accurately described here. Almost all other religious web sites explain only the beliefs of the webmaster or sponsoring faith group. We are different: we try to explain accurately the full diversity of religious beliefs, world views, and systems of morality, ethics, and values.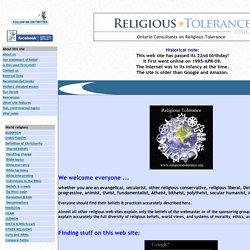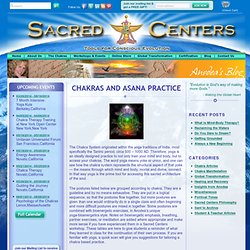 The Chakra System originated within the yoga traditions of India, most specifically the Tantric period, circa 500 – 1000 AD. Therefore, yoga is an ideally designed practice to not only train your mind and body, but to access your chakras. The word yoga means yoke or union, and one can see how the chakra system represents the structural aspect of that yoke — the means through which mind and body, mortal and divine, connect. In that way yoga is the prime tool for accessing this sacred architecture of the soul. The postures listed below are grouped according to chakra. They are a guideline and by no means exhaustive.
Sikkim is a small state of India located in the Himalayas, bordered by Bhutan, Nepal, and China. For several centuries it was a kingdom, and it became a state of India in 1977. Sikkim is about 60 percent Hindu and 28 percent Buddhist. Elections for seats in the Sikkim state assembly will be held April 12. One seat in the assembly is the "sangha" seat, reserved for a Buddhist monk elected by other Buddhist monks. Six monks are campaigning.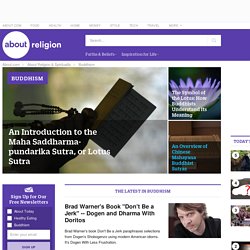 Chakra: Index | Basics | Symbols/Names | Primary 7 | Exercises | Foods | Meditations What Are Chakras? Chakras are our energy centers.