Art
Beautiful Hand Drawn Typography - Smashing Magazine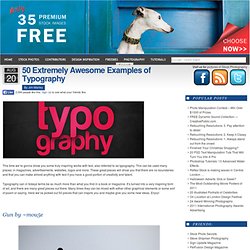 This time we're gonna show you some truly inspiring works with text, also referred to as typography. This can be used many places; in magazines, advertisements, websites, logos and more. These great pieces will show you that there are no boundaries and that you can make almost anything with text if you have a good portion of creativity and talent. Typography can in todays terms be so much more than what you find in a book or magazine. It's turned into a very inspiring form of art, and there are many great pieces out there. Many times they can be mixed with either other graphical elements or some sort of poem or saying.
I know everybody and their brother does logo roundups so you're probably sick of them, but I don't believe I've ever done one and there is a particularly impressive brand of logo design that I wanted to point out. Today we'll look at 50 logos that are the result of going beyond the typical thought process and injecting a little wit and hidden symbolism into the design process. What Makes a Logo Clever?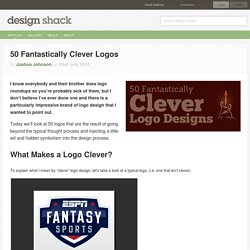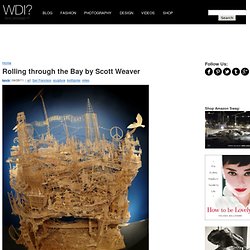 Rolling through the Bay by Scott Weaver
This might just be the most ingenious sculpture ever created. Scott Weaver's Rolling through the Bay sculpture of San Francisco is not just a sculpture made of 100k toothpicks, it is also a kinetic sculpture that gives you multiple tours of San Francisco via different paths in the sculpure. Using ping pong balls as your tour guides, you can see various landmarks, neighbords, historic locations, and iconic symbols of the Bay Area.This amazing sculpture has taken over 3,000 hours in 35 years to create, and is still being built with toothpicks from around the world.
Minas Tirith Made From Matchsticks | 10 Times One
Minas Tirith was always the better Minas. Not because good is better than evil which can actually be debated, and not because it looks cooler, which can also be argued against. But because it's the capital of Gondor, dude! And you can't dispute that. For the 3 of you that don't know what I'm talking about, Minas Tirith is the legendary site of the final battle between the dark forces of Sauron and everyone else in Middle Earth. I'm not gonna say who won, but you'll probably be happy if you're a fan of Viggo Mortensen.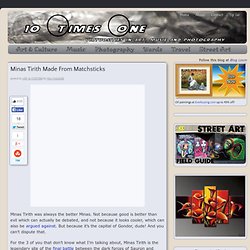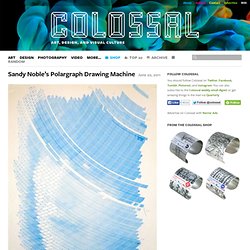 I was checking out some photos emerging from this weekend's Interesting 2011 conference held in London (there was a world record attempt at ping pong ball mouse trap nuclear fission, among other things) when I stumbled onto a portrait of the group's organizer Russel Davies being drawn with a very strange device. It turns out the robotic drawing machine was built by maker/designer/craftsman Sandy Noble and he calls it a Polargraph which is really nothing more than a pen attached to string that's moved by two small motors. With an assist from good 'ole gravity and some clever software the pen arcs back and forth, similar to a standard back-and-forth plotter printer, creating the beautifully textured drawings above.
Sandy Noble's Polargraph Drawing Machine
Posted by admin on May 31, 2011 in Crazy Art | 2 comments The Collaborators: University of Bristol virologist Andrew Davidson, glassblowers, Kim George, Brian Jones and Norman Veitch. Took inspiration from high-resolution electron microscopic images, creating large, painstakingly accurate glass sculptures of viruses and bacteria such as HIV, E. coli, SARS, and H1N1 (Swine flu). Took over 5 years of development and research.
Deadliest Art Glass in the World | Wrong Dream
Rackham Illustrations in The Rhinegold & the Valkyrie
50 Outstanding Illustration Designs for Your Inspiration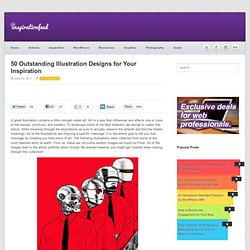 A great illustration contains a little concept called art. Art is a way that influences and affects one or more of the senses, emotions, and intellect. To showcase some of the best artworks, we decide to create this article. While browsing through the illustrations be sure to actually observe the artwork and find the hidden meanings. All of the illustrations are implying a specific message.
5 Absolutely Stunning Images of Mount Roraima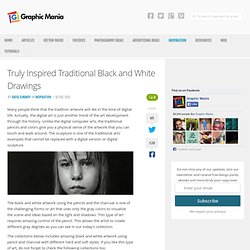 Truly Inspired Traditional Black and White Drawings
Many people think that the tradition artwork will die in the time of digital life. Actually, the digital art is just another trend of the art development through the history. Unlike the digital computer arts, the traditional pencils and colors give you a physical sense of the artwork that you can touch and walk around. The sculpture is one of the traditional arts' examples that cannot be replaced with a digital version or digital sculpture. The black and white artwork using the pencils and the charcoal is one of the challenging forms or art that uses only the gray colors to visualize the scene and ideas based on the light and shadows. This type of art requires amazing control of the pencil.
Amazing Video Game Inspired Flipbook Animations
Youtube user, BloodyRenegadeX, has made some amazing flipbook animations in the past, but his recent ones have been about Sonic the Hedgehog and Mortal Kombat and we couldn't stop ourselves from posting these. If you're into creating flipbooks try topping his Sonic the Hedgehog 3 flipbook, it's insane. Flipbook Animation: Sonic the Hedgehog 3 Flipbook Animation: House of the Dead Flipbook Animation: The Legend of Zelda (Kirby's Quest) Flipbook Animation: Mortal Kombat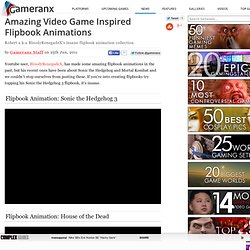 THE MONSTER OF NIX - A ROSTO A.D FILM