Trends
Peclers Paris - Agence de style internationale
Dezineo - Polygone Group
Welcome to Happy Spotting!
First published May 2010 | Whatever industry you're in, in the end, everything is about status. And since what constitutes status in consumer societies is fragmenting rapidly, here's a (modest) framework to help you start exploring new status symbols and stories with your customers. Like it or not, the need for recognition and status is at the heart of every consumer trend*.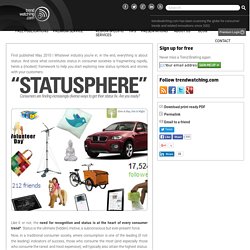 s May/June 2010 Trend Briefing covering "STATUSPHERE"
Catégories : Packaging
TrendsActions > Following the reported acquisitions made by Google, Microsoft and Yahoo
TRENDOSCOPE TRENDROLL DIRECTORY – Providing Trend Spotting Buzz Tools, Cool trend and innovation blogs
Trendbüro - Beratungsunternehmen für gesellschaftlichen Wandel - Home/Startseite/News
Homepage | EDELKOORT
CScout Trend Consulting