Games/juegos
Catalysts for Change: How to Gamify a Path Out of Poverty. Posted by An Xiao Mina | 22 May 2012 | Comments (0) A map of the global game guides who helped manage the Catalysts For Change game during its 48 hour run.
It seems like we're playing video games every day. Every morning and evening on the subway, I see people swiping their phones, whether they're slinging a red bird into a pile of green pigs, guessing a friend's drawing, or any number of fun, frivolous, addictive activities. That's a lot of time spent on games, and a lot of cognitive energy. What if all of that brain power could be put toward social issues, like finding a way out of poverty? Alternate reality game. An alternate reality game (ARG) is an interactive networked narrative that uses the real world as a platform and uses transmedia storytelling to deliver a story that may be altered by players' ideas or actions.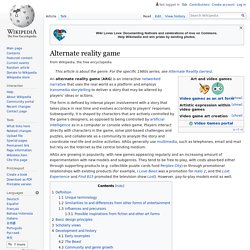 The form is defined by intense player involvement with a story that takes place in real-time and evolves according to players' responses. Subsequently, it is shaped by characters that are actively controlled by the game's designers, as opposed to being controlled by artificial intelligence as in a computer or console video game. Players interact directly with characters in the game, solve plot-based challenges and puzzles, and collaborate as a community to analyze the story and coordinate real-life and online activities. United Nations Convention to Combat Desertification. Ciudad Verde- ¡Por un planeta saludable! Why We Play Games – The Player Experience. Detalles del recurso Pertenece a: CiteSeerX Scientific Literature Digital Library and Search Engine Descripción: To create more emotion in innovative future games, we at XEODesign want to know more about the role of emotion in games and identify ways to create emotion other than story cutscenes.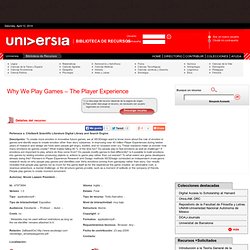 Book Review: Game Urbanism. The widening of the planning process is something we have only seen happening in the past 20 years.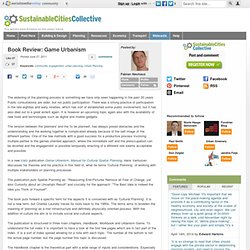 Public consultations are older, but not public participation. There was a strong practice of participation in the late eighties and early nineties, which has sort of established some public involvement, but it has also died out to a great extent again. It is however an upcoming topic again also with the availability of new tools and technologies such as digital and mobile gadgets. Google Translate. Play to win: The game-based economy. Companies are realizing that "gamification" -- using the same mechanics that hook gamers -- is an effective way to generate business.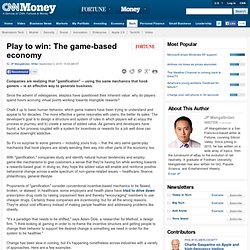 Since the advent of videogames, skeptics have questioned their inherent value: why do players spend hours accruing virtual points working towards intangible rewards? Chalk it up to basic human behavior, which game makers have been trying to understand and appeal to for decades. Why Every Company Needs a Chief Gaming Officer. Over the past several years I've been producing Innovation Games® events to help my friends in the Intellectual Property industry define the role of the Chief Intellectual Property Officer (CIPO)1.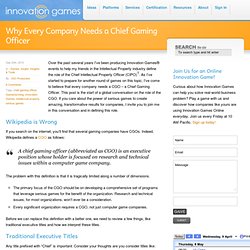 As I've started to prepare for another round of games on this topic, I've come to believe that every company needs a CGO – a Chief Gaming Officer. This post is the start of a global conversation on the role of the CGO. If you care about the power of serious games to create amazing, transformative results for companies, I invite you to join me in this conversation and in defining this role. If you search on the internet, you'll find that several gaming companies have CGOs.
Indeed, Wikipedia defines a CGO as follows: Social-gaming-trends from mashable.com. Prita Uppal is the founder and CEO of YooMee Games, a social competition platform that brings tournaments and cash prizes to skill-based games across websites, social networks and mobile apps.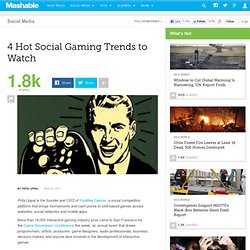 More than 18,000 interactive gaming industry pros came to San Francisco for the Game Developers' Conference this week, an annual event that draws programmers, artists, producers, game designers, audio professionals, business decision-makers and anyone else involved in the development of interactive games. At GDC in past years, hardcore gamers have been reluctant to accept social games into the fold, but this year there's no denying it.
Social games are the fastest growing segment of the gaming market with revenues projected to exceed $1 billion in 2011, and they are here to stay. Social Gaming By The Numbers (Social Studies Blog) Digital Gaming Goes Academic. Published Online: March 14, 2011 Published in Print: March 17, 2011, as Gaming Goes Academic Rice University created CSI: Web Adventures to introduce middle schoolers to forensic science through cases based on the popular TV-show franchise about crime-scene investigations.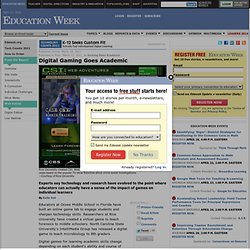 —Courtesy of Rice University. Video Games Win a Beachhead in the Classroom. Gillian Laub for The New York Times Class Media Nicole Dodson, Dakota Jerome Solbakken and Nadine Clements, students at Quest to Learn, a New York City public school, play a game they designed.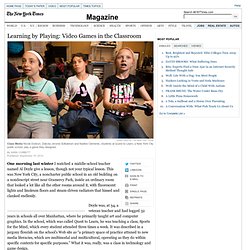 Doyle was, at 54, a veteran teacher and had logged 32 years in schools all over Manhattan, where he primarily taught art and computer graphics. In the school, which was called Quest to Learn, he was teaching a class, Sports for the Mind, which every student attended three times a week. Www.glg.net/pdf/Finite_Infinite_Games.pdf. #cosi10 FOCUS: Game Dynamics in Social Innovation (Denver)
Game Dynamics in Social Innovation (Open Space notes from Denver: Matt, Jay, Darcie, Arthur, Joy, Karl, Jordan, and others) For an interesting illustration listen to TEDx talk by Seth Priebatsch of SCVNGR, The Game Layer on the World iebatsch_the_game_layer_on_top_o f_the_world.html Rise of the "check-in" - location based services with game dynamics. 4Square, SCVNGR, et al.
Jane McGonigal: Gaming can make a better world. Chromaroma. Tiempo Loco! Gamification. Gamification. Gamification. Sistema de juego. Un sistema de juego es una regla o conjunto de reglas cuyo objetivo consiste en obtener una serie de resultados coherentes en el seno de un juego. Los juegos complejos, como los juegos de rol, pueden disponer de un gran número de reglas interconectadas en el seno de sus respectivos sistemas de juego.
A la experiencia total que el juego provee o al conjunto de reglas de juego se le llama jugabilidad. Teoría de juegos. Desarrollada en sus comienzos como una herramienta para entender el comportamiento de la economía, la teoría de juegos se usa actualmente en muchos campos, como en la biología, sociología, psicología y filosofía. Experimentó un crecimiento sustancial y se formalizó por primera vez a partir de los trabajos de John von Neumann y Oskar Morgenstern, antes y durante la Guerra Fría, debido sobre todo a su aplicación a la estrategia militar, en particular a causa del concepto de destrucción mutua garantizada.
Desde los setenta, la teoría de juegos se ha aplicado a la conducta animal, incluyendo el desarrollo de las especies por la selección natural. A raíz de juegos como el dilema del prisionero, en los que el egoísmo generalizado perjudica a los jugadores, la teoría de juegos ha atraído también la atención de los investigadores en informática, usándose en inteligencia artificial y cibernética. Www.amspw.org/spw/tripticos/pdf/ANEX-V.pdf. Using "game dynamics" to change behaviour - The good, the bad and the ugly. ?p=355 from johnbarberblog.com. In a series of talks at Google, TED and SXSW, big ideas have been circulating in the emerging area of gamification. Revealing the psychological levers behind game mechanics and applying these mechanics to solving real-world problems, Sebastian Deterding, a UX designer and researcher, and Seth Priebatsch, founder and CEO of gamification platform startup SCVNGR, have emerged as two early thought leaders worth watching.
Both contend that gamification, or making a non-game application more engaging by adding game-like features, is clearly more than a bolt-on marketing fad and even quite possibly the next big thing for the internet. A few core ideas shared by both of these thought leaders are deconstructed from their recent talks below so that we may more readily consider applying them in our own projects. Sebastian Deterding. Why The Future Of Work Is Play [Video] The Future Of Work Is Play. What actitivies can be turned into games? The Fun Theory. Study: Video Games Can Improve Decision Making.
Kodu Home | MSDN.
---