Généralités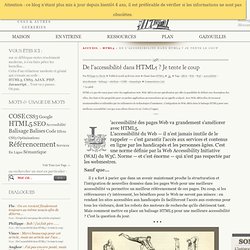 De l'accessibilité dans HTML5 ? Je tente le coup - HTML5
L 'accessibilité des pages Web va grandement s'améliorer avec HTML5. L'accessibilité du Web — il n'est jamais inutile de le rappeler — c'est garantir l'accès aux services et contenus en ligne par les handicapés et les personnes âgées. C'est une norme définie par la Web Accessibility Initiative (WAI) du W3C. Norme — et c'est énorme — qui n'est pas respectée par les webmestres. Sauf que... il y a fort à parier que dans un avenir maintenant proche la structuration et l'intégration de nouvelles données dans les pages Web pour une meilleure accessibilité va permettre un meilleur référencement de ces pages.
Une petite introduction à HTML5 - NeoBlog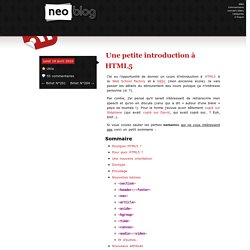 J'ai eu l'opportunité de donner un cours d'introduction à HTML5 à la Web School Factory et à Hétic (mon ancienne école). Je vais passer les détails du déroulement des cours puisque ça n'intéresse personne (si ?). Par contre, j'ai pensé qu'il serait intéressant de retranscrire mon speech et qu'on en discute (celui qui a dit « autour d'une bière » paye sa tournée !). Pour la forme j'avoue avoir bêtement copié sur Stéphane (qui avait copié sur David , qui avait copié sur… ?
The HTML5 specification has added quite a few interesting and useful tags for structuring your markup. For a majority of everyday uses, these tags will replace many of our typical div entries from our code. So let's dig in. Defining Structure A section is a thematic grouping of content, typically preceded by header, possibly with a footer after. section s can be nested inside of each other, if needed, and can hold any amount of typical markup.
Structural Tags in HTML5 - HTML & CSS - Resources - Our Writing
HTML5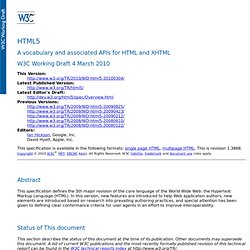 A vocabulary and associated APIs for HTML and XHTML W3C Working Draft 4 March 2010 This Version:
How HTML5 will change the Web | Developer World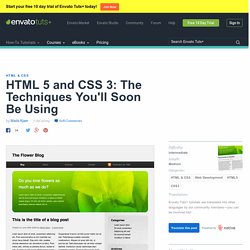 In this tutorial, we are going to build a blog page using next-generation techniques from HTML 5 and CSS 3. The tutorial aims to demonstrate how we will be building websites when the specifications are finalized and the browser vendors have implemented them. If you already know HTML and CSS, it should be easy to follow along.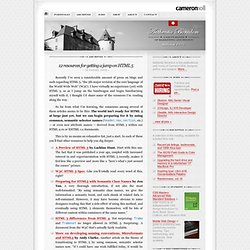 12 resources for getting a jump on HTML 5
Recently I've seen a considerable amount of press on blogs and such regarding HTML 5, "the 5th major revision of the core language of the World Wide Web" (W3C). I have virtually no experience (yet) with HTML 5, so as I jump on the bandwagon and begin familiarizing myself with it, I thought I'd share some of the resources I'm reading along the way. So far from what I'm learning, the consensus among several of these articles seems to be this: The world isn't ready for HTML 5 at large just yet, but we can begin preparing for it by using common, semantic selector names ( header , nav , section , etc.) — or even new attribute names — derived from HTML 5 within our HTML 4.01 or XHTML 1.x documents. This is by no means an exhaustive list, just a start.
Photo Download: HTML5 (Infographic)