Généralités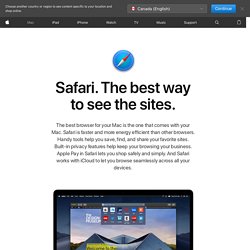 Shared Links is the best way to see what's up on the web. When you're in the mood to read something new, quirky, or cool, open Shared Links in the Safari Sidebar, where you can view links from people you follow on Twitter and LinkedIn. You can scroll seamlessly from one story to the next, no clicking required.
In March 1936, an unusual confluence of forces occurred in Santa Clara County. A long cold winter delayed the blossoming of the millions of cherry, apricot, peach, and prune plum trees covering hundreds of square miles of the Valley floor. Then, unlike many years, the rains that followed were light and too early to knock the blossoms from their branches. Instead, by the billions, they all burst open at once. Seemingly overnight, the ocean of green that was the Valley turned into a low, soft, dizzyingly perfumed cloud of pink and white. Une petite introduction à HTML5 - NeoBlog
The HTML5 specification has added quite a few interesting and useful tags for structuring your markup. For a majority of everyday uses, these tags will replace many of our typical div entries from our code. So let's dig in. Defining Structure A section is a thematic grouping of content, typically preceded by header, possibly with a footer after. section s can be nested inside of each other, if needed, and can hold any amount of typical markup.
HTML5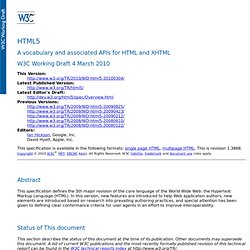 A vocabulary and associated APIs for HTML and XHTML W3C Working Draft 4 March 2010 This Version: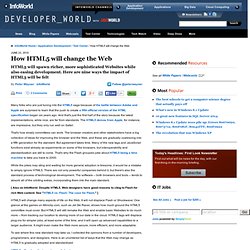 How HTML5 will change the Web | Developer World
Many folks who are just tuning into the HTML5 saga because of the battle between Adobe and Apple are surprised to learn that the push to create a fifth official version of the HTML specification began six years ago. And that's just the first half of the story because the latest implementations, while nice, are far from standards. The HTML5 demos from Apple, for instance, are impressive, but they only run well on Safari. That's how slowly committees can work.
Dive Into HTML5 elaborates on a hand-picked selection of features from the HTML5 specification and other fine standards. We encourage you to buy the printed work — Mark Pilgrim's artfully titled "HTML5: Up & Running" — published on paper by O'Reilly, under the Google Press imprint. Your kind and sincere feedback is always welcome, and this work shall remain online under the CC-BY-3.0 license. This particular edition of Dive Into HTML5 is advanced by the diveintomark team. We work hard to add and update content, links, APIs, and actively maintain this fine resource; refreshing and reflecting the relevant and current state of HTML5, just as Mark Pilgrim did during his tenure. We attribute this work in the manner specified by Mark, and we make modifications to the site's content.
I have to be honest with you: I feel like a fraud writing about JavaScript for HTML5 Doctor. I would feel like a fraud writing about JavaScript for a click-driven ad-splattered content farm, never mind HTML5 Doctor. The thing is though, I'm writing about the classList API, and it's super easy. If your JavaScript-fu isn't great and you're wary of HTML5 APIs, this one is at the perfect temperature for toe-dipping, and it'll leave you pleasantly surprised at just how easy it is.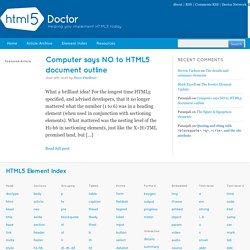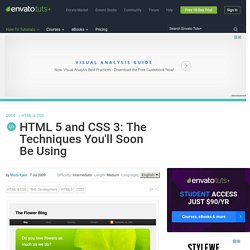 In this tutorial, we are going to build a blog page using next-generation techniques from HTML 5 and CSS 3. The tutorial aims to demonstrate how we will be building websites when the specifications are finalized and the browser vendors have implemented them. If you already know HTML and CSS, it should be easy to follow along. HTML 5 is the next major version of HTML.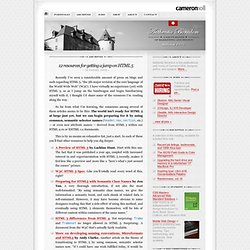 12 resources for getting a jump on HTML 5
Recently I've seen a considerable amount of press on blogs and such regarding HTML 5, "the 5th major revision of the core language of the World Wide Web" (W3C). I have virtually no experience (yet) with HTML 5, so as I jump on the bandwagon and begin familiarizing myself with it, I thought I'd share some of the resources I'm reading along the way. So far from what I'm learning, the consensus among several of these articles seems to be this: The world isn't ready for HTML 5 at large just yet, but we can begin preparing for it by using common, semantic selector names (header, nav, section, etc.) — or even new attribute names — derived from HTML 5 within our HTML 4.01 or XHTML 1.x documents. This is by no means an exhaustive list, just a start.
Photo Download: HTML5 (Infographic)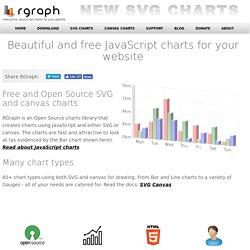 RGraph is a HTML5 canvas based JavaScript library built for web charts and supports over twenty different types of visualisation. Using the <canvas> tag, RGraph creates these charts inside the web browser using JavaScript, meaning quicker pages and less web server load. This leads to smaller page sizes, lower costs and faster websites. Open Source and Free to use! RGraph is truly Open and Free to use for any purpose under the MIT license. The full source is included in the download and you can edit it as you need.