Data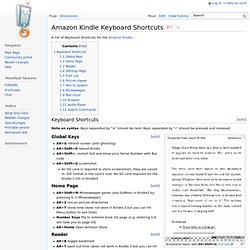 Amazon Kindle Keyboard Shortcuts
A list of Keyboard Shortcuts for the Amazon Kindle . [ edit ] Keyboard Shortcuts Note on syntax : Keys separated by " + " should be held. Keys separated by " - " should be pressed and released. [ edit ] Global Keys
Sometimes, a chart just strains your mind. Such is the case with the following, a tip from Augustine F. ( @acfou ) There are just so many percentages on the chart it's really hard to figure out which is which. Under the title, it hints that they are showing results from a poll. The legend implies that the poll asks for estimates of budget and revenue allocations: one imagines the questions were what proportion of your marketing budget is allocated to digital? and what proportion of your revenues is attributed to digital?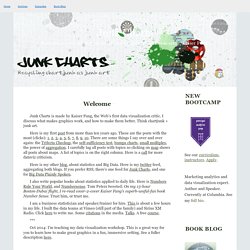 Hans Rosling: Providing Data, Inspiring Change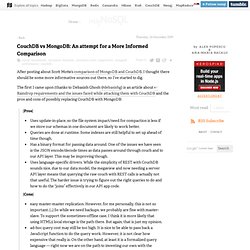 CouchDB vs MongoDB: An attempt for a More Informed Comparison « myNoSQL
After posting about Scott Motte's comparison of MongoDB and CouchDB , I thought there should be some more informative sources out there, so I've started to dig. The first I came upon (thanks to Debasish Ghosh @debasishg ) is an article about ☞ Raindrop requirements and the issues faced while attacking them with CouchDB and the pros and cons of possibly replacing CouchDB with MongoDB: [ Pros ] Uses update-in-place, so the file system impact/need for compaction is less if we store our schemas in one document are likely to work better. Queries are done at runtime. Some indexes are still helpful to set up ahead of time though. Has a binary format for passing data around.
The art of data visualization
Resource path: /content/newsweek/2010/11/15/career-tree/jcr:content/body/packageidentityheade Resource type: newsweek/components/content/packageidentityheader Resource super type: - Resource properties jcr:lastModifiedBy: catalanoms imageRotate: 0 sling:resourceType: newsweek/components/content/packageidentityheader imageMap: [rect(0,0,217,86)"/tag/branching-businesses.html"||][rect(332,0,628,85)"http://www.newsweek.com/2010/11/15/career-tree.html"||] jcr:lastModified: java.util.GregorianCalendar[time=1289931732010,areFieldsSet=true,areAllFieldsSet=true,lenient=false,zone=sun.util.calendar.ZoneInfo[id="GMT",offset=0,dstSavings=0,useDaylight=false,transitions=0,lastRule=null],firstDayOfWeek=1,minimalDaysInFirstWeek=1,ERA=1,YEAR=2010,MONTH=10,WEEK_OF_YEAR=47,WEEK_OF_MONTH=3,DAY_OF_MONTH=16,DAY_OF_YEAR=320,DAY_OF_WEEK=3,DAY_OF_WEEK_IN_MONTH=3,AM_PM=1,HOUR=6,HOUR_OF_DAY=18,MINUTE=22,SECOND=12,MILLISECOND=10,ZONE_OFFSET=0,DST_OFFSET=0] jcr:primaryType: nt:unstructured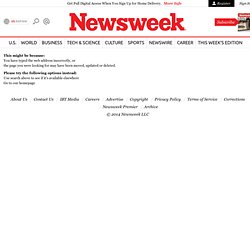 Build Your Career Tree Now - Newsweek
Developer Network: Community: JavaScript API (Early Access)