Self-Improvement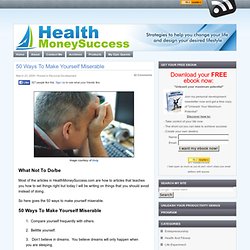 Avoid These Ideas
42 CommentsMarch 23, 2009 / Posted in Personal Development <div class="greet_block wpgb_cornered"><div class="greet_text"><div class="greet_image"><a href="http://feeds.feedburner.com/hityourgoals" target="_blank" rel="nofollow"><img src="http://www.healthmoneysuccess.com/wp-content/plugins/wp-greet-box/images/rss_icon.png" alt="WP Greet Box icon"/></a></div>Hello there! If you are new here, you might want to <a href="http://feeds.feedburner.com/hityourgoals" rel="nofollow"><strong>subscribe to the RSS feed</strong></a> for updates on this topic.<div style="clear:both"></div></div></div> Image courtesy of thrig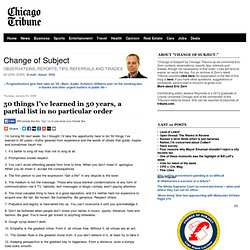 1. It's better to sing off key than not to sing at all. 2. Promptness shows respect.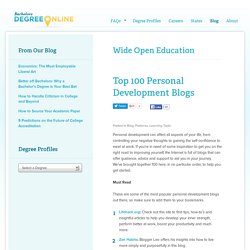 Personal development can affect all aspects of your life, from controlling your negative thoughts to gaining the self-confidence to excel at work. If you're in need of some inspiration to get you on the right road to improving yourself, the Internet is full of blogs that can offer guidance, advice and support to aid you in your journey. We've brought together 100 here, in no particular order, to help you get started. Must Read These are some of the most popular personal development blogs out there, so make sure to add them to your bookmarks.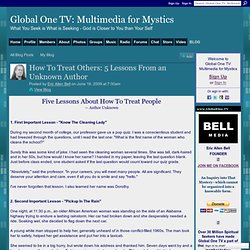 Five Lessons About How To Treat People -- Author Unknown 1. First Important Lesson - "Know The Cleaning Lady" During my second month of college, our professor gave us a pop quiz. I was a conscientious student and had breezed through the questions, until I read the last one: "What is the first name of the woman who cleans the school?" Surely this was some kind of joke.
50 Things Everyone Should Know
post written by: Marc Chernoff Email A question that makes you think is worth asking… At the cusp of a new day, week, month, or year, most of us take a little time to reflect on our lives by looking back over the past and ahead into the future. We ponder the successes, failures and standout events that are slowly scripting our life's story. This process of self reflection helps us maintain a conscious awareness of where we've been and where we intend to go.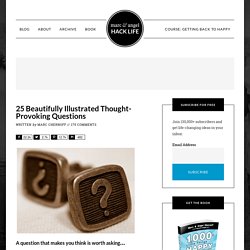 Developing good habits is the basic of personal development and growth. Everything we do is the result of a habit that was previously taught to us. Unfortunately, not all the habits that we have are good, that's why we are constantly trying to improve.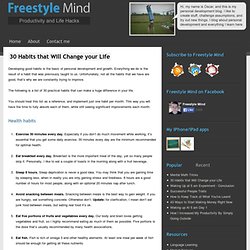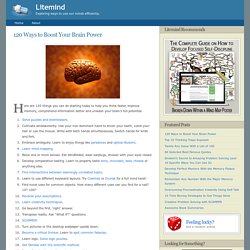 Here are 120 things you can do starting today to help you think faster, improve memory, comprehend information better and unleash your brain's full potential. Solve puzzles and brainteasers.Cultivate ambidexterity. Use your non-dominant hand to brush your teeth, comb your hair or use the mouse. Write with both hands simultaneously.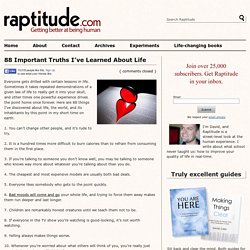 Everyone gets drilled with certain lessons in life. Sometimes it takes repeated demonstrations of a given law of life to really get it into your skull, and other times one powerful experience drives the point home once forever. Here are 88 things I've discovered about life, the world, and its inhabitants by this point in my short time on earth. 1. You can't change other people, and it's rude to try. 2.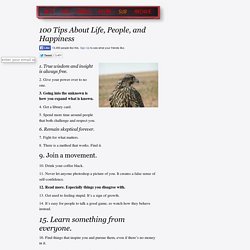 1. True wisdom and insight is always free. 2.
5 Ways to Give Yourself an Education That Kicks the Crap Out of the One You Got in School One of the biggest reasons that people are denied the privilege of education is because they can't afford it. However, today we live in a world where knowledge and information are at our finger tips like never before. Technology has leveled the playing field so that anybody with an interest and an internet connection can receive a world class education. Bloggers, podcasters, search engines and digital content creators of all types of have made it possible for us to learn virtually anything we want to even if we don't have the money.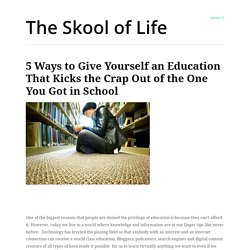 1000% formula
Overcoming Worry