Digitalliteracy
InfoLit Global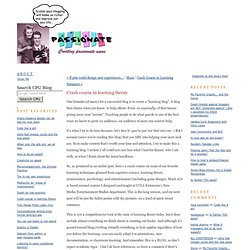 « If pets could design user experiences... | Main | Crash Course in Learning Summary » Crash course in learning theory One formula (of many) for a successful blog is to create a "learning blog".
e-Notes — Asia-Pacific Development Information Programme
APDIP e-Notes present an analytical overview of specific issues related to information and communication technologies for sustainable human development in the Asia-Pacific region. In these pdf documents, the bullet points in the blue box are clickable and will take you to the related sections of the e-Notes. The URLs are also clickable.