Code testing
TestCafé: Web Testing Framework | DevExpress
Sam Brannen
Testing Web Applications with Spring Framework 3.2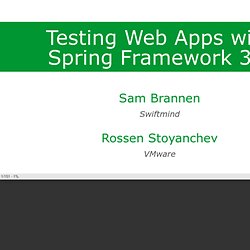 Spring MVC comes with a very useful test framework, which allows doing in-depth testing without even starting a web container.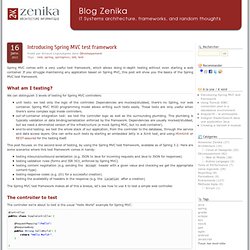 Introducing Spring MVC test framework
The Future of Web MVC Testing
We Recommend These Resources Ok, ok, I'm excited. Right now I just was able to hack my way through a test with Spring 3.2 and the web context.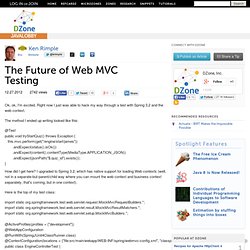 Does Spring MVC Spring 3.2 test the web.xml configuration
» Maven + JUnit + ClassFormatError: Absent Code attribute in method that is not native or abstract in class file dominikdorn.com
11May 2010 Once in a while one stumbles upon an error message like this java.lang.ClassFormatError: Absent Code attribute in method that is not native or abstract in class file javax/mail/Session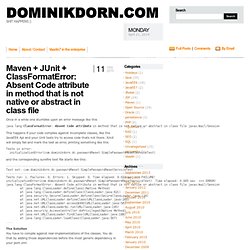 Spring Framework 3.2 RC1: New Testing Features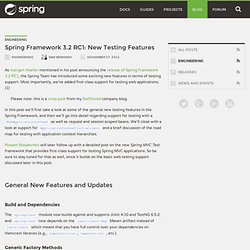 As Juergen Hoeller mentioned in his post announcing the release of Spring Framework 3.2 RC1, the Spring Team has introduced some exciting new features in terms of testing support. Most importantly, we've added first-class support for testing web applications. [1]
Last week Juergen Hoeller announced the release of Spring Framework 3.2 RC1 and Sam Brannen discussed exciting additions in its spring-test module such as support for WebApplicationContext's and upcoming plans for loading a hierarchy of contexts. Today I will continue this subject and describe another exciting spring-test addition. In 3.2 RC1 we've added first class support for testing Spring MVC applications both client-side and server-side.
Spring Framework 3.2 RC1: Spring MVC Test Framework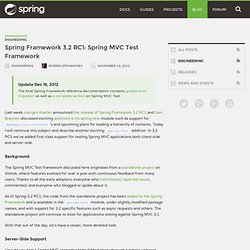 Java: Is assertEquals(String, String) reliable
java - AssertContains on strings in jUnit
Using HSQLDB to unit test database access code | Shopzilla Tech Blog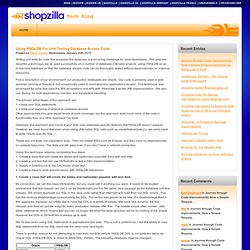 Writing unit tests for code that accesses the database is a recurring challenge for Java developers.
Integration testing
Purpose[edit] The purpose of integration testing is to verify functional, performance, and reliability requirements placed on major design items. These "design items", i.e. assemblages (or groups of units), are exercised through their interfaces using black box testing, success and error cases being simulated via appropriate parameter and data inputs. Simulated usage of shared data areas and inter-process communication is tested and individual subsystems are exercised through their input interface. Test cases are constructed to test whether all the components within assemblages interact correctly, for example across procedure calls or process activations, and this is done after testing individual modules, i.e. unit testing. The overall idea is a "building block" approach, in which verified assemblages are added to a verified base which is then used to support the integration testing of further assemblages.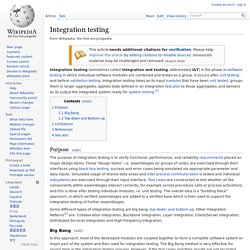 Selenium Test Automation with Maven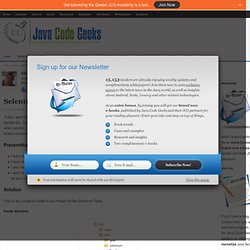 Today i want to help you manage your Automated GUI Tests (Selenium) better. In the past i have seen many different ways people handle this. Some people just write those plain HTML TestCases with Selenium-IDE, store it somewhere on the HDD and run manually when needed.
Effective out-of-container Integration Testing - 4Developers
In my previous posts, I explained the following: Now, one thing that is missing in this picture is... Testing DAO classes There is a presentation by Rod Johnson of Spring on testing with Spring that explains you what unit testing and what integration testing is, what mock objects are and some of the best practices. The presentation itself is from 2007 and while the general ideas haven't changed, the implementation techniques have.
Integration testing your Spring 3 & JPA 2.0 application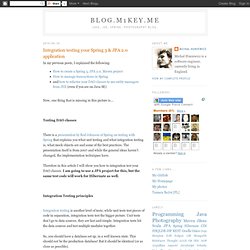 Integration testing with Spring and Jetty | coding and stuff
Imagine you are writing an application that offers a service A. When requesting something, service A needs to call service B wich is an external service not controlled by you. If you want to do some integration testing on service A, you need service B to be present in order for the logic of service A to be working.
Unitils is an open source library aimed at making unit and integration testing easy and maintainable. It is divided into several modules, each of them providing extra support for a certain aspect of your unit and integration tests. If you for example need mocking for your tests, just include unitils-mock as a dependency. If you would also want to load DbUnit data sets, just include unitils-dbunit. Below you can find a list of the modules and their features. Click on the title to go to the corresponding tutorial and examples.
Unitils
JValidation
UsesOfHamcrest - hamcrest - How people are using Hamcrest matchers - Hamcrest - library of matchers for building test expressions
shazam/shazamcrest
Posted by johnsmart on April 1, 2008 at 7:41 PM PDT I came across an interesting issue with the Hamcrest asserts today. I have a method that returns a list of domain objects, as shown here:
On the subtle uses of Hamcrest tests
JUnit 4 Showcase – assertThat and Hamcrest Matchers | Software dev ramblings
Surely assertEquals() can get you far but you will be amazed with the versatility of assertThat() combined with the expressive and human friendly Matchers of the Hamcrest library. The needed static imports in your JUnit 4 test case: You could use the is() and not() matchers like so:
jUnit ReleaseNotes4.4
Fest-assert-2.x Wiki
Tips and tricks · Fest-assert-2.x Wiki
Writing Your First Unit Test
Writing good unit tests, Part 1: Follow your GUTs
Three rules for writing good unit tests
Unit Testing Best Practices
What your tests don't need to know will hurt you - The Code Whisperer
The Code Sheriff
You Shall Not Test Methods | Tomek's blog
Embrace Unit Testing