Dan4man
Daniel Foreman
Technology Integration Specialist
Learn
EDM-LA-Brief-Draft_4_10_12c.pdf (application/pdf Object)
CompThinking.pdf (application/pdf Object)
Crete
Google Cloud Print is an under-appreciated service that can send print jobs from virtually anywhere to a connected printer in any other location. Normally that involves tedious configuration on your network, but Cloud Print can do it in just a few minutes. It's really easy to set up, and there are a few things you can do to extend its support beyond the browser to make all your printing tasks a lot easier. Here's a look at what it can do, how you can set it up, and how to make it even better. What You Can Do With Google Cloud Print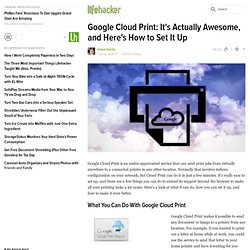 Google Cloud Print: It's Actually Awesome, and Here's How to Set It Up
The following are what I believe are the rights of all student to have with regards to using technology as an educational tool, written as a student to their teacher: 1) I have the right to use my own technology at school. I should not be forced to leave my new technology at home to use (in most cases) out-of-date school technology. If I can afford it, let me use it -- you don't need to buy me one.
Educational Technology Bill of Rights for Students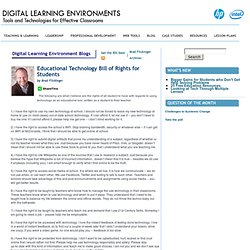 NIMAS 101: What You Need to Know - October 30, 2006 10:00 am (Central) - November 9, 2006 2:00 pm (Central) Chuck Hitchcock, M.Ed. , Director, National Instructional Materials Accessibility Standard (NIMAS) Technical Assistance Center, U.S. Dept. of Education, Office of Special Education Programs (OSEP) NIMAS 101 will provide an overview of the National Instructional Materials Accessibility Standard (NIMAS) language within IDEA 2004, the NIMAS regulations, policies related to implementation, TA and the role of NIMAC, the national source file repository. Discussion will focus on ways to use NIMAS source files to produce student ready accessible versions of textbooks and related instructional materials.
Webinar Series - Moving Forward with Technology - is an outreach collaboration between Don Johnston Incorporated and the Center for Implementing Technology in Education (CITEd), an organization funded by the U.S. Department of Education.
Using Google Sites Webinar - Google Apps Iowa I don't have much love for multiple-choice tests — either for administering them or for taking them — but as a teacher, the format was sometimes required by my administration, and was sometimes useful for simple prove-that-you-read-it quizzes. Google Docs didn't help me love them, but it did help me never grade them. Here's how: (1) Go to Google Docs . If you don't have a google account, you'll have to set one up, but if you already use GMail or GReader or any of the other apps, you just need to log in.
| Self-grading multiple-choice tests with Google Docs | rpollack.net
Web 2.0 Workshop
Animoto Overview of Web 2.0 Tools
Now available! Promoting Grit, Tenacity, and Perseverance report. The Office of Educational Technology (OET), in the Office of the Secretary, provides leadership for transforming education through the power of technology. OET develops national educational technology policy and advocates for the transition from print-based to digital learning. OET supports the President's and Secretary's priorities by: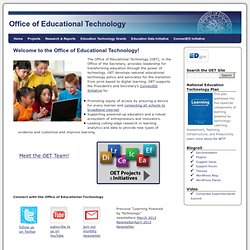 Web 2.0 Tools for Schools
Home
unnamed pearl
Kathy Schrock -- Educational Technology Blogs
Listen A few weeks ago I worked and attended North Carolina's ISTE affiliate conference. I opened the NCTIES conference with a breakfast keynote address and Marc Prensky closed it with a luncheon keynote the next day. Sadly, I missed the second day of the conference. I would first offer some constructive criticism to NCTIES , and to all such ed-tech conferences across the nation and around the world. You do a fabulous job of offering dynamic learning experiences for teachers who are new to teaching or new to utilizing contemporary information and communication technologies in their classrooms.
Video-a-Day » Just another WordPress site
March 26th, 2013 - 5:50 am § in Miscellaneous Exploration seems to be the first step in everything. Before you can know what something is, know how it can help you, know if it's dangerous, you have to actually go out and see it for the first time.
Imagine your home without heating or cooling. Imagine having to bundle up inside in order to stay warm. Some people are still faced with this today, and my home actually does not have central heating or AC. But it is still much better than 100 years ago. This infographic is a great example of a timeline with small illustrations to help bring the reader in. It dictates the history of heating inside the home.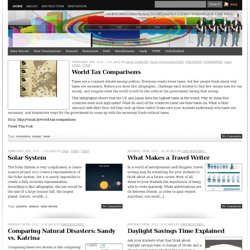 Tim Berners-Lee: The year open data went worldwide
The LEO business computer: 6,000 valves, 2KB memory, one happy birthday (video)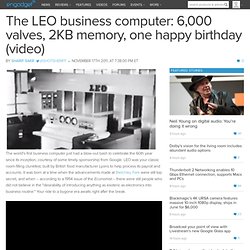 The world's first business computer just had a blow-out bash to celebrate the 60th year since its inception, courtesy of some timely sponsorship from Google. LEO was your classic room-filling clunkfest, built by British food manufacturer Lyons to help process its payroll and accounts. It was born at a time when the advancements made at Bletchley Park were still top secret, and when -- according to a 1954 issue of the Economist -- there were still people who did not believe in the "desirability of introducing anything as esoteric as electronics into business routine."
World Wide Web in Plain English
digitalwritingworkshop - home
Digital Writing Workshop - Digital Writing, Digital Teaching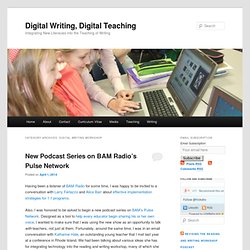 Earlier today, I had the opportunity to talk with the co-founders of sCoolWork, Alex Dayan and Sachar Tal, about their service and how it might help students come better writers. Earlier today, I had the opportunity to talk with the co-founders of sCoolWork , Alex Dayan and Shachar Tal , about their service and how it might help students come better writers. Normally, I do not specifically write about websites or services because that type of situation has caused trouble for in the past. But, I must say that I'm compelled by their story — as well as sCoolWork's potential as a digital writing tool — and I wanted to share some thoughts here. In interest of full disclosure, please know that they have offered me no special access to the website, and that I am only currently logged in under the free account while the service is still in beta. A few weeks ago, Alex sent me this introduction to sCoolWork by e-mail:
General
Webinars – Google Apps for Education