Dan4man
Daniel Foreman
Technology Integration Specialist
Blended Learning: A Disruptive Innovation [INFOGRAPHIC] #edtech #edutech. Twitter for Education. Learn. EDM-LA-Brief-Draft_4_10_12c.pdf (application/pdf Object) CompThinking.pdf (application/pdf Object) View | HOME | Ahead.
Lifehacker, tips and downloads for getting things done. Google Cloud Print: It's Actually Awesome, and Here's How to Set It Up. Since I don't plan to buy a Wireless printer for now, the only GOOD use I can think of this is to print directly from my phone WITHOUT mail-myself/dropbox-ing the file, turn on the PC, login, search the file, open the file, print, close, etc. etc. etc.) so I did this: (Keep in mind that this procedure is useful to me ONLY BECAUSE I am already in my house, and thus, I just pick the printed pages and turn off the PC and Printer): Preliminary Steps: 0) Sign to Google Chrome Print.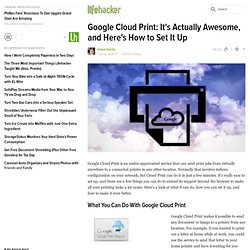 I just want to point it out. Educational Technology Bill of Rights for Students. The following are what I believe are the rights of all student to have with regards to using technology as an educational tool, written as a student to their teacher: 1) I have the right to use my own technology at school.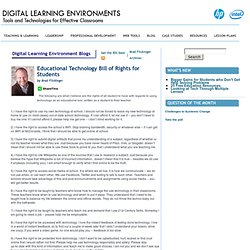 I should not be forced to leave my new technology at home to use (in most cases) out-of-date school technology. If I can afford it, let me use it -- you don't need to buy me one. Using Google Sites Webinar - Google Apps Iowa. | Self-grading multiple-choice tests with Google Docs | rpollack.net. I don't have much love for multiple-choice tests — either for administering them or for taking them — but as a teacher, the format was sometimes required by my administration, and was sometimes useful for simple prove-that-you-read-it quizzes. Google Docs didn't help me love them, but it did help me never grade them. Here's how: (1) Go to Google Docs. If you don't have a google account, you'll have to set one up, but if you already use GMail or GReader or any of the other apps, you just need to log in. Learning And Study. Web 2.0 Workshop. Blogs, wikis, Webcasts, podcasts, RSS feeds, social networks . . . they're all a part of what has come to be known as Web 2.0.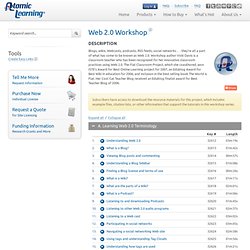 Workshop author Vicki Davis is a classroom teacher who has been recognized for her innovative classroom practices using Web 2.0. The Flat Classroom Project, which she coauthored, won ISTE's Award for Best Online Learning project for 2007, an Edublog Award for Best Wiki in education for 2006, and inclusion in the best selling book The World is Flat. Animoto Overview of Web 2.0 Tools. Membership, NETS Standards, Books, Journals and Professional Development for Teachers.
The International Society for Technology in Education (ISTE®) is the premier nonprofit organization for educators and education leaders committed to empowering connected learners in a connected world.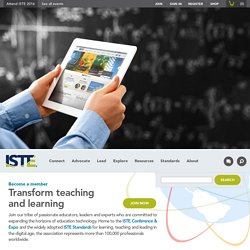 Home to the ISTE Conference and Expo and the widely adopted ISTE Standards for learning, teaching and leading in the digital age, the association represents more than 100,000 professionals worldwide. Become an ISTE member today! Classroom Tech Learning, Education, PC, Mac, iPad, Bloom's Taxonomy – Techlearning.com. Office of Educational Technology (OET) Welcome to the Office of Educational Technology!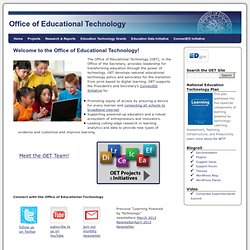 The Office of Educational Technology (OET), in the Office of the Secretary, provides leadership for transforming education through the power of technology. OET develops national educational technology policy and advocates for the transition from print-based to digital learning. OET supports the President's and Secretary's ConnectED Initiative by: Promoting equity of access by ensuring a device for every learner and connecting all schools to broadband internet.Supporting powered-up educators and a robust ecosystem of entrepreneurs and innovators.Leading cutting-edge research in learning analytics and data to provide new types of evidence and customize and improve learning.
Web 2.0 Tools for Schools. Open Education. Learning Theory. Mrs.dietz. Home. Untitled.
Wiki
Education Reform. 2¢ Worth. Listen A few weeks ago I worked and attended North Carolina's ISTE affiliate conference.
I opened the NCTIES conference with a breakfast keynote address and Marc Prensky closed it with a luncheon keynote the next day. Sadly, I missed the second day of the conference. I would first offer some constructive criticism to NCTIES , and to all such ed-tech conferences across the nation and around the world. You do a fabulous job of offering dynamic learning experiences for teachers who are new to teaching or new to utilizing contemporary information and communication technologies in their classrooms. RSA Animate - Changing Education Paradigms.
Charles Leadbeater: Education innovation in the slums. Sugata Mitra: The child-driven education. Tim Berners-Lee on the next Web. Tim Berners-Lee: The year open data went worldwide. The Internet in 1969. Thomas Suarez: A 12-year-old app developer. The LEO business computer: 6,000 valves, 2KB memory, one happy birthday (video) The world's first business computer just had a blow-out bash to celebrate the 60th year since its inception, courtesy of some timely sponsorship from Google.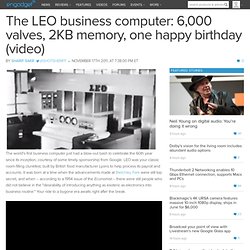 LEO was your classic room-filling clunkfest, built by British food manufacturer Lyons to help process its payroll and accounts. It was born at a time when the advancements made at Bletchley Park were still top secret, and when -- according to a 1954 issue of the Economist -- there were still people who did not believe in the "desirability of introducing anything as esoteric as electronics into business routine. " Evolution Web 1.0, Web 2.0 to Web 3.0. World Wide Web in Plain English. Digitalwritingworkshop - home. Digital Writing Workshop - Digital Writing, Digital Teaching. Dear Educator: Tomorrow (well, technically today by the time I am done writing this) is the second annual Digital Learning Day.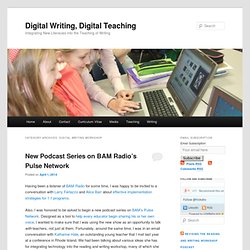 Cool. I'm all for digital learning, as the title of my blog implies. But, as we prepare for the onslaught of tweets, blog posts, videos, webinars, and other celebrations, it is worth exploring the definition of "digital learning" that the group is promoting, as well as the background of the Alliance for Excellent Education's president, Bob Wise. Understanding a little more about each of these components for the day should, I hope, give you a better understand of why it is happening.
Webinars – Google Apps for Education. Generale Scopri tutte le funzioni e i vantaggi offerti da Google Apps for Education.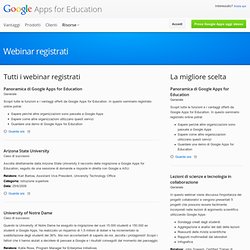 In questo seminario registrato online potrai: Sapere perché altre organizzazioni sono passate a Google Apps Sapere come altre organizzazioni utilizzano questi servizi Guardare una demo di Google Apps for Education.
---