Geek
Straight Razor Place - Welcome to Straight Razor Place
Project Aon: Main / Books (browse)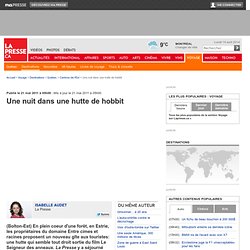 Une nuit dans une hutte de hobbit | Isabelle Audet | Cantons de l'Est
Quiconque est inattentif peut passer devant la hutte sans la voir. Du sentier, on ne voit qu'une colline couverte de paillis. Seule une cheminée trahit la vie qui se cache dessous. La porte et les fenêtres circulaires du Troglo sortent de terre de l'autre côté, face à la forêt. La ressemblance est frappante: le plus récent gîte du domaine touristique Entre cimes et racines semble tout droit sorti d'un livre de Tolkien.
The Tech Archive: Buxton's Vintage Gadget Collection
For every good design there's at least a dozen of concepts that didn't catch on. Nothing illustrates that better than a great online vintage gadget collection, published yesterday by Microsoft Research team. The collection is a brainchild of Bill Buxton, one of the principal Microsoft researchers, a guy who's been through 30 years of continuous tech design. Awarded with three honorary doctorates and several professional awards, Bill also likes to gather things – the vintage, geeky kind of things, to be precise. Over the years, he has gathered an impressive collection of prototypes, probably the best I have seen online. Every exhibit has some nice, high-res photos, a description and sometimes even some PDF downloads of original leaflets or brochures, for added flavor.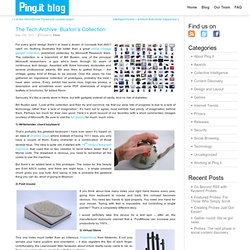 Game of Thrones Infographic : Illustrated Guide to Houses and Character Relationships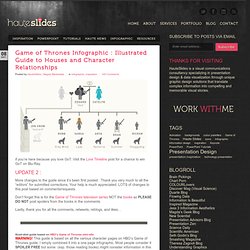 if you're here because you love GoT. Visit the Lore Timeline post for a chance to win GoT on Blu-Ray. More changes to the guide since it's been first posted. Thank you very much to all the "editors" for submitted corrections.
Not A Joke: Brainwave-Powered Cat Ears Put Your Emotions On Display | Co.Design
You know a sci-fi concept like "brain/computer interface" is gaining critical mass when it starts to be incorporated into incredibly silly products. I remember playing with a brain-sensor headset from Emotiv at CES a few years ago, and thinking: "Wow, this could really help amputees and veterans use their computers!" Well, now a Japanese company called Neurowear is using the technology to cater to batshit-crazy cosplayers. See for yourself: The lifelike movement is undeniably powerful as a "communication tool." The product, called Necomimi, is billed as "a new communication tool that augments [the] human's body and ability."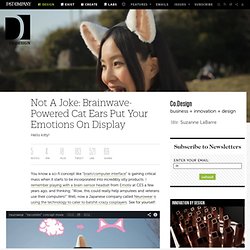 24 heures de science » 6 et 7 mai 2011
geek-zodiak-full2.jpg (Image JPEG, 2000x1517 pixels)
Quel est votre signe astrologique geek ?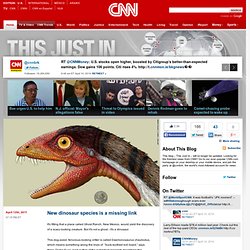 It's fitting that a place called Ghost Ranch, New Mexico, would yield the discovery of a scary-looking creature. But it's not a ghost - it's a dinosaur. This dog-sized, ferocious-looking critter is called Daemonosaurus chauliodus, which means something along the lines of "buck-toothed evil lizard," says Hans-Dieter Sues, lead author of the published research describing this dinosaur, and curator of vertebrate paleontology at the Smithsonian's National Museum of Natural History. The illustration above compares the head and neck with a quarter.
New dinosaur species is a missing link
Cats and Mice armors
Straight Line Designs est une entreprise de Vancouver avec 25 ans d'expérience dans le domaine du design de meubles. Ce qui les démarque du reste du marché? La création de meubles très design, mais surtout très farfelus, surprenants et innovateurs. Le designer Judson Beaumont et son équipe ne donnent pas seulement une personnalité aux meubles, ils les rendent presque humains!
Meubles Design, Farfelus et Surprenants!
article-36081
An international observance, also known as an international dedication or an international anniversary is a period of time to observe some issue of international interest or concern. This is used to commemorate, promote and mobilize for action. Many of these periods have been established by the United Nations General Assembly (UN), Economic and Social Council, United Nations Educational, Scientific and Cultural Organization (UNESCO),[1] World Health Organization (WHO) and other United Nations bodies including the International Telecommunication Union (ITU), Food and Agriculture Organization of the United Nations (FAO), World Intellectual Property Organization (WIPO), United Nations Environment Programme (UNEP), International Maritime Organization (IMO) and the International Civil Aviation Organization (ICAO).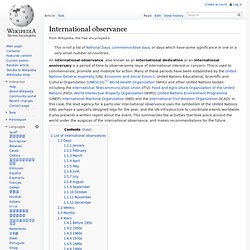 International observance
Oh, there's so much we could talk about. May we start with a little bragging? DIY Book Scanner is notorious as an example of Open Innovation – that means that you, as a member of this community, are the one doing the important work of innovation and invention. Who recognizes this? Well, how about The New York Times?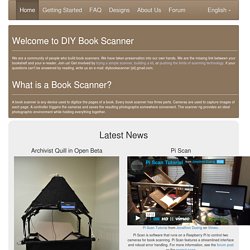 Spacewar! - Original 1962 code on PDP-1 emulator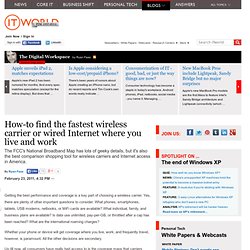 How-to find the fastest wireless carrier or wired Internet where you live and work
February 23, 2011, 4:32 PM — Getting the best performance and coverage is a key part of choosing a wireless carrier. Yes, there are plenty of other important questions to consider. What phones, smartphones, tablets, USB modems, netbooks, or MiFi cards are available?
874683
Celestia archive at Negative Space
Finally! After two and a half years in the making, my celestial clock is finished. I guess you could call it my Christmas gift to myself: In following posts, I'll explain a little bit more about how I designed an built it. Here are some still photos of the Clock, in Progress. Back in 2005, I created a sort-of industrial art-project in the form of a decorative brass clock.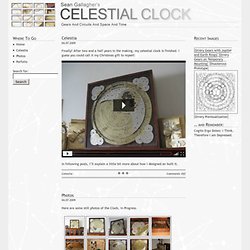 Your Highness Epic Movie Trailer: "Magic… Motherf$!ker!" [NSFW-Ish]
Up-Inspired Real Life Floating House national-geographic-x-up-01 – TrendsNow
Shop for Gifts
ThinkGeek's Gift Center has creative ideas for every occasion for all of your friends and family members. Whether you're searching for a unique gift you won't see at your local big box store for the Star Wars-lover in your life or just something fun and geeky for under $20, you can find everything you need (and a lot of stuff you don't) in our Gift Center. And if you don't find just the perfect thing, you can fall back on our Gift Certificates and Wish Lists for the pickiest people on your list (you know who you are).
B&C Débardeur "Marcel" Femme personnalisé - Comboutique
WikiLeaks Shop Canada
rubrique
Mercredi, 06 Mars 2013 04:01 Pen Comme chaque année, Soleil organise l'opération Les filles de soleil qui vous permet d'obtenir gratuitement un recueil d'illustrations d'héroines de leur catalogue pour l'achat de 3 albums Soleil. Dans l'édition 2013, vous aurez le plaisir de retrouver Charline, c'est donc l'occasion idéale decompleter votre collection d'albums Les Geeks avant la sortie du Tome 9 le mois prochain. Dans la série "illustrations de filles un peu dévétues" on vous recommande également le site web 365pinups et l'application android (1.49 euros en version payante, version gratuite également disponible) du meme nom qui vous permettent de découvrir chaque jour une pin-up illustrée par un dessinateur de BD. L'appli android contient un widget qui vous permettra d'afficher sur votre home screen la pin-up du jour afin de découvrir automatiquement la nouvelle pinup à votre réveil chaque matin !
Je ne suis pas un numéro de hotline, je suis un geek libre !
Riverboat zombie survival compound @Makezine.com blog
Heroes of the North
Real-life gadgets for real-life superheroes
Clues Suggest Stuxnet Virus Was Built for Subtle Nuclear Sabotage | Threat Level
Festival Celtique de Québec | Horaire
On Set: Empire Strikes Back
Shut up, Spock! – how Battlestar Galactica beat Trek babble
Das ApfelBrett