Planning
IKEA "The world's most liked showroom" 10 Creative uses of QR codes. Big DIY: The Year the Maker Movement Broke | Epicenter  About a year ago, I wrote a weekly post at Wired's Gadget Lab called "DIY Friday."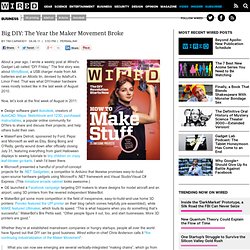 The first story was about MintyBoost, a USB charger made from AA batteries and an Altoids tin, devised by Adafruit's Limor Fried. That was what DIY/maker hardware news mostly looked like in the last week of August 2010. Now, let's look at the first week of August in 2011: Design software giant Autodesk, creators of AutoCAD, Maya, Sketchbook and 123D, purchased Instructables, a popular online community for DIYers to share and discuss their projects, and help others build their own.MakerFaire Detroit, sponsored by Ford, Pepsi and Microsoft as well as Etsy, Boing Boing and O'Reilly, gently wound down after officially closing July 31, featuring everything from giant Halloween displays to sewing tutorials to tiny children on crazy leaf-blower go-karts. Google+ is here. What now? Amazon.com: the Hidden Empire.
Management
Secrets of Social Media Revealed 50 Years Ago - David Aaker - The Conversation. By David Aaker | 8:00 AM June 17, 2011 Almost 50 years ago Ernest Dichter, the father of motivation research, did a large study of word of mouth persuasion that revealed secrets of how to use social media to build brands and businesses.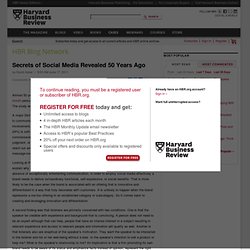 The study was reported in a 1966 article in HBR. A major Dichter finding, very relevant today, was the identification of four motivations for a person to communicate about brands. The first (about 33% of the cases) is because of product-involvement. The experience is so novel and pleasurable that it must be shared. The Web 2.0 Summit Points of Control Map. MSCED 2011 on the Behance Network. Scribd. What Was the Hipster? If I speak of the degeneration of our most visible recent subculture, the hipster, it's an awkward occasion.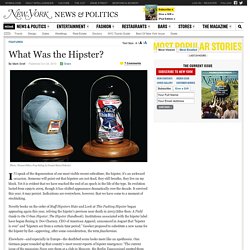 Someone will point out that hipsters are not dead, they still breathe, they live on my block. Yet it is evident that we have reached the end of an epoch in the life of the type. Its evolution lasted from 1999 to 2009, though it has shifted appearance dramatically over the decade. It survived this year; it may persist. Indications are everywhere, however, that we have come to a moment of stocktaking. Trend Tablet.
7 Billion, National Geographic Magazine. Users behaviours. Success stories thanks to Internet. Users tools. Websites I like. Creative projects.
Ideas + technology. Reports and studies. Reading. Ressources.
Planning tools. Branding. Campaigns and case studies. Advertising. Thought about advertising. Branded websites. Branded Community. Social media. Mobile. Twitter Analytics. Sharedcount.
---