Music
Madeon's sounds on SoundCloud
Mixtape Of The Month Yelawolf has Returned from the Wilderness of Suck, and his 'Trunk Muzik Returns' is our Mixtape of the Month Yelawolf is done with having Eminem tell him what to do, and it is glorious. Daniel Cronin Takes the Most Amazing Photos of Juggalos You've Ever Seen An interview with photographer Daniel Cronin, who has been lugging a huge large-format camera to the Gathering Of The Juggalos since 2010, snapping the most strikingly intimate portraits of Juggalos a… Instagram Report Here's a Picture of Justin Bieber and His New Pet Monkey For the record, the monkey looks terrified. Friday Thinks... With Luke Winkie A Short Story in which Paul Simon Eats Art Garfunkel Alive The REAL STORY of how "The Sound of Silence" was written.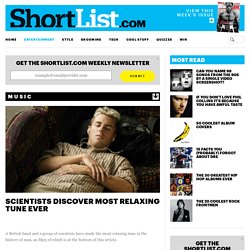 A British band and a group of scientists have made the most relaxing tune in the history of man, an Mp3 of which is at the bottom of this article. Sound therapists and Manchester band Marconi Union compiled the song. Scientists played it to 40 women and found it to be more effective at helping them relax than songs by Enya, Mozart and Coldplay. Weightless works by using specific rhythms, tones, frequencies and intervals to relax the listener.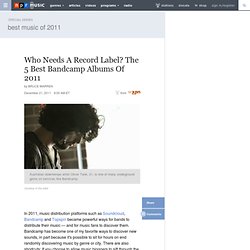 Who Needs A Record Label? The 5 Best Bandcamp Albums Of 2011 : NPR - StumbleUpon
In 2011, music distribution platforms such as Soundcloud , Bandcamp and Topspin became powerful ways for bands to distribute their music — and for music fans to discover them. Bandcamp has become one of my favorite ways to discover new sounds, in part because it's possible to sit for hours on end randomly discovering music by genre or city. There are also shortcuts: If you choose to allow music bloggers to sift through the thousands of releases on Bandcamp, the likes of Bandcamp Hunter , Dance Yrself Clean and Perfect Midnight World all do an excellent job curating Bandcamp for new gems.