Music
ViLLAGE - Takeover. Ellie Goulding - Starry Eyed (Minnesota Remix) ◼ Phoenix - Entertainment / The Hype Machine. London Grammar - Metal & Dust. Revolutionary Rhythm. Money To Helsinki (Birdman vs. Drake vs. Lil Wayne vs. Architecture in Helsinki) by The MashMaticians. OFFICIAL - Somewhere Over the Rainbow 2011 - Israel "IZ" Kamakawiwo'ole. Krewella - Alive (Cash Cash x Kalkutta Remix) Rone - So So So. Sounds Of The Night - Tiësto x Melanie Iglesias.
Dillon Francis - Masta Blasta (The Rebirth) Official Music Video. 3LAU - Jagger Bomb. 3LAU - Rave Dirty. Phoenix - Rome ( Neighbors Remix feat. Devendra Banhart and Friends ) Meek Mill ft Big Sean - Burn. Diplo - Barely Standing (ft. Datsik & Sabi) Safe and Sound - Taylor Swift (Jayesslee Cover) J Rabbit - Happy Things. Lauryn Hill - Can't Take My Eyes Off You by Gabriela Diversas. Dave Brubeck Quartet - Take Five (Belgium 1964) Taylor Swift Dear John Lyrics. Taylor Swift - Come Back...Be Here (Red Album) (Lyrics) Sonic Eclectic presents: Myla Smith "Slow Down" Skream - Anticipate feat. Sam Frank (Netsky Remix) EARMILK.COM - All Milk. No Duds. Everyone's Mixtape.
Sweet Dreams - Beyonce (Piano Acoustic Cover) When We Say (Juicebox) - AJ Rafael - Official Music Video - Wong Fu Productions. Streampad. YooouuuTuuube. Alex Clare - Too Close (OFFICIAL VIDEO) Simple,Starving To Be Safe - Daphne Loves Derby. Charice - Pyramid [featuring Iyaz] (Video) 17-Year-Old "Charice Pempengco" From The Philippines Does Whitney Houston Tribute & She Did That! Etta James - I'd Rather Go Blind (Jessica Sanchez cover) Jessica Sanchez: I Will Always Love You - Top 13 - AMERICAN IDOL SEASON 11.
Me and my grandma dancing to Rack City. Every Avenue - "Fall Apart" Official Music Video. Dumbfoundead - Cell Phone (feat. Breezy Lovejoy & Wax) Nas & Damian Marley - Patience + lycris. Popular MP3 & Music Blog Tracks / The Hype Machine. ♫ NEW MUSIC: Nicki Minaj – "Marilyn Monroe" ♫ NEW MUSIC: Nicki Minaj – "Marilyn Monroe" 54 Shares February 6, 2012 by BaRock O'Drama.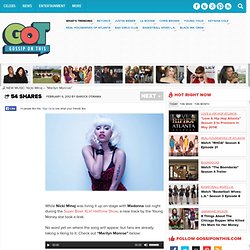 [HQ] toe - past and language. NOVEMBER by Max Richter - writing playlist. OK Go - Needing/Getting - Official Video. Somebody That I Used to Know - Walk off the Earth (Gotye - Cover) Mario Kart Love Song (Original) - Now on iTunes!
Cleopatra Stratan - Ghita. 8tracks | Handcrafted internet radio. Dreaming in the void blog's sounds. Hot Chip - 'I Feel Better' Go the F--k to sleep by rickjamesbiotch. Da Gtwinz HYFR remix (Drake & Lil Wayne)
In Your Arms - Kina Grannis. Omega "El Fuerte" - Que Tengo Que Hacer. Vazquez Sounds Adele - Rolling In The Deep (Cover) CHINO Y NACHO MI NIÑA BONITA LETRA. Jessie J - Who You Are (Boombox Series)
---