Music
ViLLAGE - Takeover
Ellie Goulding - Starry Eyed (Minnesota Remix)
◼ Phoenix - Entertainment / The Hype Machine
London Grammar - Metal & Dust
Revolutionary Rhythm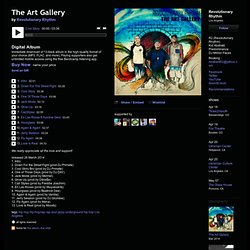 Immediate download of 13-track album in the high-quality format of your choice (MP3, FLAC, and more). Paying supporters also get unlimited mobile access using the free Bandcamp listening app. name your price about We really appreciate all the love and support! credits
▶ Money To Helsinki (Birdman vs. Drake vs. Lil Wayne vs. Architecture in Helsinki) by The MashMaticians
Krewella - Alive (Cash Cash x Kalkutta Remix)
Rone - So So So
Sounds Of The Night - Tiësto x Melanie Iglesias
Dillon Francis - Masta Blasta (The Rebirth) Official Music Video
3LAU - Jagger Bomb
3LAU - Rave Dirty
Phoenix - Rome ( Neighbors Remix feat. Devendra Banhart and Friends )
Meek Mill ft Big Sean - Burn (Official Music Video)
Diplo - Barely Standing (ft. Datsik & Sabi)
Safe and Sound - Taylor Swift (Jayesslee Cover)
J Rabbit - Happy Things
Lauryn Hill - Can't Take My Eyes Off You by Gabriela Diversas on SoundCloud - Hear the world's sounds
Dave Brubeck Quartet - Take Five (Belgium 1964)
Taylor Swift Dear John Lyrics
Taylor Swift - Come Back...Be Here (Red Album) (Lyrics)
Sonic Eclectic presents: Myla Smith "Slow Down"
Skream - Anticipate feat. Sam Frank (Netsky Remix)
Checking your Google account... Checking your Facebook account... Everyone's Mixtape's celebrates the art of creating mixtapes. You can add to an existing mix, or start one of your own. Share with the world, your friends, or that girl from science class. Everyone's Mixtape is not about adding songs and hitting shuffle.
Sweet Dreams - Beyonce (Piano Acoustic Cover)
When We Say (Juicebox) - AJ Rafael - Official Music Video - Wong Fu Productions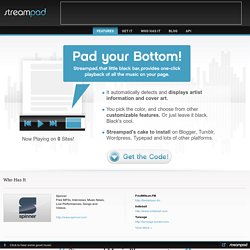 Streampad Now Playing on 0 Sites! It automatically detects and displays artist information and cover art.
Simple,Starving To Be Safe - Daphne Loves Derby
Charice - Pyramid [featuring Iyaz] (Video)
17-Year-Old "Charice Pempengco" From The Philippines Does Whitney Houston Tribute & She Did That!
Etta James - I'd Rather Go Blind (Jessica Sanchez cover)
Jessica Sanchez: I Will Always Love You - Top 13 - AMERICAN IDOL SEASON 11
Me and my grandma dancing to Rack City.
Every Avenue - "Fall Apart" Official Music Video
Dumbfoundead - Cell Phone (feat. Breezy Lovejoy & Wax)
Nas & Damian Marley - Patience + lycris
Every day, thousands of people around the world write about music they love — and it all ends up here. Join us and find new music worth listening to. Also available on the iPhone and BlackBerry 10. The Melker Project - Show Me Pound Cake feat. Jay-Z, Ellie Goulding, Chris Brown & Kid Ink JayeL Audio MusicFollow "Siem Reap, Cambodia, December 2013 via TRAVELSTACHE This wintry week was plentiful for new remixes.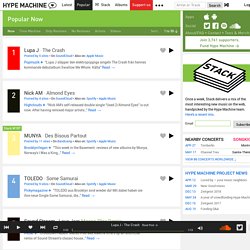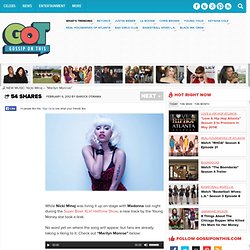 ♫ NEW MUSIC: Nicki Minaj – "Marilyn Monroe" 54 Shares February 6, 2012 by BaRock O'Drama
♫ NEW MUSIC: Nicki Minaj – "Marilyn Monroe"
[HQ] toe - past and language
NOVEMBER by Max Richter - writing playlist
Cleopatra Stratan - Ghita
Hot Chip - 'I Feel Better'
Da Gtwinz HYFR remix (Drake & Lil Wayne)
Omega "El Fuerte" - Que Tengo Que Hacer
Vazquez Sounds Adele - Rolling In The Deep (Cover)
CHINO Y NACHO MI NIÑA BONITA LETRA
Jessie J - Who You Are (Boombox Series)