Public places
FPO IP Research & Communities.
UK: mortgage re-possessions - The Poverty Site. United Kingdom Key points Mortgage re-possessions rose sharply between 2004 and 2009 - from 8,000 in 2004 to 48,000 in 2009 - before falling back somewhat in 2010 (to 36,000).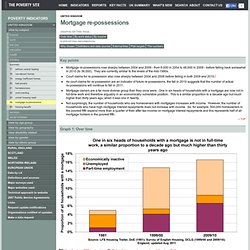 They are currently similar to the levels of the mid-1990s. Court claims for re-possession also rose sharply between 2004 and 2008 before falling in both 2009 and 2010. As court claims for re-possession are an indicator of future re-possessions, the fall in 2010 suggests that the number of actual re-possessions will continue to fall in 2011. TED: Ideas worth spreading. Pastes Archive. Sheet Music Archive downloadable sheet music plus free classical music score downloads for piano and more. Podiobooks.com - Serialized audio books in podcast form. Free Audio Books: Download Great Books for Free. Internet Archive: Digital Library of Free Books, Movies, Music & Wayback Machine. Emp3world.com - Free Mp3 Download. Forums.
---