Geo Mapping
Data visualisation: in defence of bad graphics | News. Are most online data visualisations, well, just not very good?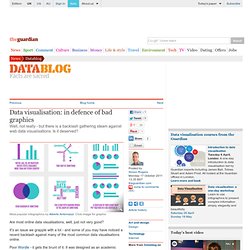 It's an issue we grapple with a lot - and some of you may have noticed a recent backlash against many of the most common data visualisations online. Poor Wordle - it gets the brunt of it. MapGuide Project Home | MapGuide Open Source. D3 Workshop. Weave (Web-based Analysis and Visualization Environment) Weave Data Tutorial. Weave Data TutorialTutorial for Weave Magazine 03.10 about visualizing network data Client: Weave Magazine / Page publisher We all use twitter, write emails, skype and blog all day long.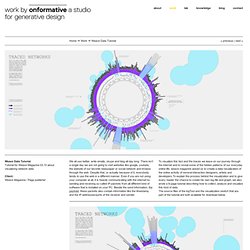 There isn't a single day we are not going to visit websites like google, youtube, the website of our favorite newspaper or social network and browse through the web. Despite that, or actually because of it, everybody tends to use the web in a different manner. Even if you are not using your computer at all, it is heavily communicating with the internet by sending and receiving so called IP-packets from all different kind of software that is installed on your PC.
Data journalism and data visualization from the Datablog | News. 10 Awesome Free Tools To Make Infographics. Who can resist a colourful, thoughtful venn diagram anyway?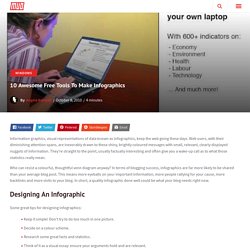 In terms of blogging success, infographics are far more likely to be shared than your average blog post. This means more eyeballs on your important information, more people rallying for your cause, more backlinks and more visits to your blog. In short, a quality infographic done well could be what your blog needs right now. Data/Information. OS OpenSpace, the quality mapping API from Ordnance Survey. Example of OS OpenSpace API displaying Ordnance Survey data The OS OpenSpace API is free to access and lets developers create amazing web applications and online projects with Ordnance Survey maps.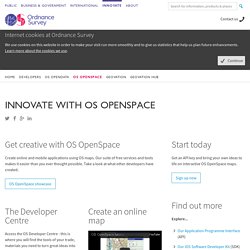 But OS OpenSpace API is not just for developers. Although the API uses JavaScript to make web pages more interactive, anyone can create an application by following our sample code and tutorials. Get Ordnance Survey maps on your website to enhance the service and customer experience. GeoVation » Enter the Challenge. Entrepreneurs, developers, community groups, innovators – enter the GeoVation Challenge for a chance to win a slice of innovation funding to help you develop your idea.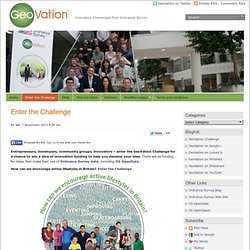 There will be funding for ideas that make best use of Ordnance Survey data, including OS OpenData. How can we encourage active lifestyles in Britain? Enter the Challenge This challenge has now closed. It ran from 7 November 2013 to 15 January 2014 (12 noon). Visual Thinking. Data Visualization. Data visualization 2.
---