Wikis
In this Tips and Tricks, we'll take a look at Google Forms and how educators are embedding them in their wikis to create more interactive online classrooms. Create a survey Want to make your classroom a two-way conversation? Add a survey to your wiki and get feedback from your students on a particular unit.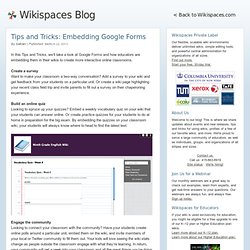 Tips and Tricks: Embedding Google Forms
elemchat - Tweetgrid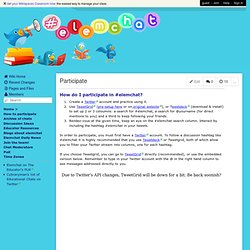 Create a Twitter account and practice using it.Use TweetGrid (pre-setup here or on original website), or Tweetdeck (download & install) to set up 2 or 3 coloumns: a search for #elemchat, a search for @yourname (for direct mentions to you) and a third to keep following your friends.Rendez-vous at the given time, keep an eye on the #elemchat search column. Interact by including the hashtag #elemchat in your tweets. In order to participate, you must first have a Twitter account. To follow a discussion hashtag like #elemchat it is highly recommended that you use Tweetdeck or Tweetgrid, both of which allow you to filter your Twitter stream into columns, one for each hashtag.
AUHSDteacherLibrarians - home
How Students Benefit From Using Social Media 12.65K Views 0 Likes A lot of criticism has been leveled at social media and the effect it has on the way students process and retain information, as well as how distracting it can be. However, social media offers plenty of opportunities for learning and interactivity, and if you take a moment to think about it, it's not too hard to see how students benefit from using social media. 3 Tech Tips Your Grandma Could Teach You