Web2.0 tools
The Teacher's Guides To Technology And Learning. Welcome to the official guide to technology and learning by Edudemic!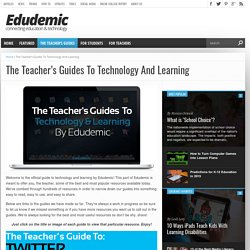 This part of Edudemic is meant to offer you, the teacher, some of the best and most popular resources available today. We've combed through hundreds of resources in order to narrow down our guides into something easy to read, easy to use, and easy to share. Below are links to the guides we have made so far. 10 Ways To Fake A 21st Century Classroom. 21st century learning isn't a trend as much as a reality.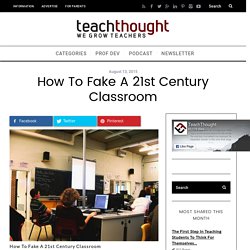 It's 2013, so whatever you're doing in your classroom right now is technically 21st century learning. Semantics aside, we all can improve, and many of us are being held accountable for improvement by administrators, blogs, and the local PLC to "bring the next generation into the 21st century." With that kind of pressure—and constant district walk-throughs—it may be necessary for you to fake a 21st century thinking and learning environment to make the right kind of impression with the right people, and give the appearance of forward-thinking. 10 Ways To Fake A 21st Century Classroom 1.
The 24 Best Apps to Remember Everything You Discover Online. Today, there's never a lack of new things to see and read online.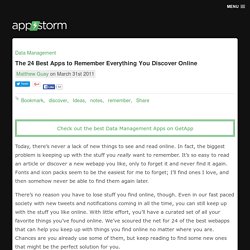 In fact, the biggest problem is keeping up with the stuff you really want to remember. It's so easy to read an article or discover a new webapp you like, only to forget it and never find it again. Blogging. 7 Great Web Tools To Help Students Study Collaboratively. May 23, 2014 Students love to work in groups and every teacher knows this fact by heart.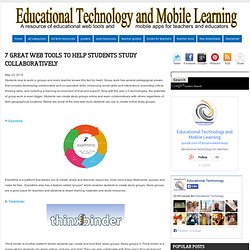 Group work has several pedagogical pluses that includes developing collaborative and co-operative skills, enhancing social skills and interactions, promoting critical thinking skills, and nurturing a learning environment of trust and support. Now with the web 2.0 technologies, the potential of group work is even bigger. Students can create study groups online and learn collaboratively with others regardless of their geographical locations. Below are some of the best web tools students can use to create online study groups. 1- Examtime. Members Area. You must register to attend the webinars Why?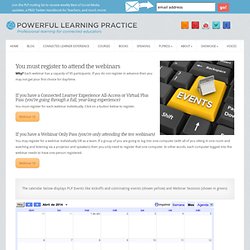 Each webinar has a capacity of 95 participants. If you do not register in advance then you may not get your first choice for day/time. If you have a Connected Learner Experience All-Access or Virtual Plus Pass (you're going through a full, year-long experience) Seven Free Online Whiteboard Tools for Teachers and Students. This afternoon through the Free Technology for Teachers Facebook page I received a request for some free whiteboard apps.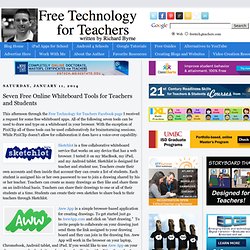 All of the following seven tools can be used to draw and type on a whiteboard in your browser. With the exception of PixiClip all of these tools can be used collaboratively for brainstorming sessions. While PixiClip doesn't allow for collaboration it does have a voice-over capability. Sketchlot is a free collaborative whiteboard service that works on any device that has a web browser. How to Create Social Media Guidelines for Your School. Get the seven steps (and a roundup of valuable resources) you need to help bring social media in your classroom.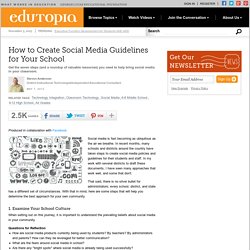 Produced in collaboration with Facebook. Social media is fast becoming as ubiquitous as the air we breathe. In recent months, many schools and districts around the country have taken steps to create social media policies and guidelines for their students and staff. In my work with several districts to draft these documents, I have seen many approaches that work well, and some that don't. That said, there is no silver bullet for administrators; every school, district, and state has a different set of circumstances. Resources for teaching safety online. It can be risky to leave students totally alone to develop internet behaviours.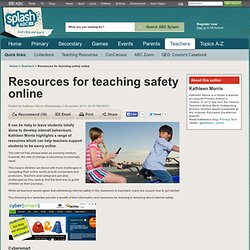 Kathleen Morris highlights a range of resources which can help teachers support students to be savvy online. The internet has always been an evolving medium, however, the rate of change is becoming increasingly rapid. This means children are faced with more challenges in navigating their online world as both consumers and producers. Teachers and caregivers are also challenged as they seek to find the best way to guide children on their journeys.
While all teachers would agree that addressing internet safety in the classroom is important, many are unsure how to get started. Allan's Blog. When I received the invitation from the new Lee Kong Chian School of Medicine at the Nanyang Technological University in Singapore, I decided to completely upgrade two seminar workshops.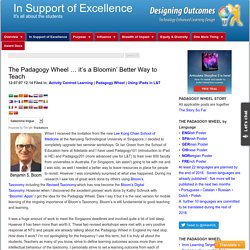 Dr Ian Green from the School of Education here at Adelaide and I have used Padagogy101 (introduction to iPad in HE) and Padagogy201 (more advanced use for L&T) to train over 600 faculty from universities in Australia. For Singapore, Ian wasn't going to be with me and I was solo, as well I needed a better way to leave resources in place for people to revisit. However I was completely surprised at what else happened. During my research I saw lots of great work done by others using Bloom's Taxonomy including the Revised Taxonomy which has now become the Bloom's Digital Taxonomy.
10 Major Mobile Learning Trends to Watch For. Digital Tools Mobile devices in education are becoming more ubiquitous.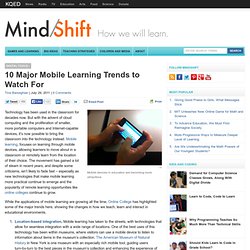 Technology has been used in the classroom for decades now. Twitter. 13 Free Web Tools Students and Teachers Should Know About. Digital Tools padlet.com Web-based tools continue to proliferate, giving teachers more to add to their arsenal, but it can be hard to determine which resources are worth spending time exploring. K-W-L Creator. Grades 9 – 12 | Lesson Plan | Unit Making It Visual for ELL Students: Teaching History Using Maus Spark the engagement of English-language learners or reluctant readers with the graphic novel Maus. 36 Things Every 21st Century Teacher Should Be Able To Do. What should every teacher in the 21st century know and be able to do? That's an interesting question. After just now seeing this excellent post on educatorstechnology.com, I thought I'd contribute to the conversation.
I added the twist of ranking them from least complex to most complex, so novices can start at the bottom, and you veterans out there can skip right to 36. 36 Things Every 21st Century Teacher Should Be Able To Do. TeachBytes. 9 TEDTalks by impressive kids. Few scientific papers are written in crayon and begin with the words, "Once upon a time." But then again, few scientific papers are written by a group of 8 to 10-year-olds. In this adorable talk from TEDGlobal, neuroscientist, artist and educator Beau Lotto shares why he thinks children have an edge when it comes to scientific inquiry — they are able to celebrate uncertainty and ask wonderful questions. An experiment is actually a form of play, says Lotto, who invited a group of 25 students from a small school in the UK to make a useful contribution to science by asking a question of their choice.
The question the students came up with: can bees think like human beings? Student Amy O'Toole joined Lotto on stage to explain the experiment, which tested whether bees could solve a puzzle and learn to fly to a specific color of flower in a specific pattern. Interactive writing and note taking with Meeting Words. Recently I attended an online seminar with Howard Rheingold, an advocate of using technology mindfully. As the session began, Howard directed participants towards a shared note taking space set up using the Meeting Words site. As the session progressed participants added notes in the shared space.
They pasted in links mentioned by Howard, made their own notes and shared ideas. It was an interesting addition to the session and means that there is now a lasting record of the seminar. The 33 Digital Skills Every 21st Century Teacher should Have. Make a digital mural with Mural.ly. 15 Examples Of New Technology In Education. 26 Ways to Use Comics in the Classroom and 5 Free Tools for Creating Comics. 27 Ways To Publish Student Thinking. » Best Websites for Teaching and Learning: Looking back while moving forward AASL Blog. Back-to-School Guide. LiveMinutes |Free Web Conferencing |Online Video Conferencing Services |Net Meeting |Audio Conferencing Services. PowToon : Create Animated Presentations Online.
A Few Simple Ways To Introduce Reluctant Colleagues To Technology. Educational-blogging.wikispaces. School Page. Snipping Tool - Windows 7 features. Socrative | Student Response System | Audience Response Systems | Clicker | Clickers | Student Clickers | ARS | Mobile Clicker | Software Clicker. 50 Ways to Use Wikis for a More Collaborative and Interactive Classroom. Web Tools for Teachers by Type. A List of 20 Free Tools for Teachers to Create Awesome Presentations and Slideshows. Free Online Slideshow maker. Ed Tech Crew 195 - The Fisherman's Friend | Ed Tech Crew. Video Training and Online Learning | Today's Online Education.
The Global Classroom Project: 2011/12 - home. Blogging Tips for Teachers. Ultimate Web 2.0 List. Top 10 Web Tools. 50 Ways to Integrate Technology in your Classroom Tomorrow. ActivLearning.
Photo video editing
Wikis. Free-downloads. » Top 100 Tools 2011 C4LPT. Russeltarr's mindmapping Bookmarks on Delicious. My Top Free Online Tools and Resources for PBL. Free technology teacher training videos for teachers. YouTube. Using Prezi in the Classroom. Twitter. Google.
---