Twitter
A small (yet huge) example of the power of Twitter for student learning – Redefining my role: Teacher as student
I have been using Twitter for personalized professional learning for about three years now. That's all I use it for, and it has had a profound impact on my teaching. The benefits of my PLN (personal learning network) for my professional growth has been enormous, yet lately I have been wondering how to provide my students with a comparable network for their own learning. This question is an ongoing exploration, but in the meantime I have been finding ways to leverage my network to help them in their learning.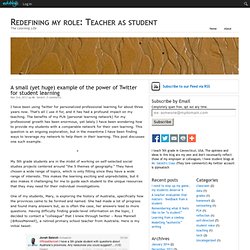 Weekly Twitter Chat Times - Google Docs
50 Education Twitter Hashtags Perfect For Parents
Twitter was the topic of conversation for this week's Tech Talk Tuesday session. With a mix of prepared slides and application sharing, twitter was introduced to those who may be new to its use. It was great to welcome a global audience with participants from Austria, Honduras (Central America), Moscow, Russia and Australia.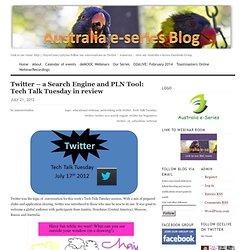 Twitter – a Search Engine and PLN Tool: Tech Talk Tuesday in review « The #australiaseries Blog
Image via CrunchBase Twitter is a rich and valuable place where like-minded individuals can gather and discuss (in real time or at their leisure). I love scouring my newsfeed and finding out all sorts of different information. This week I found out; A sortable list of iPad apps – (link) There's a 2 day conference at Toorak College in Mt Eliza in Melbourne called Exploring and Implementing the Australian Curriculum – (link) That there's a very funny video featuring ventriloquist Nina Conti on YouTube – (link) There's timely reminder about defending your time found here – (link) iTunes to get an overhaul in iOS 6 – (link) Quotes From My Twitter Stream iTech For Educators
Internet Catalogue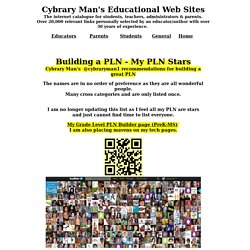 Business @tamurray Foreign Languages #langchat @MmeVeilleux @mmebrady @fiteach @bselden @mme_henderson @usamimi74 @CalicoTeach @DiegoOjeda66 @espanolsrs @SECottrell @melindamlarson @lbpereira @NinaTanti1 @mrcbarbie @JCPSWorldLang @sylviaduckworth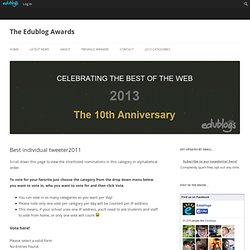 Best individual tweeter2011
Scroll down this page to view the shortlisted nominations in this category in alphabetical order. To vote for your favorite just choose the category from the drop down menu below you want to vote in, who you want to vote for and then click Vote.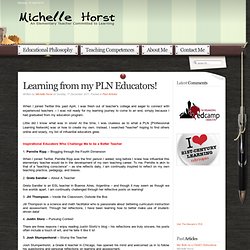 Learning from my PLN Educators!
When I joined Twitter this past April, I was fresh out of teacher's college and eager to connect with experienced teachers -- I was not ready for my learning journey to come to an end, simply because I had graduated from my education program. Little did I know what was in store! At the time, I was clueless as to what a PLN [Professional Learning Network] was or how to create my own.
Express 7.04 - Tech for Teachers: Using Twitter to Start Your Personal Learning Network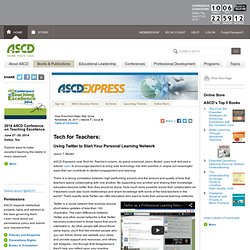 Tech for Teachers: Using Twitter to Start Your Personal Learning Network Jason T.
July 4th, 2011 by Mr.Williams.
The Six Sides of Steve. » #Top12 Teacher Hashtags#
twitter 102 for educators
#educared #educachat #educacion #education #educators #educoach #educhat