Twitter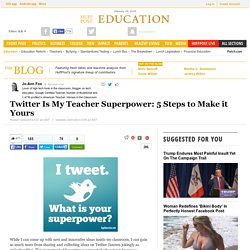 While I can come up with new and innovative ideas inside my classroom, I can gain so much more from sharing and collecting ideas on Twitter (known jokingly as #ideabandits). This movement of becoming a connected educator is known as creating a Professional (or Personal) Learning Network, known as a PLN. I wholeheartedly believe that joining fellow educators on Twitter will impact you and your classroom more than you think. Here are 6 steps to try it yourself: Step 1: Create Get yourself logged onto Twitter and sign up for an account using your computer, tablet, or smartphone.
Twitter Is My Teacher Superpower: 5 Steps to Make it Yours | Jo-Ann Fox
Twitter users often make the decision of whether or not to follow someone in seconds, meaning that you have very little time to impress. We looked into why people chose not to follow profiles on Twitter, and crowdsourced a variety of reasons that users give for not hitting that "Follow" button. But first, it's a good idea to take a look at how most people will see your Twitter profile. If someone finds you in his or her Home stream, or clicks on a "Who to follow" suggestion, the Profile Summary pop-up below shows what your potential audience sees of your Twitter presence. This summary gives an brief overview — the top half of the display shows your avatar, header photo, bio and a tally of tweets, followers and users you follow.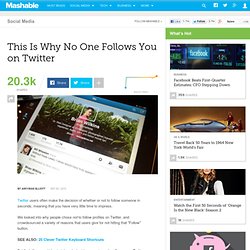 This Is Why No One Follows You on Twitter
HTAV Agora Article: A little birdy told me…. | ThinkEdu Blog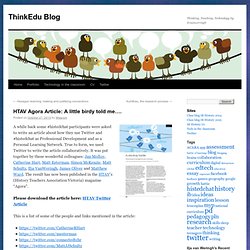 A while back some #histedchat participants were asked to write an article about how they use Twitter and #histedchat as Professional Development and as a Personal Learning Network. True to form, we used Twitter to write the article collaboratively. It was put together by these wonderful colleagues: Jan Molloy, Catherine Hart, Matt Esterman, Simon McKenzie, Matt Schultz, Ilja VanWeringh, James Oliver and Matthew Ward. The result has now been published in the HTAV's (History Teachers Association Victoria) magazine "Agora".
Primary (Ages 3 - 8 yrs) Classrooms That Tweet - Google Docs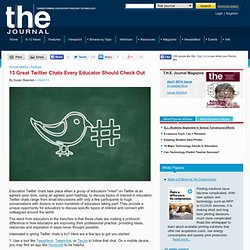 Education Twitter chats take place when a group of educators "meet" on Twitter at an agreed upon time, using an agreed upon hashtag, to discuss topics of interest in education. Twitter chats range from small discussions with only a few participants to huge conversations with dozens or even hundreds of educators taking part! They provide a unique opportunity for educators to discuss specific topics of interest and connect with colleagues around the world.
13 Great Twitter Chats Every Educator Should Check Out
A small (yet huge) example of the power of Twitter for student learning – Redefining my role: Teacher as student
I have been using Twitter for personalized professional learning for about three years now. That's all I use it for, and it has had a profound impact on my teaching. The benefits of my PLN (personal learning network) for my professional growth has been enormous, yet lately I have been wondering how to provide my students with a comparable network for their own learning. This question is an ongoing exploration, but in the meantime I have been finding ways to leverage my network to help them in their learning.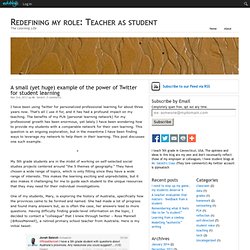 Weekly Twitter Chat Times - Google Docs
50 Education Twitter Hashtags Perfect For Parents
Twitter was the topic of conversation for this week's Tech Talk Tuesday session. With a mix of prepared slides and application sharing, twitter was introduced to those who may be new to its use. It was great to welcome a global audience with participants from Austria, Honduras (Central America), Moscow, Russia and Australia.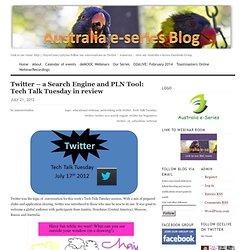 Twitter – a Search Engine and PLN Tool: Tech Talk Tuesday in review « The #australiaseries Blog
Internet Catalogue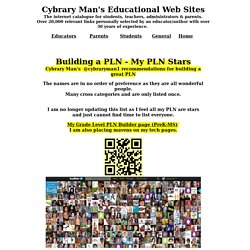 Business@tamurray Foreign Languages#langchat@MmeVeilleux @mmebrady @fiteach @bselden @mme_henderson@usamimi74 @CalicoTeach @DiegoOjeda66 @espanolsrs @SECottrell @melindamlarson @lbpereira @NinaTanti1 @mrcbarbie @JCPSWorldLang @sylviaduckworth Early Childhood @PreKPages@KarenNemethEdM@ECEtech @enrichingkids@mpowers3 @Teach_Preschool @EngageStrat @momtomadre@balmeras@DrLDMcManis @Kidlutions@DebChitwood @VickiEhlers @NotJustCute @PlanetPals @meairy@bocabeth @cherylgolangco #3rdchat Moderators@JaimeVanderG @MrBillySpicer@TRockR @teambond @vcuttini #4thchat Moderators@ncarroll24@plnaugle @cyarzy1@jmplus2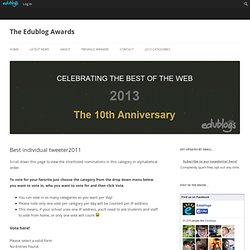 Best individual tweeter2011
Scroll down this page to view the shortlisted nominations in this category in alphabetical order. To vote for your favorite just choose the category from the drop down menu below you want to vote in, who you want to vote for and then click Vote. You can vote in as many categories as you want per day!Please note only one vote per category per day will be counted per IP address.This means, if your school uses one IP address, you'll need to ask students and staff to vote from home, or only one vote will count Vote here! Please select a valid form
13 Great Twitter Chats Every Educator Should Check Out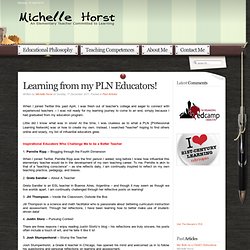 Learning from my PLN Educators!
When I joined Twitter this past April, I was fresh out of teacher's college and eager to connect with experienced teachers -- I was not ready for my learning journey to come to an end, simply because I had graduated from my education program. Little did I know what was in store! At the time, I was clueless as to what a PLN [Professional Learning Network] was or how to create my own.
Express 7.04 - Tech for Teachers: Using Twitter to Start Your Personal Learning Network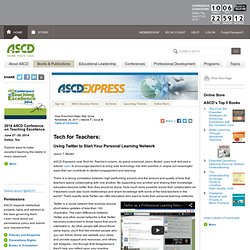 Tech for Teachers: Using Twitter to Start Your Personal Learning Network Jason T.
July 4th, 2011 by Mr.Williams. This article is looking at the most used education hashtags as of July 4th, 2011. The Hashtag is a powerful extender of your tweet to a much, much wider audience. When tweeting be sure to fill the space remaining with two or three relevant hashtags related to your tweet. This extends your message to a significantly wider audience.
The Six Sides of Steve. » #Top12 Teacher Hashtags#
twitter 102 for educators
#fb4ed#FCE#FETC #FF#fft#filmclass#finnedchat#flatclass #flatclassroom#FLE#flipchat #flipclass#flteach #followalibrarian #followfriday#fooded#foodtechteachers #formativeassessment#forteachers #frimm#FYCchat #gaed#gafe#gamedeved#gamemooc#gamify#gamification#gapbis#gbl#GCSE#GCT#geniushour#geniustime#geochat#GeoEdChat#geographyteacher@geomchat #gifted #GlassEdExplorers#GlassExplorers#globalchem#globalclassroom#globaled#google #googlect#googleglass#G+eduhangout#googlesearch#GplusEd#grammar #grandparentlessons #graphic_organizers#gr8teacher#great-teaching #grtechedu #gt #gtaa #gtadmin #gtchat#gted#gtie #GTvoice#guidechat #health #healthed#highered #highschool #highscope #hiphoped#histedchat#history#historyteacher#historyteaching#homeschool#homeschoolers#homeschooling #hs #hsc#hsmath