Resource
Create Your Very Own Operating System With Linux From Scratch [Linux]
Do you know how customizable Linux really is? Well you should if you've even heard of Linux or dabbled in it a bit. If not, try taking a look at a list of over 1,000 different Linux distributions currently available. All of them try to cater to your exact needs and tastes, so a reasonable mind would think that there'd have to be a distribution out there with which you'll find the perfect companion. Welcome to MakeUseOf, a booming daily blog that features cool websites, computer tips, and downloads that make you more productive. The aim of MakeUseOf is to guide you through the web and tell you about hot websites that you have never heard of, best software programs, and all kinds of "how to" tips for Windows, Mac and Linux computer users. MakeUseOf launched in July 2006 and now has approximately 450,000 active subscribers and serves about 20 million pageviews a month. It also ranks among the most popular blogs on the web according to Technorati and in the top 1000 websites worldwide according to Alexa (an Amazon company). Over the last two years MakeUseOf has been recommended by several mainstream sites and mentioned in hugely popular publications such as Telegraph, Fast Company , the Washington Post , and PC Magazine, including their Top 100 Websites for three consecutive years.
About MakeUseOf.com | MakeUseOf
Webspace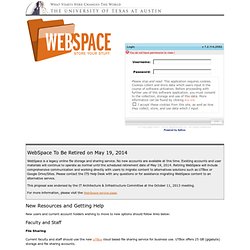 New Sign-Up Procedure for WebSpace Beginning October 13, 2011, it is now necessary to sign up for WebSpace before logging in to use it. If you have never used WebSpace before, then please visit the sign-up page first. Signing up is quick and easy, you only need to log in with your UT EID and agree to the university's Acceptable Use Policy. Note: Signing up takes effect almost instantly, but there can sometimes be a delay of a few seconds. If you are not able to log immediately after signing up, then wait several seconds and try again.