problem-solving
Get flash to fully experience Pearltrees
As designers we're called upon to regularly create new and fresh ideas.
Preface: Einstein and Socrates Two historically powerful systems of thought combined Additional Techniques A growing reference list with links to other techniques worth using, posted elsewhere on this site. Solving Problems Equipped with the right tools, YOU are more than a match for almost any problem, challenge or opportunity. Solving Problems Now In these difficult times, you already have the techniques to solve many of the daunting problems facing society... Welcome to Image-Streaming A Practical "Talking Paper" on Image-Streaming Training.
|| Take me back to the main ToolKit page || || Take me back to the DirectedCreativity Home page || There are many tools for creative thinking in the literature... Edward de Bono presents 13 tools in his book Serious Creativity Grace McGartland has 25 tips and techniques in Thunderbolt Thinking (TM) Arthur VanGundy covers 29 tools in Idea Power Michael Michalko describes 34 techniques in Thinkertoys Roger von Oech has 64 methods in his Creative Whack Pack Koberg and Bagnall give guidance on 67 tools in The Universal Traveler James Higgins tops them all with his book 101 Creative Problem Solving Techniques. While there is overlap among these compilations, there are at least 250 unique tools in these seven books. And these are only a few of the references available on the topic of creative thinking! Unfortunately, this variety leaves the impression that no one really knows how to stimulate creativity.
From Mycoted This A to Z of Creativity and Innovation Techniques, provides an introduction to a range of tools and techniques for both idea generation (Creativity) and converting those ideas into reality (Innovation). Like most tools these techniques all have their good and bad points. I like to think of these creativity and innovation techniques as tools in a toolbox in much the same way as my toolbox at home for DIY.
My Favorite Graphs... and the future This blog has always been about optimism, creating better user experiences, helping users spend more time in flow, and learning. There are 405 posts here. More importantly, there are nearly 10,000 comments from y'all that add so much more to the topics, and from which myself and others have learned a great deal.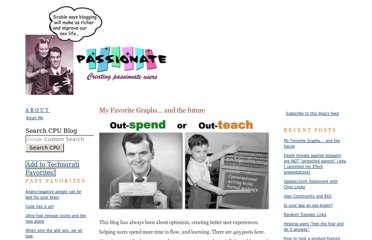 This wiki is a collaborative environment for exploring ways to become a better thinker. Topics that can be explored here include MemoryTechnique s, MentalMath , CriticalThinking , BrainStorming , ShorthandSystem s, NotebookSystem s, and SmartDrug s. Other relevant topics are also welcome. Wiki Topics Mindhacker : The support page for the 2011 book by RonHaleEvans and MartyHaleEvans .