Drinks
Pina Colada Smoothie.
Www.macheesmo.com/2010/05/roy-g-biv-smoothies/
Flavorful Fall: Cozy Caramel Cider. Hi everyone!
I'm kicking off the fall season with a few of my favorite autumn themed drink recipes. The first recipe I'm going to share with you is Caramel Apple Cider, which is one of my favorite drinks to cozy up with during a cool fall night while I read. There's something really comforting about apple cider, which I think has something to do with all the apple juice I drank as a kid. It's kinda funny how all my comfort foods are just variations of the things I ate when I was little. Lace And Leather Leggings. 50 Smoothies : Recipes and Cooking.
1.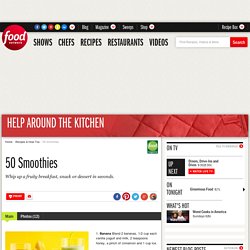 Banana Blend 2 bananas, 1/2 cup each vanilla yogurt and milk, 2 teaspoons honey, a pinch of cinnamon and 1 cup ice. 2. Strawberry-Banana Blend 1 banana, 1 cup strawberries, 1/2 cup each vanilla yogurt and milk, 2 teaspoons honey, a pinch of cinnamon and 1 cup ice. 3. Strawberry Shortcake Blend 2 cups strawberries, 1 cup crumbled pound cake, 1 1/2 cups each milk and ice, and sugar to taste. Roasted Peach Lemonade.
This is the latest installment of my Powernap column.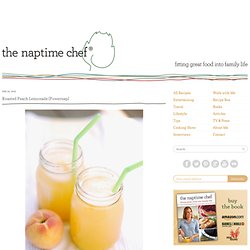 The series where I share quick, easy food that can be made for all kinds of situations. Powernaps are short and sweet, and so are these recipes. These are the things I make in a jiffy when I need a quick snack, am in the mood for a recipe experiment, or simply need to clean out the pantry. When I was at BlogHer Food in Atlanta in May I had the great fortune of sipping the most delicious lemonade I'd ever, ever tasted. It was sold at a tiny cafe at the Auburn Street Market and I am fairly sure every single one of us on the field trip purchased a large serving.
Perfect Iced Coffee | The Pioneer Woman Cooks | Ree Drummond - StumbleUpon. Iced coffee is my life.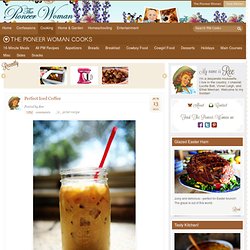 When I wake up, often around the time party animals on the west coast are just heading home, I start each day not with a cup of freshly brewed hot java, but with a tall, blessed glass of creamy iced coffee in a glass. I've been an iced coffee freakazoid for years and years. The Ultimate Strawberry Lemonade. One of the first times I ever realized that – HEY!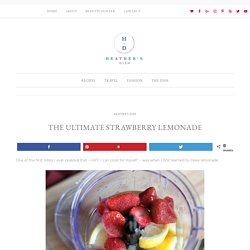 I can cook for myself! – was when I first learned to make lemonade. I magically found the refrigerated lemon juice at our house and followed the directions to make my own lemonade. I stirred and stirred and stirred again until that sugar was finally dissolved. 20 Alcoholic Beverages Inspired By The Harry Potter Series. Italian sodas - StumbleUpon. June 30, 2011 | Sweet Recipes | Comments Growing up, these Italian sodas were my favorite!!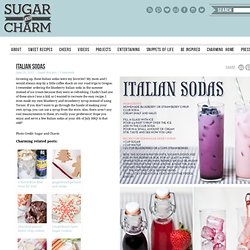 My mom and I would always stop by a little coffee shack on our road trips to Oregon. Sleepy-Time Smoothie. My husband woke up coughing and a little feverish this morning.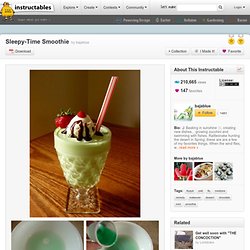 UGH... a darn COLD! I knew I'd need to set aside my chores and make the long drive to town to buy him some Nyquil. On the way, it dawned on me to use the Nyquil and a few more ingredients to turn that nasty-tasting wonder-elixer into a delicious (as possible;-) Smoothie for this Instructable's Contest. The Grocery Store was out of Cherry Flavor, so this was a REAL challenge!
;-O) Frozen Coconut Limeade | She Wears Many Hats. Pumpkin Honey Tofu, Home Gym Equipment Purchase, Jobs: Dream Jobs & Money. Hi Friends!
How was your weekend? Mine flew by at warp speed! I had a great weekend, full of family time with Scott and Skylar, some time in the kitchen, and a few crazy shenanigans, too. Hopefully you made the most of your summer weekend because they are so precious. Strawberry Champagne Slushies :: Une Vie Saine. Espresso Chocolate Mousse | Flour Child. Last night, it rained.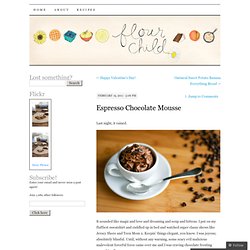 It sounded like magic and love and dreaming and soup and kittens. I put on my fluffiest sweatshirt and cuddled up in bed and watched super classy shows like Jersey Shore and Teen Mom 2.
---