Photography
Edible | ilian | Food Photographer. Luciacantuartigas.tumblr.com. Portfolio | ilian | Food Photographer. 15 Worlds Most Famous Photographers. What makes a world's famous photographer noticed or well-known?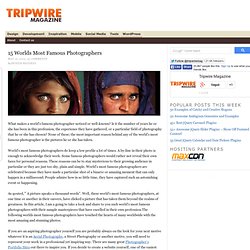 Is it the number of years he or she has been in this profession, the experience they have gathered, or a particular field of photography that he or she has chosen? None of these; the most important reason behind any of the world's most famous photographer is the pictures he or she has taken. World's most famous photographers do keep a low profile a lot of times. 26 Brilliant Instagram Accounts That Will Expand Your Worldview. The life of a photojournalist is not for everyone.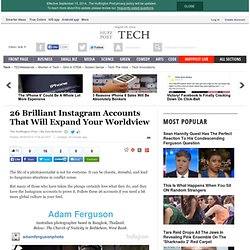 It can be chaotic, stressful, and lead to dangerous situations in conflict zones. But many of those who have taken the plunge certainly love what they do, and they have the Instagram accounts to prove it. Follow these 26 accounts if you need a bit more global culture in your feed. Adam Ferguson. Food Photography - Stocksy United - Royalty-Free Stock Photos. Francesco Tonelli Photography - Ice Cream - 16. The Majestic Beauty Of Wild Animals Captured By Marina Cano. Marina Cano is a talented and internationally-renowned nature photographer that takes stunning photographs of wild animals.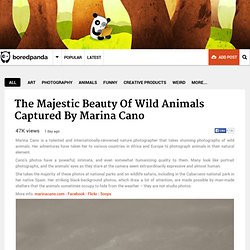 Her adventures have taken her to various countries in Africa and Europe to photograph animals in their natural element. Cano's photos have a powerful, intimate, and even somewhat humanizing quality to them. Carissa Gallo. 46 fascinantes fotografías de las tribus más remotas del mundo antes de que desaparezcan. El mundo nunca ha estado tan interconectado como hoy.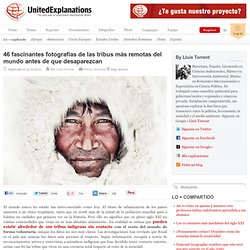 El ritmo de urbanización de los países aumenta a un ritmo trepidante, tanto que en 2008 más de la mitad de la población mundial pasó a habitar en ciudades por primera vez en la historia. Pero ello no significa que en pleno siglo XXI no existan comunidades que vivan en su más absoluto aislamiento. En realidad se estima que pueden existir alrededor de 100 tribus indígenas sin contacto con el resto del mundo de forma voluntaria, aunque los datos no son muy claros. Las investigaciones han revelado que Brasil es el país que maneja los datos más precisos al respecto.
Según información recogida a través de reconocimientos aéreos y entrevistas a miembros indígenas que han decidido tener contacto exterior, serían casi 80 las tribus que viven en una cerrazón total respecto al resto de la sociedad. See | Florencia Denti. Wegman World. 35 places to swim in the world's clearest water [PICs] Places That Are Actually Real But Don't Look So.
Spectacular Shots Above and Below the Sea. Visual Inspiration. 22 Incredible Photos of Faraway Places. Thailand Chances are you already know Steve McCurry as the man who took one of the most iconic photos of our time.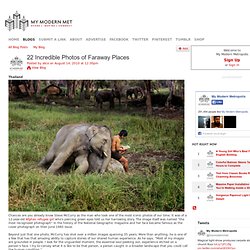 It was of a 12-year-old Afghan refugee girl who's piercing green eyes told us her harrowing story. The image itself was named "the most recognized photograph" in the history of the National Geographic magazine and her face became famous as the cover photograph on their June 1985 issue. Beyond just that one photo, McCurry has shot over a million images spanning 35 years. National Geographic Photo Contest 2011 - Alan Taylor - In Focus - The Atlantic - StumbleUpon. National Geographic is currently holding its annual photo contest, with the deadline for submissions coming up on November 30.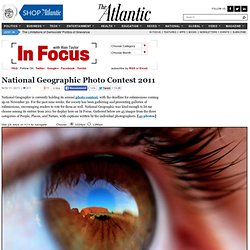 For the past nine weeks, the society has been gathering and presenting galleries of submissions, encouraging readers to vote for them as well. National Geographic was kind enough to let me choose among its entries from 2011 for display here on In Focus. Gathered below are 45 images from the three categories of People, Places, and Nature, with captions written by the individual photographers. [45 photos] Use j/k keys or ←/→ to navigate Choose: Earth View - StumbleUpon. L'&toile by Gerald Bloch. e6542bcccf_75247609_o2.jpg from jxs.cz - StumbleUpon. Photo &Cherry Blossom Avenue& by Marcel B. Getting Close and Personal: 11 Tips for Close-up Candid Street Photography. A Post By: James Maher Tip #1: If you see a banana stand, hang out near it.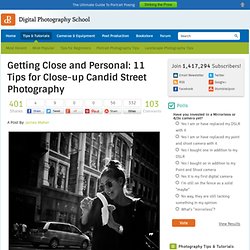 Street photography is not easy.
---