Random internet
CORGI ORGY
Listen to Wikipedia
Super Smash Land
Lethal League
It's the lovable Sentry Turret from the hit PC/Xbox/PS3 game, Portal ! Since its original release on my deviantArt page some time ago, I've received a number of requests for help/tutorials with this model, and in the spirit of the Make It Real challenge , I've decided to write up a concise guide to that end. BACKGROUND For those curious, this model was designed using several pieces of software, including student versions of 3D Studio Max and AutoCAD for the mesh, GIMP for the model's skin, and PePaKuRa Designer to "unfold" it into the final template.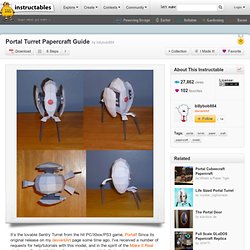 Portal Turret Papercraft Guide
Chocolate Bunny on Vimeo
Comics - Part 1 :: A Petty Nuzlocke Challenge: Leafgreen Edition
Psycho Bandit mask papercraft project
I finally finished my Borderlands Psycho Bandit mask papercraft project...
Your Freedom - Bypass firewalls and proxies, stay anonymous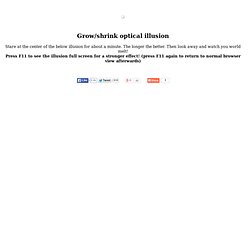 Dynamic Optical Illusions - GROW ILLUSION.
Stare at the center of the below illusion for about a minute. The longer the better. Then look away and watch you world melt!
Sinuous
OMOCAT
mustachify.me
Worddit Document
Fifty Shades Generator | Terrible erotic fiction at the click of a button
FotoForensics
It's all about the Jaw on Vimeo
Watchismo Times
The Doomsday Algorithm gives the day of the week for any date (and you can do it in your head) Added 1994-02-22, Updated 2013-02-28 with examples for 2013 The Doomsday Algorithm is presented in sections. Links are provided in the top right corner of each section. To learn the Doomsday Algorithm, read the sections in the following order: February 28 or 29 : Doomsday is the last day of February Even Months : April, June, August, October, and December (months 4, 6, 8, 10, and 12) Odd Months : March, May, July, September, and November (months 3, 5, 7, 9, and 11) 2013 Calendar : the current year calendar, highlighting the Doomsday in each month Other Years : how to apply the Doomsday Algorithm to other years in the 1900s and 2000s Other Centuries : extending the Doomsday Algorithm to other centuries The Hand : Dr.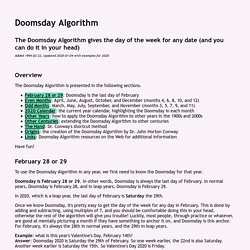 Doomsday Algorithm