Ideas
Manipulation News, Videos, Reviews and Gossip - Lifehacker. This is really more of a side effect of the way that computer sales work.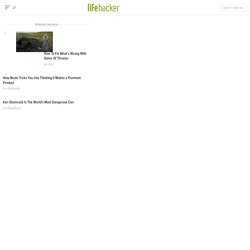 As a computer salesman, my goal is to pair you with a computer that (a) you'll be able to use to accomplish everything you want to do with a computer, including things you weren't thinking about (games, netflix) but that you'll use the thing for anyway, (b) that is capable of running things that your workplace / school will require of you, and also (c) that fits into your lifestyle well enough that it's something you'll be happy to keep using.
If I fail at this job, two things will happen. The magic button — Make Everything OK. Absolutely Genius Ideas. Sleeping in an original bed. Almost Genius. Simple Ideas That Are Borderline Crafty (35 Pics) Frugal Village | Frugal Living by Sara Noel.
---