APPS_Social
The Tru App. Sekai Camera Web. Miso Homepage | Miso. A maior rede social romântica do mundo | Zoosk. TF3 BATTLE ZONE. Netway Enterprises, Inc. Localmind - Know what's happening. Now. Call the world | vox.io. Kodak. Spring for iPhone. Introducing Spring for iPhone and iPod Touch, the best way to use the insanely popular Formspring!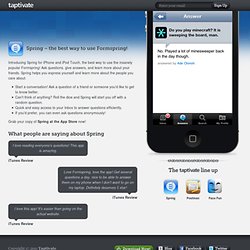 Ask questions, give answers, and learn more about your friends. Spring helps you express yourself and learn more about the people you care about. Start a conversation! Showyou: Watch videos from your friends. Goodies. iPhone, iPad, iPod Touch instant messaging. IM+: Instant Messaging for iPhone, iPad, iPod Touch - MSN®, Yahoo!®, Google Talk™, AIM®, Jabber®, ICQ®, Facebook®, MySpace, Skype™ and Twitter :: iPhone / iPod Touch.
Completely clean, simple and totally secure instant messaging app for iOS with over a dozen of supported instant messaging services.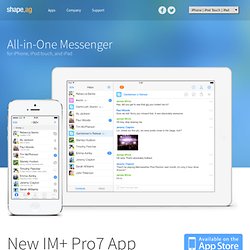 Comes with support for Off-the-Record encryption. Free text and media messaging in Skype, Facebook, Google Talk, and many others. AutoRingtone.com Custom TEXT TO SPEECH iPhone RINGTONES from No Tie Software. Support | Tektrify! Support Basic Trouble Shooting Restart your device A lot of issues are easily resolved by simply restarting your iPhone, iPod Touch or iPad.
Find My Friend no Facebook. Pose. A Social Life That Pays. WhosHere. CarZ | A Mais Completa Rede Social Automotiva. Pets Next Door. Seesmic - Seesmic connects you wherever you are. Imo.im.
My App Catalog LLC, Mobile Application Development. The World's Only Free and Open Texting Application. Echofon. Touch. Para celular. Pesquisa do Google para seu telefone. YouTube para celular. Latitude. Veja onde os seus amigos estão agora.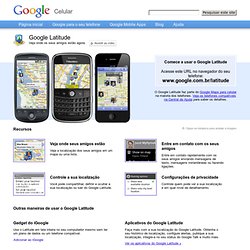 Assistir ao vídeo Comece a usar o Google Latitude Acesse este URL no navegador do seu telefone: www.google.com.br/latitude. Maps para celular. Fring – make FREE group video calls, video calls, mobile phone calls (VoIP) & live chat. MyPad for iPad. HootSuite - Social Media Dashboard for Teams using Twitter, Facebook, Linkedin.
Mobile Application and Games Service Provider - Mangoo. Super Art Software. Hipster. For iPhone. From the makers of CorelDRAW Graphics Suite, this helpful app lets you connect to the CorelDRAW.com community from your iPhone® or iPod touch®.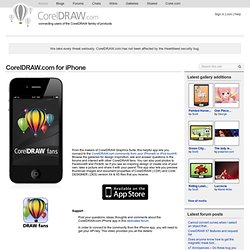 Browse the galleries for design inspiration, ask and answer questions in the forums and interact with other CorelDRAW fans. You can also post photos to Facebook® and Flickr®, so if you see an inspiring design or create one of your own, take a picture and share it with your peers! Sign up | Tumblr. Home - Tango. Kekanto São Paulo. Instagr.am. I+ - Sempre Presente. Kik Messenger - Texting for Smartphones. GetGlue: Check-in to tv, movies and music. Ning – Crie um site de networking social com o Ning, a melhor plataforma de sites sociais. Para celular. Web and Mobile Messenger for MSN, Yahoo, ICQ, AIM, Google Talk, Facebook | eBuddy.
Foursquare :: foursquare. Voxer. The Bump App for iPhone and Android | Bump Technologies, Inc. Messenger. Viber | Free calls, free voip, free phone calls from iPhone and Android. TweetDeck by Twitter. Qik | Record and share video live from your mobile phone. Chamadas com vídeo e chat com vídeo pelo Android - Skype para Android. Você pode fazer tantas coisas com o Skype – contar uma história de dormir, organizar uma reunião ou assistir uma aula de idioma.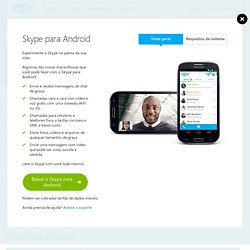 Algumas das coisas maravilhosas que você pode fazer: Chamadas de Skype para Skype grátis.Chamadas para celulares e telefones fixos a tarifas incríveis e SMS a baixo custo.Chamadas com vídeo com os seus contatos.Mensagens de chat grátis com seus amigos, parentes e colegas. Tudo o que precisa para começar é o Skype 4.2 para Linux, uma webcam para chamadas com vídeo e um microfone. WhatsApp Messenger.
---