Soup and Stew
Easy Cheesy Broccoli Soup
I fell in love with this recipe long before I tasted it. Just a glance at its list of ingredients and I was infatuated. I had to have it. And as soon as the opportune day (of the dreary cold variety that are meant for soup encounters) presented itself, it was a date. As predicted, this chowder and I got along swell. Who wouldn't hit it off with a bowl of steaming bits of crispy bacon, chunks of hearty mushroom and sweet potato, and smooth smoky gouda?
a hint of honey: Mushroom, Sweet Potato, and Smoked Gouda Chowder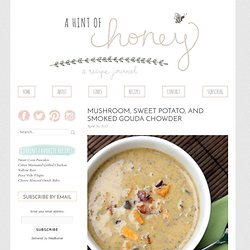 Garlicky Tortellini, Spinach, and Tomato Soup
Roasted Red Pepper Soup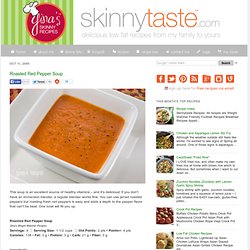 This soup is an excellent source of healthy vitamins – and it's delicious! If you don't have an immersion blender, a regular blender works fine. You can use jarred roasted peppers but roasting fresh red peppers is easy and adds a depth to the pepper flavor that can't be beat.
Everything you love about a baked potato loaded with cheddar, bacon and chives, in the form of a soup! I've had several requests to make-over this soup (You really like to challenge me, don't you!) I was a little stumped on how I was going to take something as carb rich as potatoes, with added fat like sour cream, cheese and bacon, light! I knew I had to hide a vegetable in this soup to bulk it up without added calories. My first attempt was parsnips, but the flavor was too overwhelming.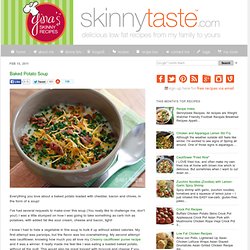 Thick and creamy lick-the-bowl good! This soup is loaded with potatoes, broccoli and cheese. A one-pot meal your whole family will love, ready in under 30 minutes. Snow Day!! It's a blizzard out there, the East Coast got slammed with snow and winds and even thunder and lightning in some places. Almost everything shut down here in New York and the tri-state area today.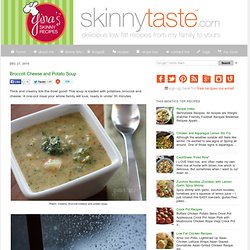 Broccoli Cheese and Potato Soup
witches brew soup For today's Friday night dinner and a movie recipe I'm inspired by one of my favorite Halloween flicks: Hocus Pocus . So I'm stirring my bubbling cauldron (aka, my soup pot) to make this Hocus Pocus Witches Brew Broccoli Cheddar Soup with Cheezy Garlic Broomsticks and witches hats. Grab a spoon and dive into this spooky-delicious, witchy green soup. There are plenty of broomsticks to go around!.. Hocus Pocus Movie Poster, Walt Disney Pictures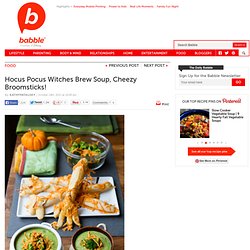 Broccoli Cheddar Witches Brew Soup and Broomsticks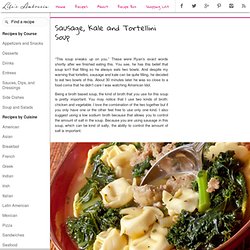 "This soup sneaks up on you." These were Ryan's exact words shortly after we finished eating this. You see, he has this belief that soup isn't that filling so he always eats two bowls.
Recipe for Sausage, Kale and Tortellini Soup at Life