Toys
Active Play Toys & Games | OgoSport, LLC
Delightful robots for children to program | Play-i
AppMATes
Apptoyz | Future of toys is here
Products: Zero Toys Online Store
Clutter Magazine | Vinyl Toys | Designer Toys | Street Art | Urban Culture
Playful Factory > DIY Toys for Kids
Dinámikos
JUEGOS INFANTILES PLAY IDEA INTERIOR EXTERIOR MODULARES TUBULARES ESTRUCTURALES - INICIO
Toddler & Kids Toys | Learning Toys | Educational & Developmental Toys
Tienda de Juguetes Online | Regalos para Navidades y Reyes | Catálogo de Juegos EurekaKids
ThinkerToys : Converting eWaste into educational fun toys, openTOYS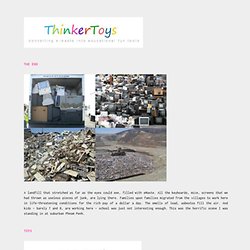 A landfill that stretched as far as the eyes could see, filled with eWaste. All the keyboards, mice, screens that we had thrown as useless pieces of junk, are lying there. Families upon families migrated from the villages to work here in life-threatening conditions for the rich pay of a dollar a day. The smells of lead, asbestos fill the air. And kids - barely 7 and 8, are working here - school was just not interesting enough.
Toy Product Design
DINED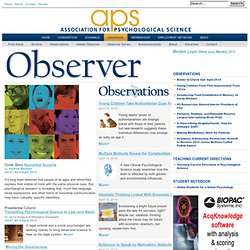 APS Observer - Toy Stories
Cover Story Why Wait? The Science Behind Procrastination
Creative Play Makes for Kids in Control : NPR
Children and Youth - Play - Development - Science - New York Times
Toy and Game Inventor Conference - Home
Old-Fashioned Play Builds Serious Skills : NPR
Ekoideas tienda ecológica online, casa, jardín, bebés y regalos
Make Good Toy Car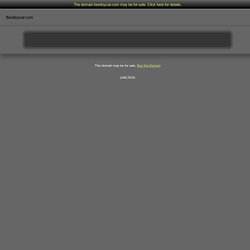 Answers When you leave a toy car out in the rain, it rusts. When you don't wash your clothes, behavior. ■I have faith in you to make good choices. 7.Are there any hints to … Get Document
Even if you do not bid on a gorgeous antique automaton or attend Theriault's upcoming automata auction, you can still own a piece of this event in the form the auction catalog. The catalog -- a hardcover book, really -- features a hologram of the "Kneeling Egyptian Harpist" on the front. Of course, the book contains detailed descriptions for the 150+ fine automata that are in the auction. But it goes far beyond being just a catalog because it also features a series of essays on various common automata themes.
November 2008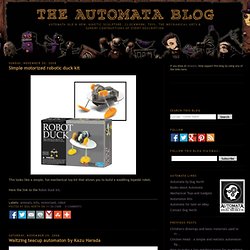 Wooden Toys, Eco Toys, Green Toys, Organic Cotton Baby Toys, Plan Toys
cardboard furniture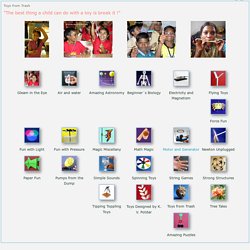 "The best thing a child can do with a toy is break it !" "Gleam in the Eye" "Amazing Astronomy" "Pumps from the Dump"
Educativos
-
I-gami - The first 3D construction set for the truly creative mind!
- Ida Sundell industridesign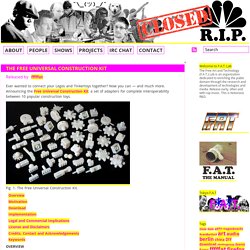 Ever wanted to connect your Legos and Tinkertoys together? Now you can — and much more. Announcing the Free Universal Construction Kit : a set of adapters for complete interoperability between 10 popular construction toys.
Welcome to LEGO Engineering
read instructions carefully before assembly • No batteries required
Tamiya Gearboxes
K'NEX - The World's Most Creative Construction and Building Toys.
- Special Needs Toys An award-winning company with innovative toys for children with special needs. - Chewy Tubes Buy child therapy products with guidance from our experts in child development. - Weighted Blankets Hundreds of autistic related products. - Weighted Compression Vests Toys for autistic children. - Gifts For Autistic Children Classroom tools for special education teachers. - Occupational Therapy Educational toys and therapy tools for parents as well as therapists. - Sensory Toys Understanding sensory integration and more. - Toys for Autism Toys that encourage learning. - Educational Toys For Children
Balance Toys | Gross Motor Therapy | Special Needs Toys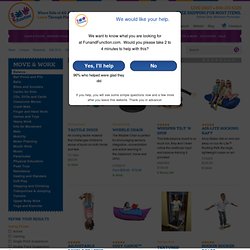 Dekko Toys
PEZ Anatomy!
Syyn Labs
Pathfinders Design and Technology - Wooden Science Kits
Global Toy News
Bubble Shrek - Worth1000 Tutorials
BubbleBlowers.com - The Bubble Blowers Museum
Strong Bubble Ingredients The single most important part is the water.
Bubble Snakes - Bubble Blower | Experiments | Steve Spangler Science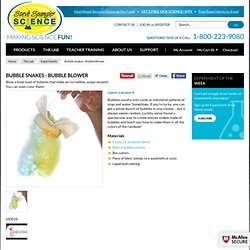 Fabian Oefner | Gateway to the Invisible
Enjoyable Art of Giant Soap Bubbles | Wave Avenue
Wham-O, Inc | Frisbee Flying Discs, Hacky Sack Footbag, Slip N Slide Water Slides, SnowBoogie, BZ ProBoards, Morey Bodyboards, Sprig Toys, Hula Hoop and more
the childhood beliefs site - I Used To Believe
Peter A. Wachtel | KID Toyology, Peter A. Wachtel | Chief Creative KID @KID from Camarillo, California
About ★Designer, Inventor, Teacher, Writer & Creator… "I Play, therefore I am"… ★Contact: E-Mail: Kidtoyology@earthlink.net ★Skype: Kidtoyology ★Follow KID Toyology on Facebook, Linkedin, Twitter & YouTube! Experience: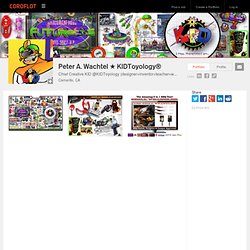 IAAPA - The International Association of Amusement Parks and Attractions
MakieLab |
BattleTech: The Board Game of Armored Combat
The Sarut Group: login
Description Create your own one-of-a kind custom Monster with our Make My Own Monster Kit. Kit includes drawing paper, colored pencils, and Monster Info form.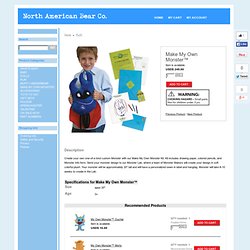 North American Bear Co., Inc. Make My Own Monster™
Stuff Your Doodles