Toys
PLEOworld
100 % Tobeus | A matter of toys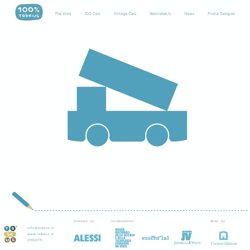 Art Direction: Matteo Ragni General Manager: Irene Sartor Exhibition Design: Matteo Ragni with Massimo Minchio, Stefano Panterotto, Maurizio Prina, Irene Sartor. Text: Elisa Massoni Photo: Max Rommel Craftsman: Mastro Giovanni Product Manager: Matteo Beraldi Press: Martina Gamboni Special thanks: Alberto Alessi, Gloria Barcellini, Elena Campanello, Maurizio Corraini, Marzia Corraini, Pietro Corraini, Mariagiovanna Di Iorio, Paola Jannelli, Elisa Ferrari, Marika Fiore, Fiammetta Gamboni, Martina Gamboni, Albano Ghizzoni, Andrea Giust, Irene Lopez, Marissa Morelli, Mirella Mosca, Nicoletta Murialdo, Max Rommel, Barbara Soresina, e tutti i designer che hanno condiviso e condivideranno il manifesto TobeUs. Website by Marco Tonet
Active Play Toys & Games | OgoSport, LLC
Dear Friends, We founded Play-i almost a year ago with one mission: to make programming fun and accessible for every child. It has been an exciting journey as Bo & Yana came to life, thanks to the input and help from hundreds of children and parents who played with our robots at different stages of development. We truly believe that Bo & Yana make a child's world bigger. We have been touched by your support in helping us meet, and exceed, our goal.
AppMATes
Apptoyz | Future of toys is here
Products: Zero Toys Online Store
Design and build your own toys!!! We design toys together by sharing; toy reviews, toy research, toy safety/design tips, d.i.y. toy tutorials and toy design concepts. Share your comments, opinions, ideas, sketches, etc... and entered win the free toy giveaway! In addition, each new toy design idea you submit will have a chance to be made into a real toy in our Playful Factory! Get involved now with our current toy design project. 08 Mar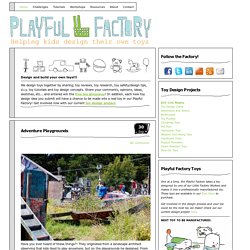 Playful Factory > DIY Toys for Kids
Dinámikos
JUEGOS INFANTILES PLAY IDEA INTERIOR EXTERIOR MODULARES TUBULARES ESTRUCTURALES - INICIO
JUEGOS INFANTILES PARA SALONES DE FIESTAS EN MEXICO, VENTA DE JUEGOS INFANTILES EN MÉXICO, FABRICACIÓN DE JUEGOS INFANTILES PARA SALONES DE FIESTAS PLAYGROUNDS TIROLESAS MEGA RESBALADILLAS TOBOGANES PARED DE ESCALAR AREAS DE BEBES CANCHAS DE FUTBOL, SALONES DE FIESTA EN MEXICO JUEGOS INFANTILES PLAY IDEA: VENTA DISEÑO FABRICACIÓN FABRICA DE JUEGOS INFANTILES EN MÉXICO PARA INTERIOR.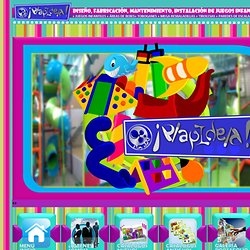 Toddler & Kids Toys | Learning Toys | Educational & Developmental Toys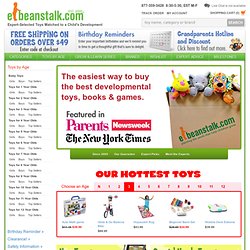 The Ebeanstalk Difference WELCOME to ebeanstalk.com, a great place for educational toys (that are fun to boot). PARENTS and GRANDPARENTS like learning about child development and children's toys. And they naturally want to shop for toys, books and games according to their child's level of development.
Tienda de Juguetes Online | Regalos para Navidades y Reyes | Catálogo de Juegos EurekaKids
ThinkerToys : Converting eWaste into educational fun toys, openTOYS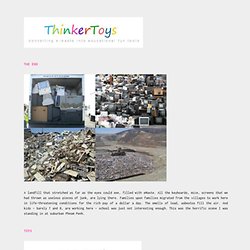 A landfill that stretched as far as the eyes could see, filled with eWaste. All the keyboards, mice, screens that we had thrown as useless pieces of junk, are lying there. Families upon families migrated from the villages to work here in life-threatening conditions for the rich pay of a dollar a day. The smells of lead, asbestos fill the air. And kids - barely 7 and 8, are working here - school was just not interesting enough.
Toy Product Design
DINED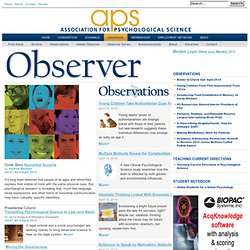 APS Observer - Toy Stories
Cover Story Nonverbal Accents By Andrew Merluzzi
hide captionIt's a good brain exercise for children to make their own props and assign them roles, like a good-old fashioned tin can phone. iStockPhoto.com Old-Fashioned Play Builds Serious Skills Elaborate toys, busy schedules and the demise of recess have left children with fewer opportunities for imaginative play — and it shows.
Creative Play Makes for Kids in Control : NPR
Children and Youth - Play - Development - Science - New York Times
Toy and Game Inventor Conference - Home
Yarrow Kraner, Founder of HATCH Experience and Chisel Industries in 1999, Yarrow Founded a network of real-life heroes: Superdudes, often referred to as "one of the pioneer social networking communities." From the garage to over 1.5 million subscribers worldwide, it became one of the hottest destination sites for youth 12-24 at that time.The foundation, www.Supernation.org worked with charities, children's hospitals, and inner-city stay-in-school programs to empower youth. In 2004 Fox Studios acquired Superdudes, My Space and Grab.com for $650 Million.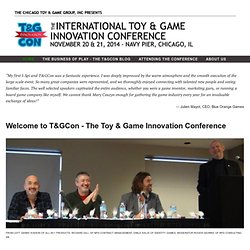 Old-Fashioned Play Builds Serious Skills : NPR
hide captionResearchers say imaginative play allows children to make their own rules and practice self-control. Tim Pannell/Corbis Organizing play for kids has never seemed like more work. But researchers Adele Diamond and Deborah Leong have good news: The best kind of play costs nothing and really only has one main requirement — imagination.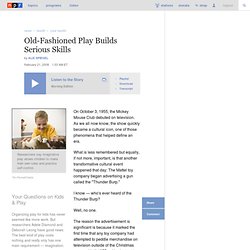 Ekoideas tienda ecológica online, casa, jardín, bebés y regalos
Make Good Toy Car
Even if you do not bid on a gorgeous antique automaton or attend Theriault's upcoming automata auction, you can still own a piece of this event in the form the auction catalog. The catalog -- a hardcover book, really -- features a hologram of the "Kneeling Egyptian Harpist" on the front. Of course, the book contains detailed descriptions for the 150+ fine automata that are in the auction. But it goes far beyond being just a catalog because it also features a series of essays on various common automata themes.
November 2008
Wooden Toys, Eco Toys, Green Toys, Organic Cotton Baby Toys, Plan Toys
cardboard furniture
Kit Tensiones. Completo kit para la introducción y aprendizaje de la energía solar. Incorpora tres módulos independientes montados en una carcasa, permitiendo realizar toda clase de experimentos con tensiones comprendidas entre 1,5V y 4,5V e intensidades desde 100 mA hasta 300 mA. Se incluye soporte, motor de baja inercia, soporte de motor, varias conexiones preparadas, ventilador, unidad electrónica de música, lámpara especial y surtido de discos giratorios y accesorios.
Educativos
-
I-gami - The first 3D construction set for the truly creative mind!
- Ida Sundell industridesign
read instructions carefully before assembly • No batteries required
Tamiya Gearboxes
K'NEX - The World's Most Creative Construction and Building Toys.
Balance Toys | Gross Motor Therapy | Special Needs Toys
Dekko Toys
PEZ Anatomy!
Syyn Labs
Global Toy News
Bubble Shrek - Worth1000 Tutorials
BubbleBlowers.com - The Bubble Blowers Museum
Bubble Snakes - Bubble Blower | Experiments | Steve Spangler Science
Enjoyable Art of Giant Soap Bubbles | Wave Avenue
Wham-O, Inc | Frisbee Flying Discs, Hacky Sack Footbag, Slip N Slide Water Slides, SnowBoogie, BZ ProBoards, Morey Bodyboards, Sprig Toys, Hula Hoop and more
the childhood beliefs site - I Used To Believe
Peter A. Wachtel | KID Toyology, Peter A. Wachtel | Chief Creative KID @KID from Camarillo, California
IAAPA - The International Association of Amusement Parks and Attractions
MakieLab |
BattleTech: The Board Game of Armored Combat
North American Bear Co., Inc. Make My Own Monster™
Stuff Your Doodles