Residential
Modern Concrete House (15 photos) When you first think about the words concrete house, you might imagine a cold, sterile environment, perhaps something similar to a prison.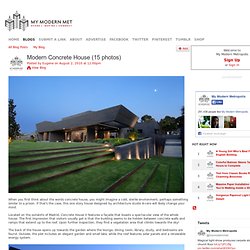 If that's the case, this one story house designed by architecture studio A-cero will likely change your mind. Located on the outskirts of Madrid, Concrete House II features a façade that boasts a spectacular view of the whole house. Build a house for less than $5000 | Cira Car. Million Lake House in Lake Tahoe by Mark Dziewulski Architect. Lake Tahoe, Nevada is among the most sought after destinations for dream homes.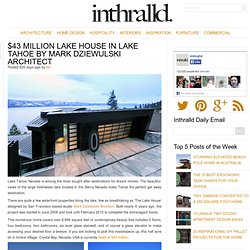 The beautiful views of the large freshwater lake located in the Sierra Nevada make Tahoe the perfect get away destination. There are quite a few waterfront properties lining the lake, few as breathtaking as 'The Lake House' designed by San Francisco based studio Mark Dziewulski Architect. Built nearly 6 years ago, the project was started in June 2006 and took until February 2010 to complete the extravagant home. This monstrous home covers over 8,694 square feet of contemporary beauty that includes 5 floors, four bedrooms, four bathrooms, six level glass stairwell, and of course a glass elevator to make accessing your desired floor a breeze.
Moshe Safdie: Singapore. Jet Off To Australia's Pretty Beach House « Ultra Swank House On Wheels. England's First Passive House is a Vaulted Green-Roofed Wonder. The home's 20-meter roof span was built using timbrel vault construction, a classical building technique that has been largely forgotten since the onset of modern high-strength materials.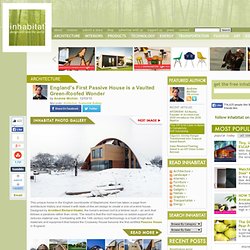 The roof features a layer of 26,000 locally handmade clay tiles mortared together to make a supporting web. A green roof was applied on top to help regulate the home's interior temperature, and the home's rounded shape reduces exterior surface area which in turn saves energy. The house received an A-A rating on its Energy Performance Certificate (EPCs) and it is also on its way to becoming the first certified Passive House in England.
The most luxury tree house ever. 13 Repurposed Dwellings | Herald Daily. Nov 11, 2009 Posted on Nov 11, 2009 | 11 comments 13 Repurposed Dwellings This article is courtesy of Castelblanco.com, Los Angeles Housing Attorneys .
There is no denying the movement toward living green and the increased popularity of re-purposed goods. 20 Weirdest Apartments of the World. $7 Million Residence in San Francisco by John Maniscalco Architecture. By Eric • Apr 9, 2011 • Selected Work The Russian Hill Residence was designed by John Maniscalco Architecture and is located in San Francisco's Russian Hill neighborhood.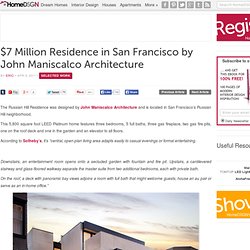 This 5,800 square foot LEED Platinum home features three bedrooms, 5 full baths, three gas fireplace, two gas fire pits, one on the roof deck and one in the garden and an elevator to all floors. According to Sotheby's, it's "central, open-plan living area adapts easily to casual evenings or formal entertaining. Downstairs, an entertainment room opens onto a secluded garden with fountain and fire pit. Upstairs, a cantilevered stairway and glass-floored walkway separate the master suite from two additional bedrooms, each with private bath. PHOTOGRAPHY on Photography Served. Located in southwestern Pennsylvania about 60 miles south of Pittsburgh, Fallingwater was designed by world-renowned American architect, Frank Lloyd Wright.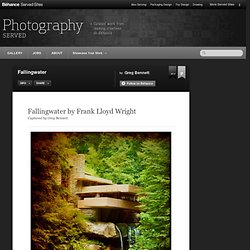 Amazingly, it was built between 1936 and 1939 over a waterfall and was designed in just 3 short hours. It is stunning to see how Mr. Wright seamlessly blended a man-made structure with the natural landscape. For further information, visit www.fallingwater.org Captured by: Greg Bennett, WORKtoDATE. Kona Residence. I can't speak for all architects, but I find myself drawn to the more impractical architecture in the world.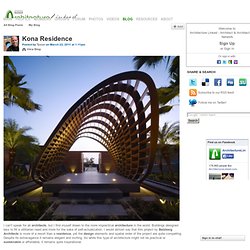 Buildings designed less to fill a utilitarian need and more for the sake of self-actualization. I would almost say that this project by Belzberg Architects is more of a resort than a residence, yet the design elements and spatial order of the project are quite compelling. Despite its extravagance it remains elegant and inviting. So while this type of architecture might not be practical or sustainable or affordable, it remains quite inspirational. Thatched houses in England. Thatching is the craft of building a roof with dry vegetation such as straw, water reed, sedge, rushes and heather, layering the vegetation so as to shed water away from the inner roof.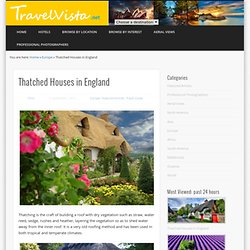 It is a very old roofing method and has been used in both tropical and temperate climates. Thatch is still employed by builders in developing countries, usually with low-cost, local vegetation. By contrast in some developed countries it is now the choice of affluent people who desire a rustic look for their home or who have purchased an originally thatched abode. In 21st century England, all this still exists, but they are expensive to maintain and since modern materials are cheaper and easier, thatches have been slowly disappearing over the last century.
Luxury Home In Los Angeles | Luxury Property, Interior Design, Exclusive Travel & Bespoke Furniture. Luxury home in Los Angeles This luxury LA property, with the interior designed by Marc Canadell is a contemporary masterpiece set in an acre of land for those who value privacy and tranquility in this busy city.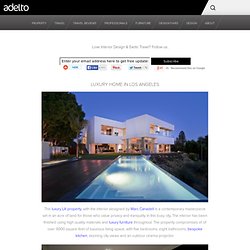 The interior has been finished using high quality materials and luxury furniture throughout. The property compromises of of over 9000 square feet of luxurious living space, with five bedrooms, eight bathrooms, bespoke kitchen, stunning city views and an outdoor cinema projector. About Richard Barker Love Interior Design & Exotic Travel?
Looks like good Triangulo House by Ecostudio Architects. Tangga House by Guz Architects. By Eric • Mar 23, 2011 • Selected Work The Tangga House is another Singapore's dream home designed by Guz Architects.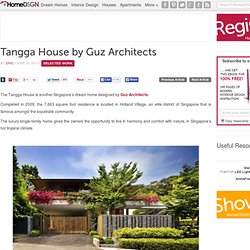 Completed in 2009, the 7,663 square foot residence is located in Holland Village, an elite district of Singapore that is famous amongst the expatriate community. The luxury single-family home gives the owners the opportunity to live in harmony and comfort with nature, in Singapore's hot tropical climate. Tangga House by Guz Architects: "The house is a contemporary interpretation of a traditional courtyard house, laid out around a central green courtyard with a double height stair and entry area forming the focal point of the project.
Dream Home : Syncline House by Arch 11. This exceptionally designed modern architectural residence sits alongside a mountainous Midwestern terrain. The designing firm, Arch11 was founded in 1993 by James Trewitt and E.J. Meade, and is based in Boulder and Denver Colorado. All sizes | Minister's Treehouse, Crossville, TN. Villa Amanzi: a Sumptuous House on the Rocks. By Eric • Jan 14, 2011 • Selected Work The Villa Amanzi by Architect firm Original Vision Studio is a stunning modern vacation residence located in the exclusive Cape Sol on the West coast of Phuket, Thailand. Original Vision Studio specializes in leisure architecture throughout southeast Asia.
The residence (8,600 sq ft) offers six bedroom residence with a 15m infinity pool and breathtaking views over the Andaman Sea. Sky Garden House. I think one of the reasons that many are skeptical about environmental design is because they think its terribly complex and costly. It does take a bit more effort on the front end, but it's definitely not rocket science. This architecture by Guz Architects is a wonderfully developed minimalistic design with a curvilinear flare that really brings out the organic coverings. I'm most impressed with how design facilitates the needs of the plants and shrubs located throughout the house. See more at Guz Architects. Loft Tour: The Cement Factory – LoftLife Magazine – The Loftstyle Guide to Life in the City. To this day, Spanish architect Ricardo Bofill's legendary live/work complex in Barcelona, Spain remains one of, if not the most impressive examples of adaptive reuse we've ever seen.
It all started about 35 years ago when the controversial architect discovered an abandoned cement factory comprised of over 30 silos, underground galleries and huge engine rooms. He bought it and began renovation. This included defining the space by demolishing certain structures, cleaning cement, exposing previously concealed forms, and planting various greenery including eucalyptus, palms, olive trees and cypresses.
---