Build Mobile Apps
Make an HTML5 Mobile App for iPhone & Android in Minutes
ViziApps: Build Mobile Apps Online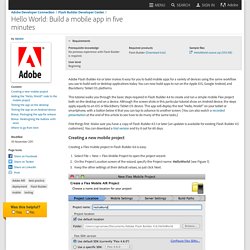 Hello World: Build a mobile app in five minutes
Adobe Flash Builder 4.6 or later makes it easy for you to build mobile apps for a variety of devices using the same workflow you use to build web or desktop applications today. You can now build apps to run on the Apple iOS, Google Android, and BlackBerry Tablet OS platforms. This tutorial walks you through the basic steps required in Flash Builder 4.6 to create and run a simple mobile Flex project both on the desktop and on a device. Although the screen shots in this particular tutorial show an Android device, the steps apply equally to an iOS or BlackBerry Tablet OS device. This app will display the text "Hello, World!" on your tablet or smartphone, with a button below it that you can tap to advance to another screen.
Deliver Continuous Mobile Innovation with the Appcelerator Platform The Appcelerator Platform consists of a comprehensive set of integrated products that enable enterprises to create, deliver and analyze their entire mobile application portfolio. Built from the ground up for a Mobile First world, Appcelerator's platform helps enterprises accelerate their time to market, reduce costs, manage risk and deliver exceptional mobile experiences.
Mobile Business Apps and Forms - iPhone, iPad, Android, BlackBerry, Windows Mobile
App Inventor Edu | Playing with blocks, building apps
Mobile game developers choose Unity to create and market high-quality games with less time, cost and effort.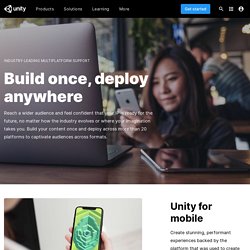 iOS Publishing - Unity 3 Publishing Features
Update: 01/10/2012 : The original version of this article by Jen Gordon was published in August 2009. It was thoroughly revised and updated by the author in September 2012. — Editorial Team Since the iTunes App Store launched in 2008, over 500,000 apps have been approved by Apple, and thousands more app ideas are scrawled on napkins across the world every day. But question remains, how can a person with limited technical skills create an iPhone app? The good news is anyone can make an iPhone app, it's just a matter of knowing the series of actions you need to take to make it happen.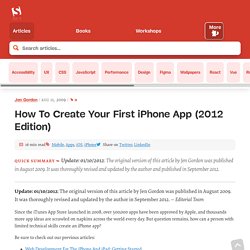 Beginners Guide iOS App Creation by Tony Bove (and 1 other)
Features to create Wireframes, Prototypes, and Specifications
appanda.com