Build Mobile Apps
Make an HTML5 Mobile App for iPhone & Android in Minutes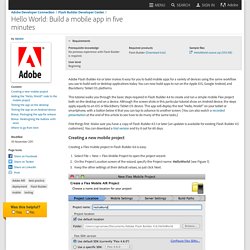 Hello World: Build a mobile app in five minutes
Adobe Flash Builder 4.6 or later makes it easy for you to build mobile apps for a variety of devices using the same workflow you use to build web or desktop applications today. You can now build apps to run on the Apple iOS, Google Android, and BlackBerry Tablet OS platforms. This tutorial walks you through the basic steps required in Flash Builder 4.6 to create and run a simple mobile Flex project both on the desktop and on a device. Although the screen shots in this particular tutorial show an Android device, the steps apply equally to an iOS or BlackBerry Tablet OS device. This app will display the text "Hello, World!" on your tablet or smartphone, with a button below it that you can tap to advance to another screen.
Mobile Business Apps and Forms - iPhone, iPad, Android, BlackBerry, Windows Mobile
There is yet another version of the Mac and Windows Setup! Why so many versions? And what we are doing about it?!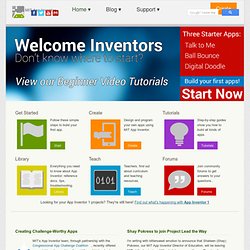 App Inventor Edu | Playing with blocks, building apps
Create great gameplay across all the major global platforms with Unity's superbly efficient multiplatform publishing. With Unity's powerful engine and tools, intuitive workflows and fast iteration, you have complete control to create and smoothly deploy a game on any screen. Cross-platform scripting Keep your code working across all the platforms and many devices.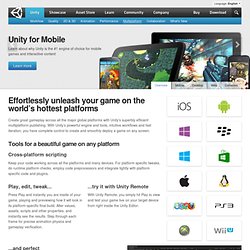 iOS Publishing - Unity 3 Publishing Features
Advertisement Update: 01/10/2012: The original version of this article by Jen Gordon was published in August 2009. It was thoroughly revised and updated by the author in September 2012. — Editorial Team Since the iTunes App Store launched in 2008, over 500,000 apps have been approved by Apple, and thousands more app ideas are scrawled on napkins across the world every day. But question remains, how can a person with limited technical skills create an iPhone app?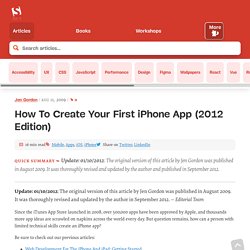 Beginners Guide iOS App Creation by Tony Bove (and 1 other)
Features to create Wireframes, Prototypes, and Specifications
appanda.com