Technology
Goggles. There are some things that are hard to put in words, like a painting that you want to find out the artist of.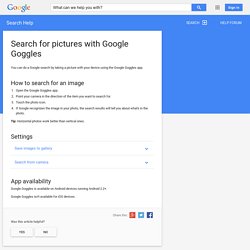 For searches like that, try Google Goggles -- it lets you search the web using photos that you've taken on your mobile phone. So just open the Goggles app on your phone, snap a photo of that painting, and find search results all about it. Sometimes pictures really are worth a thousand words. Walking About With A Talking Android. I have long relied on spoken directions from Google Maps on the desktop.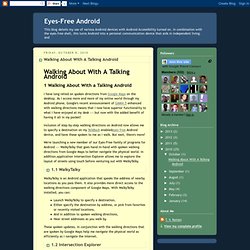 As I access more and more of my online world through my Android phone, Google's recent announcement of GMM4.5 enhanced with walking directions means that I now have superior functionality to what I have enjoyed at my desk --- but now with the added benefit of having it all in my pocket! Inclusion of step-by-step walking directions on Android now allows me to specify a destination on my TalkBack enabledeyes-free Android device, and have these spoken to me as I walk. But wait, there's more! Habilis - the email-to-Dropbox gateway. Digital Inspiration: A Technology Blog on Software and Web Applications. DROID X - Motorola, Inc. USA. Head-Fi.org - Headphone forums and reviews for audiophiles.
Net2ftp - a web based FTP client. Too Much Clutter? Here's 15 Minimalist Wallpapers for Your iPhone, iPad, Android, or Desktop.
Lifehacker, tips and downloads for getting things done. Gizmodo, the Gadget Guide. Shot of Jaq. Tonido - Run your own Personal Cloud. Drupal.org | Community plumbing. Remember The Milk: Online to do list and task management.
Angora. Dot Net Perls. BuzzFeed. Boy Genius Report. Wolfram|Alpha—Computational Knowledge Engine. Engadget. Wired News.
Games. Tom's Hardware: Hardware News, Tests and Reviews. Slashdot Stories (10)
---