Genetics and Evolution
Evolutionary Epistemology. By Gene Callahan "This [is] an objection to evolutionary epistemology in all of its forms—that there is no reason whatever for supposing that the web of belief which has emerged via natural and cultural evolution mirrors nature or tracks reality.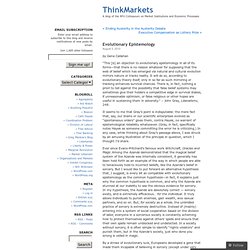 It will do so, according to evolutionary theory itself, only in so far as such mirroring or tracking enhances survival chances. Wellcometrust's Channel. Science Learning+ is an international initiative established in partnership with the US-based National Science Foundation and the UK-based Economic and Social Research Council, and in collaboration with the Gordon and Betty Moore Foundation, the MacArthur Foundation and the Noyce Foundation.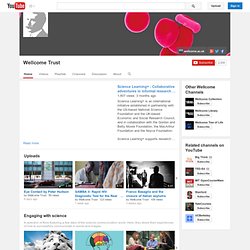 Science Learning+ supports research to explore and understand the power of informal learning experiences inside and outside of school. Learning can happen anywhere and at any time. Science Learning+ aims to make a transformational step to improve the knowledge base and practice of informal science experiences, so as to better understand, strengthen and coordinate their vital role in science engagement and learning.
To find out more: Produced by Simon Moore. Biblical fever = influenza. You're kidding me, right? : Aetiology. Via Bob O'H and Cath Ennis comes this truly bizarre article from the Virology Journal: "Influenza or not influenza: Analysis of a case of high fever that happened 2000 years ago in Biblical time".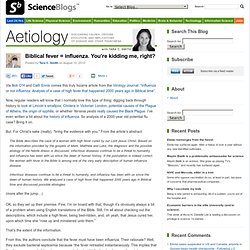 Now, regular readers will know that I normally love this type of thing; digging back through history to look at Lincoln's smallpox; Cholera in Victorian London; potential causes of the Plague of Athens, the origin of syphilis, or whether Yersinia pestis really caused the Black Plague. I've even written a bit about the history of influenza.
The Origins of Order: Self-Organization and Selection in Evolution (9780195079517): Stuart A. Kauffman:… Kurzweil Accelerating Intelligence. H+ Magazine | Covering technological, scientific, and cultural trends that are changing--and will change--human beings in fundamental ways. Human Evolution. Cookies on the New Scientist website close Our website uses cookies, which are small text files that are widely used in order to make websites work more effectively.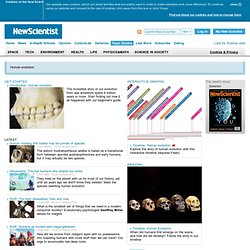 To continue using our website and consent to the use of cookies, click away from this box or click 'Close' Discussions - sci.bio.evolution.
---