News & Blogs
spacetoday.net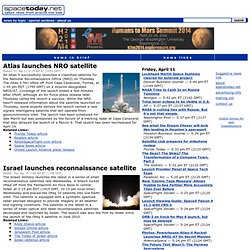 Posted: Fri, Apr 11 6:25 AM ET (1025 GMT) An Atlas 5 successfully launched a classified satellite for the National Reconnaissance Office (NRO) on Thursday. The Atlas 5 541 lifted off from Cape Canaveral, Florida, at 1:45 pm EDT (1745 GMT) on a mission designated NROL-67. Coverage of the launch ended a few minutes after liftoff, although an Air Force press release later Thursday called the launch a success. While the NRO hasn't released information about the satellite launched on Thursday, some experts believe the launch carried a new signals intelligence satellite that will operate from geosynchronous orbit. The launch had been scheduled for late March but was postponed by the failure of a tracking radar at Cape Canaveral that also delayed the launch of a Falcon 9.
Come Rock the Planet with Yuri's Night!! Posted by Loretta Hidalgo and Danielle Hannah on 2014/04/09 06:10 CDT First launched on April 12, 2001, Yuri's Night celebrates two amazing accomplishments of humankind: Yuri Gagarin's becoming the first human to orbit the earth in 1961 and the first launch of the U.S. Space Shuttle, twenty years later to the day. It is also a global celebration of humanity's future in space and how we can use space to bring us closer together. Read More »
The Planetary Society Blog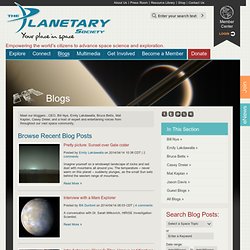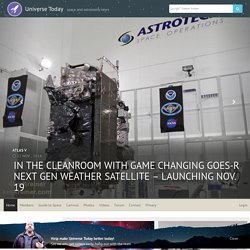 The Falcon 9 and Dragon capsule stand ready for launch prior to the detection of a helium leak in one of the engines forcing a scrub of the launch attempt on April 14. 2014 – now reset to April 18, 2014. Credit: nasatech.net NASA and SpaceX are marching forward towards a Friday, April 18 liftoff attempt for the Falcon 9 rocket sending a commercial Dragon cargo craft on the company's third resupply mission to the International Space Station following the scrubbed launch attempt on Monday, April 14 – forced by the discovery of a Helium gas leak inside the rocket during the latter stages of the countdown. An on time blastoff of the upgraded Falcon 9 sets the stage for an Easter Sunday rendezvous and berthing of the Dragon resupply spacecraft at the massive orbiting outpost packed with almost 5000 pounds of science experiments and supplies for the six person crew.
Discover the cosmos! Each day a different image or photograph of our fascinating universe is featured, along with a brief explanation written by a professional astronomer. 2014 April 14 An Unusual Globule in IC 1396 Credit & Copyright: T. Rector (U. Alaska Anchorage) & H.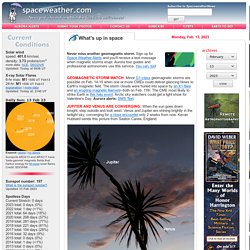 NASA SPACECRAFT HITS THE MOON: There's a new crater on the Moon. NASA's LADEE spacecraft, on a mission since Sept. 2013 to study the lunar atmosphere, has crashed. This event was deliberate. LADEE was near the end of its planned mission and the grazing impact gave researchers a chance to study "lunar air" very close to the Moon's surface: full story.