News & Blogs
Spacetoday.net. Spaceflight Now. The Planetary Society Blog. Come Rock the Planet with Yuri's Night!!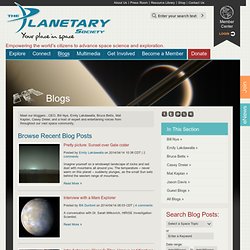 Posted by Loretta Hidalgo and Danielle Hannah on 2014/04/09 06:10 CDT First launched on April 12, 2001, Yuri's Night celebrates two amazing accomplishments of humankind: Yuri Gagarin's becoming the first human to orbit the earth in 1961 and the first launch of the U.S. Space Shuttle, twenty years later to the day. It is also a global celebration of humanity's future in space and how we can use space to bring us closer together. Read More » Universe Today. Astronomy Picture of the Day.
Discover the cosmos!
Each day a different image or photograph of our fascinating universe is featured, along with a brief explanation written by a professional astronomer. 2014 April 14 An Unusual Globule in IC 1396 Credit & Copyright: T. Rector (U. Alaska Anchorage) & H. SpaceWeather.com.
---