Social Media Tools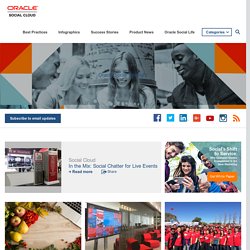 A reveal tab or fan gate can be a highly effective way to ask people to like your Facebook page before showing them further content. It's also a way to welcome potential fans with information about your brand and incentives to encourage further interaction on your page. Involver customers at all levels can easily create their own reveal tabs using our Static HTML for Pages app. Here's how: 1) Install Involver's Static HTML app on your Facebook fan page. Go to http://involver.com/applications/ , find Static HTML at the top and click Install .
How to Set Up a Reveal Tab Using Static HTML
Note: There are known issues with trying to use Tweeter Karma in conjunction with Microsoft Internet Explorer. Please make sure you're using an alternate browser. Tweeter Karma is easy to use.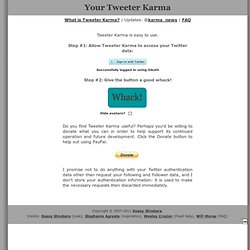 Your Tweeter Karma
connectry
Browse your old tweets.
When Did You Join Twitter? | TweetingSince.com
50 Free Social Twitter Resources and Icon Sets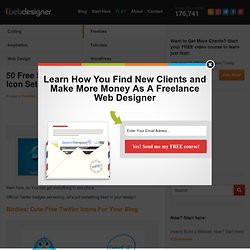 This article is created for every Twitter addict, who enjoys to tweet, wants to be noticed – such beautiful Twitter icons are very eye-catchy, standing out from the crowd. No matter what you are blogger, web designer, graphic designer, you cannot ignore Twitter trend. I believe this is the most complete Twitter icon list for now, I tried to get all freebies and shares available and feature them here, so You can get everything in one place.
Aquaticus.Social by ~jwloh on deviantART
v2.0 :: a geekier, faster way to bulk add quality followers :: Tweepi
for connectry
40 Online Generators for Web Designers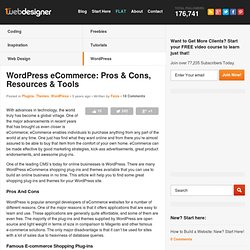 WordPress eCommerce: Pros & Cons, Resources & Tools
With advances in technology, the world truly has become a global village. One of the major advancements in recent years that has brought us even closer is eCommerce; eCommerce enables individuals to purchase anything from any part of the world at any time. One just has find what they want online and from there you're almost assured to be able to buy that item from the comfort of your own home. eCommerce can be made effective by good marketing strategies, kick-ass advertisements, great product endorsements, and awesome plug-ins. One of the leading CMS's today for online businesses is WordPress. There are many WordPress eCommerce shopping plug-ins and themes available that you can use to build an online business in no time.
Twitter Reach Report Results for connectry
Eric Swayne : Thoughts by the Pound : My Favorite FREE Social Media Analytics Tools
Have I mentioned how much fun I had presenting at OpenCamp 2010 ? Such an amazing group of content creators and site builders. I'm even more ecstatic that this conference was held in the Dallas area - really highlighted the great scene we have here for Web & Social Media.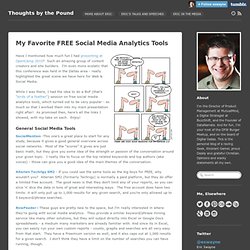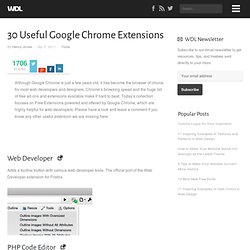 Although Google Chrome is just a few years old, it has become the browser of choice for most web developers and designers. Chrome's browsing speed and the huge list of free ad-ons and extensions available make it hard to beat. Today's collection focuses on Free Extensions powered and offered by Google Chrome, which are highly helpful for web developers. Please have a look and leave a comment if you know any other useful extension we are missing here. Web Developer
30 Useful Google Chrome Extensions | Tools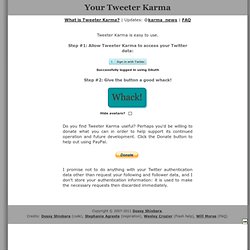 Your Tweeter Karma
Note: There are known issues with trying to use Tweeter Karma in conjunction with Microsoft Internet Explorer. Please make sure you're using an alternate browser. Tweeter Karma is easy to use. Step #1: Allow Tweeter Karma to access your Twitter data: Successfully logged in using OAuth Step #2: Give the button a good whack!
With the current social media tsunami, it is extremely important to get your website social media ready. Christine from Bluelime Media tells you how to do this for WordPress in her recent blog post: As social networking sites such as Twitter , Facebook and LinkedIn become more and more popular, these days, I find myself being asked to make adjustments to several WordPress websites by adding social bookmarking links and icons to the sidebar. After 2 such web updates this week, I was asked by a friend to send me the code so that they could add it to their site.
Add social media icons to your sidebar without using widgets | Out-Smarts Marketing Inc