Recycling
:: WorstPolluted.org : Reports
Pollution is the introduction of contaminants into the natural environment that cause adverse change. [ 1 ] Pollution can take the form of chemical substances or energy , such as noise, heat or light. Pollutants , the components of pollution, can be either foreign substances/energies or naturally occurring contaminants. Pollution is often classed as point source or nonpoint source pollution .
Pollution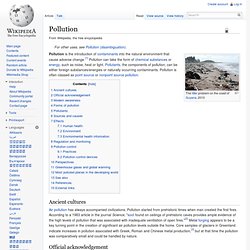 Helping EPR A1 Operators improve their resource efficiency
Resource efficiency is about reducing the use of resources such as raw materials, water, energy and waste, at a level which is sustainable in the long term. Our approach We are working with our industrial customers who hold an EPR (Environmental Permitting Regulations) A1 Permit to encourage them to improve their resource efficiency. We want to help operators by: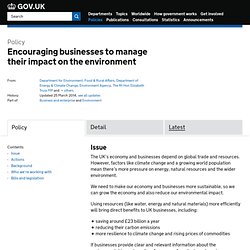 The CRC Energy Efficiency Scheme has been designed so that it only includes organisations that will save enough on energy bills to offset the administrative costs of participating. Use this page to find out who needs to take part. Qualification for the scheme is based on electricity supply across organisations and groups of undertakings, rather than at an individual site basis. Organisations that are a single entity, that is, they are not part of a group, will need to establish qualification for CRC across the sites that are part of that organisation. Organisations that are part of a group will be grouped under the highest parent undertaking. Organisations qualify as participants if, during the 2008 calendar year, they had at least one half-hourly electricity meter (HHM), settled on the half hourly market and if they consumed at least 6,000 MWh (megawatt hours) through all half-hourly meters.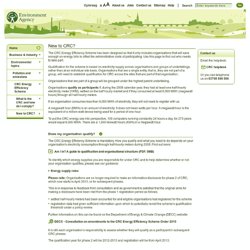 New to CRC?
The CRC Energy Efficiency Scheme was introduced by government in 2008. Organisations that meet the qualification criteria, based on how much electricity they consumed in 2008, will be obliged to participate in the CRC. As well as reducing carbon emissions, the scheme will help organisations save money by reducing their energy bills. The better an organisation performs in terms of cutting its emissions, the higher it will appear in the annual performance league table.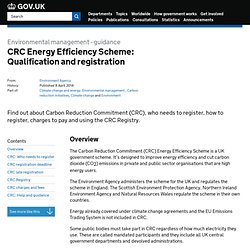 CRC Energy Efficiency Scheme
Pollution and emissions
Business and industry
Environmental finance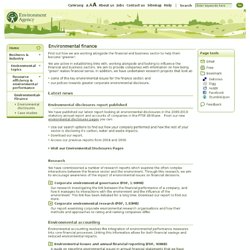 Find out how we are working alongside the financial and business sector to help them become 'greener'. We are active in establishing links with, working alongside and looking to influence the financial and business sectors. We aim to provide companies with information on how being 'green' makes financial sense. In addition, we have undertaken research projects that look at:
Resource efficiency and environmental performance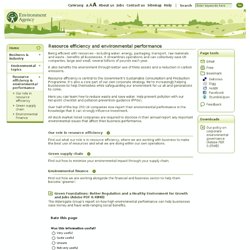 Being efficient with resources - including water, energy, packaging, transport, raw materials and waste - benefits all businesses. It streamlines operations and can collectively save UK companies, large and small, several billions of pounds each year. It also benefits the environment through better use of finite assets and a reduction in carbon emissions. Resource efficiency is central to the Government's Sustainable Consumption and Production Programme. It's also a core part of our own corporate strategy.
Environmental topics
The Pollution Inventory (PI) provides information about the releases and transfers of substances from the industrial activities we regulate. This helps: provide the public with easy access to environmental information from industrial activities in their locality protect the environment, we can use this information to help us develop future regulation government to meet its national and international environmental reporting commitments, such as the European Pollutant Release and Transfer Register Each relevant industrial activity must report annually the quantities of specified substances released to air, land and controlled waters and in transfers off-site in wastewater. We also require details of the quantity, type and fate of wastes transferred off-site.
Pollution Inventory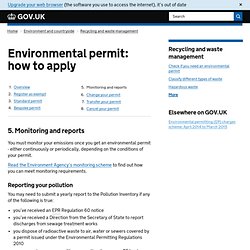 National Pollutant Release Inventory - Air Pollutant Emission Summaries and Trends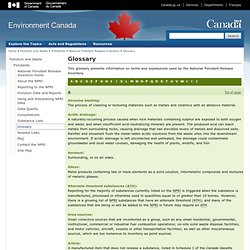 Through the National Pollutant Release Inventory, Environment Canada tracks pollutant releases, disposals and transfers for recycling of over 300 pollutants from industrial and other facilities. For 17 of these pollutants, Environment Canada also compiles air emission estimates for non-industrial sources such as motor vehicles, residential heating, forest fires and agriculture. Combined, this information provides a complete picture for air emission sources of these key air pollutants. The key air pollutants are the main pollutants that contribute to smog, acid rain and poor air quality, or are of particular concern to human health and the environment due to their persistence, bioaccumulation and toxicity. Information for these pollutants is also required to fulfill international reporting obligations.
Pollution and Waste - Glossary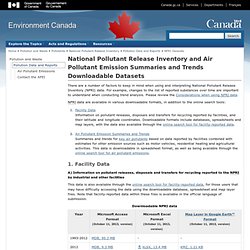 There are a number of important factors to keep in mind when using and interpreting NPRI data. For example, changes to the list of reported substances over time are important to understand when conducting trend analysis. Please review the Considerations when using NPRI data .
Pollution and Waste - NPRI Datasets
Pollution and Waste - Pollution Data Library
Pollution Data and Reports Tools and resources for accessing, analyzing and interpreting National Pollutant Release Inventory ( NPRI ) data on pollutant releases and transfers in Canada. Features Data Resources Guide for Using and Interpreting NPRI Data NPRI Reports and Analysis - NPRI reports and information on using and analyzing NPRI data. NPRI Online Data Search Facility Reported Data : Search detailed facility-reported information on pollutant releases and transfers.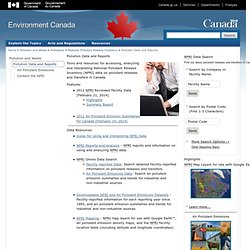 Pollution and Waste - Tracking Pollution in Canada
The National Pollutant Release Inventory ( NPRI ) is Canada's legislated, publicly accessible inventory of pollutant releases (to air, water and land), disposals and transfers for recycling. It is a key resource for: identifying pollution prevention priorities; supporting the assessment and risk management of chemicals, and air quality modelling; helping develop targeted regulations for reducing releases of toxic substances and air pollutants; encouraging actions to reduce the release of pollutants into the environment; and improving public understanding. Date Modified:
Category:Pollution by country
Category:Pollution
Home > Construction Waste Management by Tom Napier, Research Architect U.S. Army Corps of Engineers, Engineer Research and Development Center / Construction Engineering Research Laboratory Last updated: 03-06-2012 Introduction C&D landfill cell
Construction Waste Management
Goals, Partnerships and Programs | C&D Materials | Wastes
Note If the error is on a non-EPA page, it will NOT be fixed unless the webmaster of that page is contacted. We cannot correct errors on non-EPA web sites.
Reducing C&D Materials - Reuse | C&D Materials | Wastes
Note If the error is on a non-EPA page, it will NOT be fixed unless the webmaster of that page is contacted. We cannot correct errors on non-EPA web sites. Please use the button below to send us an error report, which will automatically include the page you were trying to find and the page you came from, so we can correct the problem.
Resources by Material Type | C&D Materials | Wastes
Where You Live | Industrial Materials Recycling
Basic Information | Industrial Materials Recycling
Industrial Materials Recycling | Wastes