Generic
Deep Web Research and Discovery Resources 2014. Bots, Blogs and News Aggregators ( is a keynote presentation that I have been delivering over the last several years, and much of my information comes from the extensive research that I have completed over this time into the "invisible" or what I like to call the "deep" web.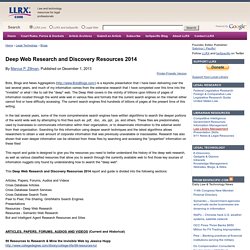 The Deep Web covers in the vicinity of trillions upon trillions of pages of information located through the world wide web in various files and formats that the current search engines on the Internet either cannot find or have difficulty accessing. The current search engines find hundreds of billions of pages at the present time of this writing. In the last several years, some of the more comprehensive search engines have written algorithms to search the deeper portions of the world wide web by attempting to find files such as .pdf, .doc, .xls, ppt, .ps. and others. Turbogalaxy.org - The Turbo Search. Galaxy Directory. Mobile. Qrobe - Search Engine. 24/7 smartsearch. The ultimate tech search. WiseStart | UK's top startpage. Reach everything with just one click.
Oolone.com visual search engine. Open your eyes to the web. Spam free search. Search engine and human edited web directory KartOO. Bilingual Search Engine. Instant Win Prizes from Searching, Free Online Sweepstakes | PCHSearchAndWin. Nibbo - Search, your way. Fefoo search app. Family Friendly Search. Webfetch. Internet marketing guide. UnaBot. VROOSH! Zuula Search. Qksearch. TurboScout. Infospace.com. iZito. iBoogie. Ithaki. Not Exactly Meta, BUT VERY HELPFUL. InfoGrid(tm) Practical Tools for Dynamic Search Suggestions. ToxSeek. Nexplore. MelZoo. Search.com. AskTheBrain. Zabasearch.com.
Goofram.
---