Animals
hugging_kitten.jpg (JPEG Image, 1024 × 768 pixels) - Scaled (73%)
783px-Maltese-Tiger.jpg (JPEG Image, 783 × 600 pixels) - Scaled (95
1142390969l.jpg (JPEG Image, 598 × 396 pixels)
Click The Pic For More Cute Pictures!
6 Ways To Workout At Your Desk And Not Appear Creepy
Hard time fitting that workout affair inside of the workplace? You can sit at your desk looking like a fool or you could simply use these six ways to workout at your desk and not appear creepy – or at least once you get the hang of it. See, women have been known to use these tactics for quite some time and kept them well hidden from view. Live and learn the easy ways of a workout affair. Stretching out!Stretching out is the first of any workout affair at the workplace.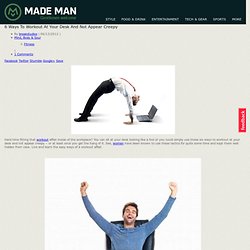 Puppets + Dolls + Plush
SUMMER :)" by Sandra Schürmans