Soups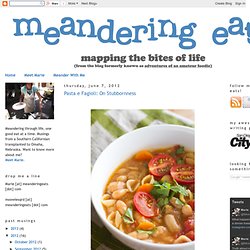 meandering eats: Pasta e Fagioli: On Stubbornness
I am incredibly lazy about soup. It's not a difficult dish to make, but I often end up obsessing about the nuances. It's not just a hot bowl of liquid, but flavors that need to be tweaked and balanced. With my obsessive need for perfection in soup, borne from a lifetime of my mother's perfect broths, I've given up.
Chilled Soups: Healthy Spring & Summer Soup Recipes
Chilled Soups: Healthy Spring & Summer Soup Recipes
Chilled Soups: Healthy Spring & Summer Soup Recipes
Chilled Soups: Healthy Spring & Summer Soup Recipes
Chilled Soups: Healthy Spring & Summer Soup Recipes
Chilled Soups: Healthy Spring & Summer Soup Recipes
Curry Red Lentil Sweet Potato Soup
Do you make the most common Thai cooking mistake?
Cabbage, Bean and Crispy Kale Soup « Wholesome Cook
Kale is so en vogue right now! Everyone is talking about it , cooking it and eating it and now so can you. But why should you? Boiling decreases the level of sulforaphane; however, steaming, microwaving, or stir frying do not result in significant loss.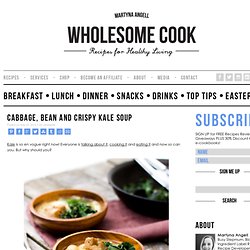 Chipotle Chicken Tortilla Soup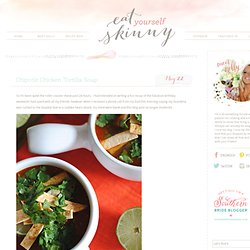 So it's been quite the roller coaster these past 24 hours. I had intended on writing a fun recap of the fabulous birthday weekend I had spent with all my friends, however when I received a phone call from my Dad this morning saying my Grandma was rushed to the hospital due to a sudden heart attack, my mind went blank and this blog post no longer mattered. Nothing mattered to be honest.
Cabane à Sucre Bonjour mes amis! I'm here at Trois Pistoles with very limited internet access, which is why I haven't been blogging much lately. I also haven't been cooking much because all my meals are prepared by my wonderful host, Aline, who cooks amazing vegetarian meals for 14 people 2 times a day. I don't know how she does it, it's so much work. Other than that, everyone is really nice here.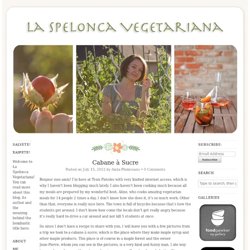 Spicy Gazpacho - La Spelonca Vegetariana
Even though the weather has been getting warmer lately, there are still days when I crave a nice bowl of lentil soup for lunch. Especially if it's a lentil soup that conjures up the Mediterranean sun and the seaside. This Greek lentil soup (Faki) comes from The Essential New York Times Cookbook , which has a recipe revised from one that reader and Greek cookbook author Vilma Liacouras had sent in to the paper in 1977. I don't think I had ever tried lentil soup Greek-style before, but wow, am I hooked now. It may become my go-to lentil soup.
Greek Lentil Soup (Faki)
This story is not meant to turn you off to this soup. Cause it's really super delicious. But here goes: I make my daugther's baby food. She's ten months old and I'm trying desperately to make sure she has an adventurous palate. I decided to try lentils with her a few weeks back and figured I'd introduce them with yam, since she seems to adore yams.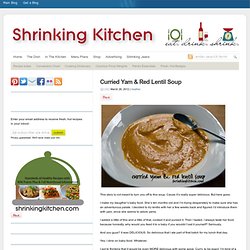 Curried Yam & Red Lentil Soup - Shrinking Kitchen : Shrinking Kitchen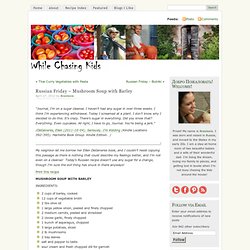 April 27, 2012 by Anastasia "Journal, I'm on a sugar cleanse. I haven't had any sugar in over three weeks.
Russian Friday – Mushroom Soup with Barley « While Chasing Kids
aside Rosemary Garlic Chickpea Soup After a holiday season filled with gustatory delights composed from an excess of cream, sugar and butter, it's natural to want to scale back a bit. Now, I've never been one to deny myself a treat or two; a rare day passes when something sweet or rich (or lucky me, both) does not pass my lips, asceticism just isn't my style. With that said, it's hard to ignore the general trend of eating a bit more consciously this month.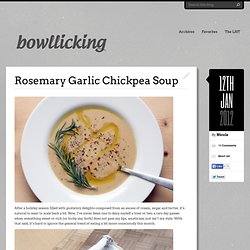 Rosemary Garlic Chickpea Soup | BowlLicking
Ingredients 300g white beans 1 big onion (chopped) 2 carrots (sliced) 2/3 of a cup choped celery
Traditional Greek Bean Soup
I think I'm having an identity crisis. Instead of dreaming about kale I've been thinking about cupcakes. Instead of listening to Sara Bareilles or Jack Johnson I've been rocking out to Katy Perry. And instead of sporting my usual casual jeans and a plaid shirt I find myself wearing... skinny jeans and a blazer?
For the Love of Food: Creamy Mushroom Soup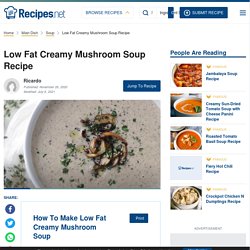 April 6, 2012 by Anastasia This beet soup would probably be one of the first items that pops up if you google "Russian cuisine". However, being more of a pastry person while growing up, I skipped all the borscht hype. Eight months ago our family was invited to a Russian dinner that completely changed my attitude. A few… quite a few.. disastrous attempts later I am finally proud to present my vegetarian version of this famous Russian dish. Traditionally borscht is made with beef broth and beets (of course), and there are a million different ways to prepare it.
Russian Friday – Vegetarian Borscht « While Chasing Kids
Corn & Cheese Chowder
Last week, I whipped up three yummy soups, all perfect for Halloween night and all guaranteed to: 1. Give your trick-or-treaters a nice warm head start before they take off on their quest to fill their bags to the brim with candy 2. Possibly cut down on the number of pieces of candy your child will consume while he is trick-or-treating 3. I can't think of a third thing.
I am beginning to think I am having a soup identity crisis lately. I am usually ALL about the soup and have no trouble finding soups that speak to me but lately, nothing looks that good. Maybe it's because we haven't really had much in the way of winter weather. It's been mild, we haven't really had any snow that has stuck around for more than a day and if you didn't know what month it was, you would have sworn that we have spent the last 4 months enjoying the very first moments of spring. I find it difficult to get all fired up about making comforting, cold weather foods without the cold weather part and find my mind wandering to Toronto summery thoughts of wood fires, bbqs, wine on the front porch and garbage strikes.
Its Friday It Must Be Soup! March 3 Indian Style Yellow Split Pea Soup with Spinach
Friday, March 2, 2012 Buffalo Chicken Soup with Orzo Because Bake Your Day needed another buffalo chicken recipe , I made you buffalo chicken soup. Spicy, brothy, stuffed-with-orzo-buffalo-y soup.
Bake Your Day » Buffalo Chicken Soup with Orzo
Baked Tortilla Chicken Over Brown Rice and Cheesy Broth
(Photos updated 2/23/2012) As the weather turns cooler, we find ourselves gravitating toward soups, chili, baked pasta, all of those warm comfort foods. I have had a vision for this tortellini soup for quite a while, but simply have not had an opportunity to execute it. Until now...
Tortellini Soup with Chunky Tomatoes and Spinach | Alida's Kitchen
Creamy Tomato and Basil Soup with a Rosemary Boule |
Chipotle Pumpkin Chili
Thai Corn Chowder
Pasta e Ceci Soup
Once Upon A Time: Enchantingly inspired recipes
Bewitching Kitchen
Roasted Squash and Cauliflower Soup | SoupAddict.com
Roasted Tomato Zucchini Soup
Buffalo Chicken Chowder
Creamy Sweet Potato and Chipotle Soup
Chicken Soup Noodles
Chili, with a Spanish Flair
Black Bean and Pasta Soup with Spinach
Slow Cooker Chicken Enchilada Soup
Spicy Vegetarian Chili
Chili Cornbread Cobbler | Itsy Bitsy Foodies
Red Curry, Coconut milk and Rice Noodle Thai Soup
Our Share of the Harvest » Garlic Stracciatella with Homemade Croutons
Butternut Squash and Roasted Red Pepper Soup (Vegan and Gluten-free)
Creamy White Chili
MyPanera
Creamy Mushroom Leek Soup with Peppery Parmesan Croutons | The Naptime Chef
Fire Roasted Spicy Tomato Soup for Holiday Dinner | The Naptime Chef
Southwestern Chicken Noodle Soup
Natural Noshing
Two-Pea Soup with Ham & The Winner
Slow Cooker Thai Chicken Noodle Soup
Gingery Noodle Soup
14 Post Christmas Family Fun Ideas
Roasted Eggplant Soup
Chipotle Bean Soup with Bacon
Zizi's Adventures: Lemony Red Lentil Soup
Slow Cooker Beef Stew
Thai Curry Butternut Squash Soup | Nalena and Jon
southwestern soup « the edible perspective
Stuffed Pepper Soup
she cooks...he cleans
30 Minute White Bean + Chicken Soup
Carrot Celery Leek Potato Soup. Vegan, glutenfree
CARROT SOUP RECIPE ~ Rak's Kitchen
12 Days of Christmas Baking! Day 1: Church Windows
Quinoa Chowder | Blogging Over Thyme
Carrot & Lentil Soup (that will get you through this winter!) | TLT - The Little Things
White Bean and Spinach-Pesto Soup
Texas White Chicken Chili
Thanksgiving Detox/Beans & Greens Soup
Coconut Curry Soup | Thai Soup
The most wonderful time of the year | Katrina Runs For Food
Reader
Make This: Celery Bisque « Just a Titch