Rice
Risotto with Peas & Bacon (Risi e Bisi) I have to be honest, one of the main reasons I like to make Risotto with Peas & Bacon is so that I can tell everyone eating it that it's actually called "Risi e Bisi" (the Italian name).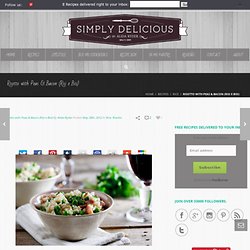 Doesn't that sound too adorable for words. Risi e Bisi.. I just love saying it. But that's not the only reason I love making it. Southwestern Bean and Rice Salad ~ Heat Oven to 350. Those of you who follow the facebook page for this site know that I scored five rotisserie chickens on sale this past week, although I was so embarrassed to be a nine-month pregnant woman pushing a shopping cart of five chickens that I made my husband do it and I walked a few steps behind.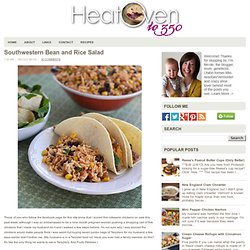 I'm not sure why I was worried the chickens would make people think I was weird but buying seven jumbo bags of Twizzlers for my husband a few days earlier didn't bother me. (My husband is in a Twizzler food rut. A Potful of Pizzazz | Tadka Pasta. Living in a teeming multicultural town anywhere in the US has its perks if one is a foodie.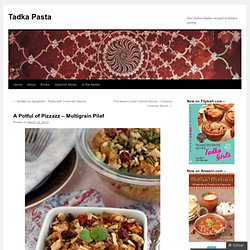 While there is ample scope for tasting all manner of cuisines, like say, risotto or empanadas at the local Farmer's Market or Jamaican barbecued chicken wings or churros at a fun fair, community potlucks and school parties augment the experience, with aromatic, culturally redolent home-cooked meals lining vibrantly up on little tables. Furthermore, stores like Trader Joe's, Whole Foods and even the wholesale giants like Costco stock up on global foods, sometimes offering bite-sized samples to help one make an informed choice.
While the sight of anything Indian customarily raises the enthusiasm quotient in us, we've been known to break into a trippy tango when no one's looking, on encountering delights such as ready-to-eat Persian Pilaf or Gnocchi Alla Sorrentina. Roasted Red Pepper Risotto with Spinach. Don't you find making risotto so therapeutic?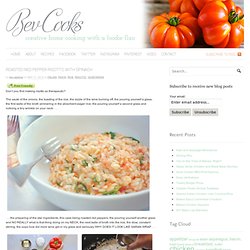 The saute of the onions, the toasting of the rice, the sizzle of the wine burning off, the pouring yourself a glass, the first ladle of the broth simmering in the absorbent-eager rice, the pouring yourself a second glass and noticing a tiny wrinkle on your neck . . . . . . the preparing of the star ingredients, this case being roasted red peppers, the pouring yourself another glass and NO REALLY what is that thing doing on my NECK, the next ladle of broth into the rice, the slow, constant stirring, the oops how did more wine get in my glass and seriously WHY DOES IT LOOK LIKE SARAN WRAP . . .
Jamaican Jerk Chicken + The Best Rice, Ever. Jamaican Jerk Chicken with Jamaican Red Beans and Rice was inspired by our tropical island vacation.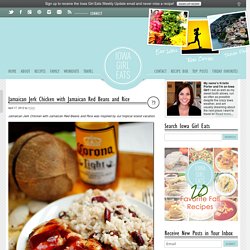 Ben and I are still riding our post-vacation high! We've been reminiscing about ridiculously attractive brother and sister, afraid of the water guy, and hot Italians in small bikinis from our hotel, Ben's been complimenting me on how "rasta" my cooking smells, and I've been very laid back in my requests such as, hey mon, can you come pick up your clothes from the living room floor, mon? Carrot Rice. When it comes to variety rice I do it very rarely.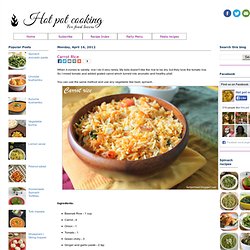 My kids doesn't like the rice to be dry, but they love the tomato rice. So I mixed tomato and added grated carrot which turned into aromatic and healthy pilaf. You can use the same method and use any vegetable like beet, spinach. Ingredients:Basmati Rice - 1 cupCarrot - 4Onion - 1Tomato - 1Green chilly - 3 Ginger and garlic paste - 2 tspCilantro - 1 tspSalt - to taste To temper :Oil - 2 tspButter - 2 tspCinnamon sticks - 1 tspCloves - 4 Cashew - 2 tspPeanuts - 2 tsp.
Carrot-Ginger Brown Rice. Carrots.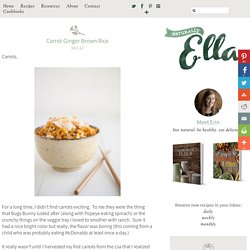 For a long time, I didn't find carrots exciting. To me they were the thing that Bugs Bunny lusted after (along with Popeye eating spinach) or the crunchy things on the veggie tray I loved to smother with ranch. Sure it had a nice bright color but really, the flavor was boring (this coming from a child who was probably eating McDonalds at least once a day.) Texas sweet onion casserole with rice, chipotle and Gruyere. In New York City, certain Texan foods can be scarce.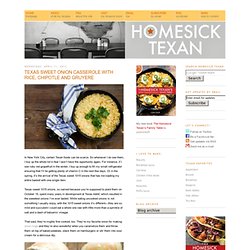 So whenever I do see them, I buy up the whole lot in fear I won't have the opportunity again. For instance, if I see ruby red grapefruit in the winter, I buy up enough to fill my small refrigerator ensuring that I'll be getting plenty of vitamin C in the next few days. Or in the spring, it's the arrival of the Texas sweet 1015 onions that has me loading my entire basket with one single item. Recipe for Baked Salsa Rice with Green Chiles, Lime, and Cilantro. It took a couple of tries to get this Baked Salsa Rice just right, and by the final version I had added canned green chiles, lime juice, a pinch of cumin, and extra cilantro to the inspiring recipe for a rice dish that I'd happily make any time as a side dish for any meal with Mexican flavors.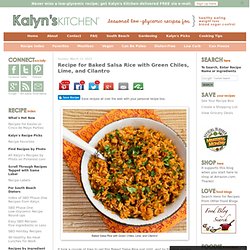 You could also add my version of Rubio's Pinto Beans on the side or wrap the rice and beans into a burrito, and eat this as a vegetarian meal. The rice is just slightly spicy, but if you're someone who likes a bit more heat just add a little Green Tabasco Sauce or your favorite hot sauce when you eat the finished rice. This would also be great with a little grated cheese melted over the top if you'd like. If I had to make a list of my favorite top ten foods, rice would be right up there close to the top. Fried Rice Fundamentals – Vegan Vermonter. This is sort of an intro-to-fried-rice recipe.
Fried rice is a gigantic family of dishes, with different versions all around the world. The vast majority of these are pretty inexpensive and quick to prepare, which means they get cooked often and modified often. You can pretty much use any produce, fresh or frozen, raw or cooked. You can even use leftover rice. Pumpkin sage risotto « the edible perspective. I have a goal this year. Well, this week. And next week. To finally…FINALLY, post a decent amount of holiday recipes before the actual holiday. Starting today, it's going to be a Thanksgiving fest over here.
Pumpkin Sage Risotto. Mushroom and Brown Rice Casserole » Annie's Eats. Mushroom and Brown Rice Casserole Cooking View When I posted my Thanksgiving menu, I asked you wonderful readers to suggest ideas for recipes you wanted to see posted before turkey day. What I meant was anything at all that you might make for Thanksgiving, certainly not limited to what I had planned for my own menu, but nearly all the suggestions made were things from my menu.
Guy's Mambo Rice | Scarletta Bakes. Let me tell you something about kitchen gadgets: I don't like them. I don't like them because they take up space and, I don't know about you, but in my kitchen, countertop real estate is in high demand. I also don't like kitchen gadgets because I think that they create a barrier between the chef and the food. I know it sounds super geeky, but I believe in learning to cook by doing. Vegetable Paella (Spanish Saffron Flavoured Tomato Rice) Ome good friends of ours are good friends of ours arre back in town for a short visit and were coming over for dinner. I was wondering what to cook and as I kept narrowing down the options, I just realised that I was getting into a sort of rut with my menus. At some point, I seemed to be revisiting to the same old lot of trustworthy recipes.
Not that this is a bad thing, especially as they have always been reasonably well appreciated by my dinner guests and family.
---