Culture
450 Free Movies Online: Great Classics, Indies, Noir, Westerns & More. Watch 675 movies free online.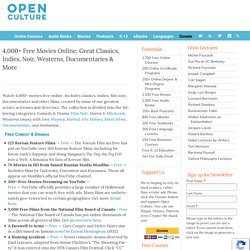 Includes classics, indies, film noir, documentaries and other films, created by some of our greatest actors, actresses and directors. The collection features films by Alfred Hitchcock, Orson Welles, Fritz Lang, Andrei Tarkovksy, John Huston, plus some early short films by Tarantino, Kubrick and Truffaut. You will also find masterful performances by Humphrey Bogart, Laurence Olivier, Audrey Hepburn, Edward G. Robinson, John Wayne and Bette Davis. The Free Movies collection is divided into the following categories: Comedy & Drama; Film Noir, Horror & Hitchcock; Westerns (many with John Wayne); Silent Films; Documentaries, and Animation. Film & Video. The following films are presented for educational and non-commercial use only.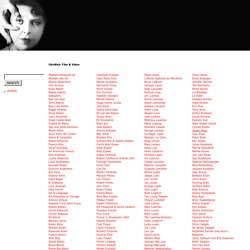 All copyrights belong to the artists. About UbuWeb Film & Video UbuWeb is pleased to present hundreds of avant-garde films & videos for your viewing pleasure. However, it is important to us that you realize that what you will see is in no way comparable to the experience of seeing these gems as they were intended to be seen: in a dark room, on a large screen, with a good sound system and, most importantly, with a roomful of warm, like-minded bodies.
FRAC Bourgogne - Peter DOWNSBROUGH. Books: l'actualité par les livres du monde. Le 9B. Johann Rousselot ::: Photojournaliste. Standard - Magazine jeune et poli. Le Monte-en-l'air - Librairie-galerie Paris 20?me. Sex Mode & Digestion, Digital Magazine.
Théâtre de la Ville, Théâtre des Abbesses - Paris. Culture alternative. M19 (may 19) Annie Vigier et Franck Apertet. We Love Art, catalyseur d'?v?nements. Art culture paris,art culture France,evenement culturel,agenda culturel paris,actualit? art culture,photo art,agenda design,exposition design,?diteur design,spectacle danse,spectacle danse contemporaine,festival danse,march? art,exposition art contemporai.
Accueil. Musique. Accueil dualité.
---