Design & illustrations
Katsushika Hokusai - The complete works. Blog. 9 Interesting Infographics About Color. Color, one of the most overlooked and yet important elements to our every day lives.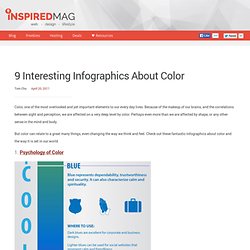 Because of the makeup of our brains, and the correlations between sight and perception, we are affected on a very deep level by color. Perhaps even more than we are affected by shape, or any other sense in the mind and body. Theconceptartblog.
---