Meals and Appetizers
Cooking Healthy For Me: The Power of the Cheez-Itz! Broccoli and White Cheddar Mac & Cheese « The Craving Chronicles. Mac & cheese.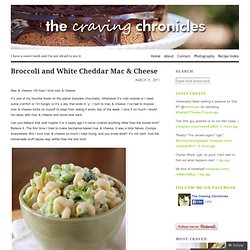 Oh how I love mac & cheese. It's one of my favorite foods on the planet (besides chocolate). Whenever it's cold outside or I need some comfort or I'm hungry or it's a day that ends in 'y', I turn to mac & cheese. I've had to impose mac & cheese limits on myself to keep from eating it every day of the week. Easy Parmesan Knots. This recipe will got great with the Mama Mia's Minestrone from yesterday or any other great Italian meal.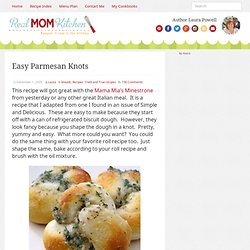 It is a recipe that I adapted from one I found in an issue of Simple and Delicious. These are easy to make because they start off with a can of refrigerated biscuit dough. However, they look fancy because you shape the dough in a knot. Pretty, yummy and easy. Broccoli & Leek Breakfast Casserole. Broccoli & Leek Breakfast Casserole by Rebecca Feb 14th, 2011 // Breakfast, Recipes, Veggie Friendly Before I had kids my weekend routine went something like this: Sleep in until 10.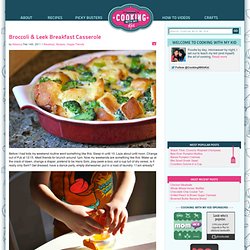 Laze about until noon. Change out of PJs at 12:15. Garlic Butter Rolls › shutterbean. For those of you who swoon over garlic twisty bread but can't bring yourself to order whole pizza to make the delivery worthwhile, this one's for you!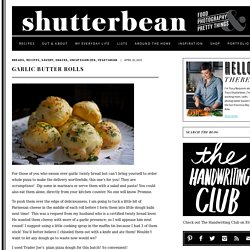 They are scrumptious! Dip some in marinara or serve them with a salad and pasta! Roasted Garlic and Cauliflower Soup. Roasted Garlic and Cauliflower Soup Soup and Stew | 48 comments This is one of those recipes that I'm going to tell you if you think you don't like cauliflower: TRY AGAIN.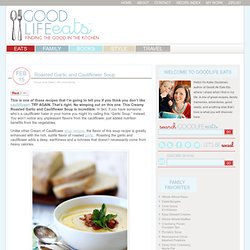 That's right. No wimping out on this one. Food Pyramid Submissions. Crispy Potato Roast Recipe. Hey Guys!
So…it's still really hot out…wtf! I'm totally ready for fall…forget this, "I just don't want summer to end" BS…I'm OVER IT! Okay, I apologize for being aggressive right there, but man does this weather make me grumpy. There are a few things that get my mood up during weather like this: 1) My Dog (always) 2) Frequent Fro-Yo and Hawaiian Ice trips with the boyfriend 3) This Roasted Onion Dip. Remember when you were a kid and sleepovers were still the best thing ever? GILI ISLAND DELIGHT. The Gilis Islands are a dreamy paradise, just a boat ride away from Bali.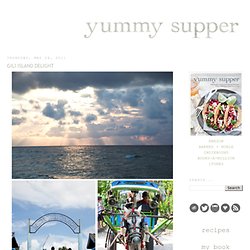 On this little Indonesian archipelago, there is not a motorized vehicle in sight, only cidomo - funky horse-drawn buggies. Yes, on Gili Trawangan you can find backpackers smoking weed, flirting, and hanging out. Or like us, you can escape to the sleepy side of the island where there is nothing to do but snorkel with sea turtles, read novels, have bonfires on the beach, and watch epic sunsets. Dishy Goodness: Easy Stovetop Macaroni and Cheese. If you need a last-minute dish to bring to a barbecue or holiday get-together, here's a simple but really delicious side that will please everyone.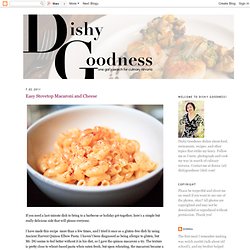 I have made this recipe more than a few times, and I tried it once as a gluten-free dish by using Ancient Harvest Quinoa Elbow Pasta. I haven't been diagnosed as being allergic to gluten, but Mr. DG seems to feel better without it in his diet, so I gave the quinoa macaroni a try. The texture is pretty close to wheat-based pasta when eaten fresh, but upon reheating, the macaroni became a little unpleasant to chew.
---