Makings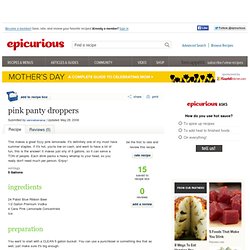 This makes a great fizzy pink lemonade. It's definitely one of my must have summer staples. If it's hot, you're low on cash, and want to have a lot of fun, this is the answer!
Cut watermelon flesh into 2-inch chunks and discard rind. Purée one fourth of watermelon in a blender with 1 Tbsp sugar, 1 tsp lemon juice, 4 cups ice, and a pinch of salt. Strain through a fine-mesh sieve into a large bowl, discarding solids.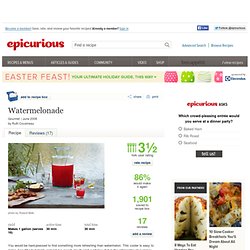 The Academy Awards are on this Sunday, February 26th, and it's the perfect time to have a few girlfriends over for a little get together! Need an Oscar Party recipe that really stands out? Try Candice Kumai's red carpet cocktails. From her Sparkling Lavender Mimosas to her Pom Punch and Rosemary Lemonade recipes, you'll be serving up classy drinks just in time for your Oscar soiree. We can't wait to see all the looks on the red carpet this year.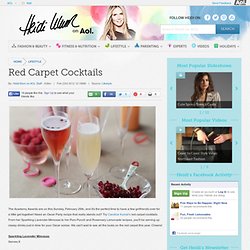 Red Carpet Cocktails
Peep Brownie S'mores | Busy Mommy: An Iowa Mom Blog - StumbleUpon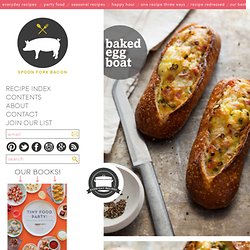 Breakfast is my favorite meal. I like to drink iced coffee and watch the cream climb its way down the chunky ice cubes in a dazy before the caffeine hits. I like to order bacon with whatever I'm eating. I like eating potatoes with ketchup. I like eggs over easy, and fluffy scrambled eggs. I pretty much like everything there is to like about breakfast.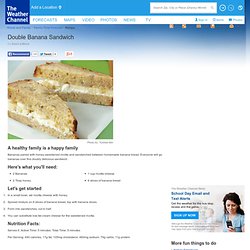 Double Banana Sandwich
Photo by: Yunhee Kim A healthy family is a happy family Bananas paired with honey-sweetened ricotta and sandwiched between homemade banana bread. Everyone will go bananas over this doubly delicious sandwich. Here's what you'll need:
Idaho Nachos Recipe | Simple Comfort Food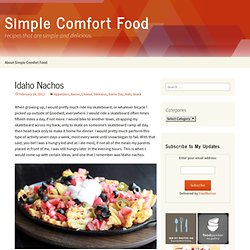 When growing up, I would pretty much ride my skateboard, or whatever bicycle I picked up outside of Goodwill, everywhere. I would ride a skateboard often times fifteen miles a day, if not more. I would bike to another town, strapping my skateboard across my back, only to skate on someone's skateboard ramp all day, then head back only to make it home for dinner. I would pretty much perform this type of activity seven days a week, most every week until snow began to fall.
Make your own SLURPEES using Kool-Aid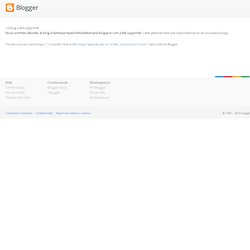 Why pay a few buckaroos for a SLURPEE at the SEV when you can make your own...in your own kitchen...whenever you want?!? 1 packet of Kool-Aid 2 cups of club soda
Cocktail - HIGHLYFAVOREDBRIDE's Blue Wedding by Color Blog
Happy Hour News, Videos, Reviews and Gossip - Gizmodo
Color your Food with Food Finish by The Deli Garage
I posted this tutorial a few years ago and it has become somewhat of a tradition to bring it back every year! One of our family Easter traditions is dying eggs with pieces of silk. I saw a cute lady show Martha how to do it a few years ago and I ran upstairs right then to steal a tie! It's way cooler than those cups of neon liquid that end up all over your clothes, your furniture and your hands plus it gives you an excuse to rid a man's closet of ugly ties. Here's the run-down: You need 100% silk for this to work.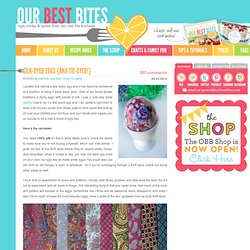 What's That Drink? Free Mixed Drink Recipes! Cocktails, Shots and Alcoholic Drinks